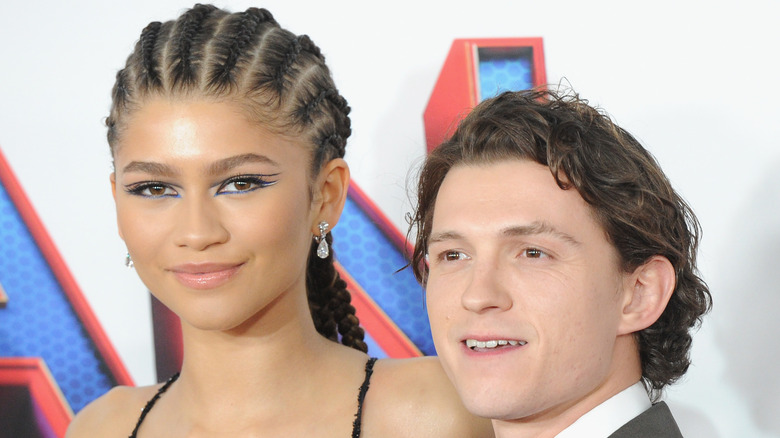 Zendaya and Tom Holland are one of the most adorable couples in Hollywood right now. The twosome — who star alongside one another in the "Spider-Man" movie franchise as Peter Parker/Spider-Man himself and Michelle "MJ" Jones-Watson — kept fans guessing about their relationship status for a while before finally confirming they were an item. They made things official in a pretty romantic way too, as Page Six published candid snaps of the two sucking face in a car in July 2021.
Of course, fans of the couple being super sleuths, we all had an inkling before years prior that these two were more than just co-stars for quite a while before they made it obvious. "They've been super careful to keep it private and out of the public eye," a source told People all the way back in 2017, "but they've gone on vacations with each other and try and spend as much time as possible with one another." Zendaya and Holland have certainly come out of their romantic shells more since then, including the "Euphoria" star gushing over her man to Entertainment Tonight in April. "I think it's great to have that support and love around you, because you need that," she said. Adorable!
But are these two destined for the long haul or could they be enjoying the joys that also come with a slightly shorter romance?
Tom Holland and Zendaya's 'real' relationship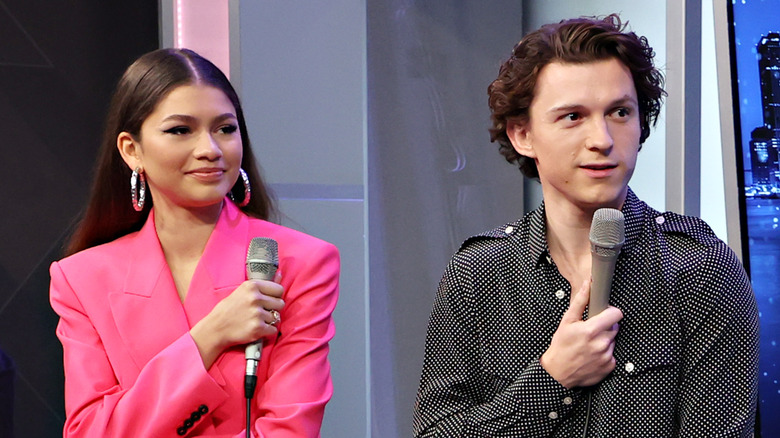 Nicki Swift spoke exclusively to body language expert, communication coach, and author of "A.W.E.S.O.M.E.," Jess Ponce III, about what the future looks like for Zendaya and Tom Holland, and it seems like these two may just be meant to be. After Ponce reviewed various media of the pair together, he shared that it seems pretty obvious these two, as he put it, "definitely dig one another" and aren't in some kind of showmance to promote their movies. "It's real. In public they have a wonderful ability to laugh at themselves and one another. Their rapport and connection feels very in the moment and sincere, unlike many rehearsed Hollywood personalities. There is a youthful and giddy, almost goofy energy between them. It's an energy you can just feel — and one that makes you smile," he shared.
The two have definitely shown that on multiple occasions, with fans compiling some of the sweetest moments together in adorable videos like this one that show just how much they make each other laugh. Zendaya herself has even touched on all their cute banter, having this hilarious Twitter response after a video of her laughing hysterically at Holland during a joint 2021 interview back went viral on Twitter.
"It is refreshing to experience young celebrities who literally don't care about being perfect 'off camera,'" Ponce said of the two. "I admire and commend their innocent and seemingly unaffected approach to public appearances, especially when they are together."
Zendaya and Tom Holland compliment each other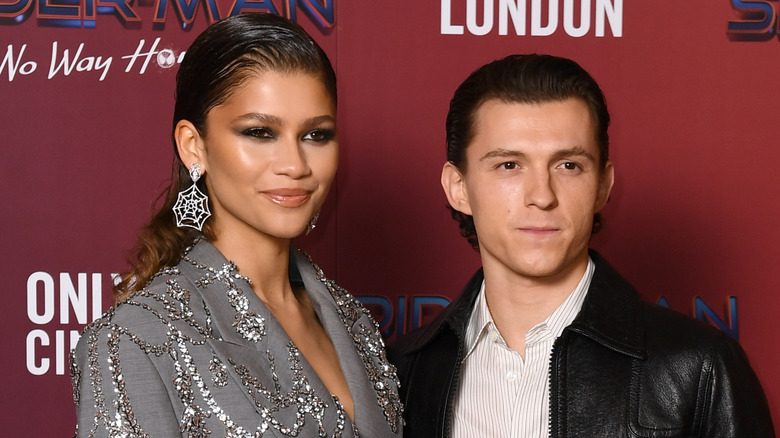 Jess Ponce III also gave Nicki Swift further insight into Zendaya's enviable romance with Tom Holland, explaining just how well the two seem to gel. "They also complement one another in a perfect 'yes and' fashion. An improv term where one person affirms and adds on to the other's dialogue," he explained. "They have a wonderful ability to tease one another, while holding that affirming stance. And they are funny with quick sarcastic responses. If you look closely you can see them lean into one another and physically get closer when doing an interview together."
All that chemistry was clearly on display when they (playfully!) argued with one another while enjoying a heated debate for Lad Bible in January regarding some super important topics, like why football isn't called handball. See, we told you they tackled the big stuff! There was also plenty of giggling to be done when the couple joined forces with Jacob Batalon to take a look at their original "Spider-Man: Homecoming" auditions.
They showed that super cute chemistry once again during their Wired Autocomplete interview in December 2021 after someone asked "Are Tom Holland and Zendaya still friends?" Of course, we know they're far more than just friends, though Zendaya jokingly replied, "We're enemies — you're my archenemy." Ah, young love!
Zendaya and Tom Holland's look of love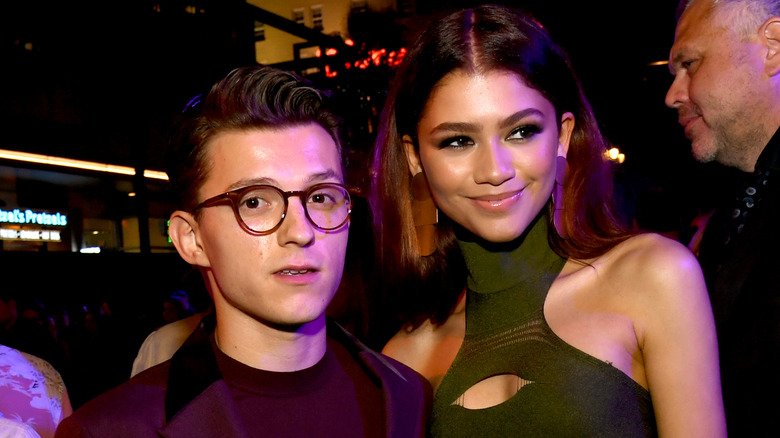 Jess Ponce III dished on how super cute couple Zendaya and Tom Holland look at one another, admitting to Nicki Swift that they totally have the look of love. "They peer at one another with excited youthful gazes, as if they are completely immersed in the other person. When one of them is speaking the other holds a steady gaze on that person admiringly, fully engaged, and hanging on every word," Ponce said. "Some might say it's a 'loving look' — I will go as far as to say they are definitely vibing, and that there's potential here for something deep and long-lasting."
And it sounds like Holland could be ready for that long-lasting romance and everything that comes with it. "I've spent the last six years being so focused on my career. I want to take a break and focus on starting a family and figuring out what I want to do outside of this world," he told People back in December 2021 of his post-"Spider-Man: No Way Home" plans. "I love kids. I can't wait to be a dad — I can wait and I will, but I can't wait!"
As for Ponce's final takeaway on the couple we love to love? He admitted that, just like their legions of fans, he's hoping Holland and Zendaya will be together for a long time. "Like many fans, I am rooting for them," he told us. Us too!