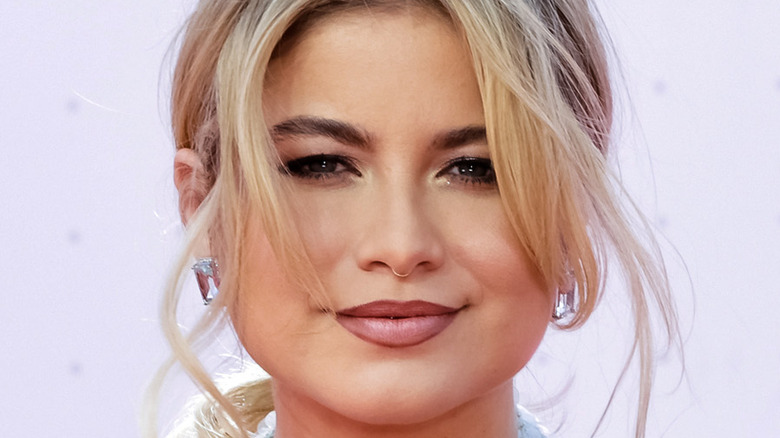 After dominating the late part of the last decade with monster hits "1, 2, 3" and "R.I.P.," Mexican pop star Sofía Reyes remains booked and busy. Fresh off of performing at the 2022 Latin American Music Awards, she also released her long-awaited second studio album, "Mal de Amores."
Outside of music, Reyes recently teamed up with the brand Tostitos for their latest Fiesta Remix campaign to help fans prepare for the season ahead and for all the Cinco de Mayo celebrations on May 5. Additionally, there are ways for fans to win prizes. Tostitos has collaborated with Millennial Lotería, also referred to as Mexican Bingo, in hope that customers will participate in the many TikTok challenges that have been set, one of which is named "La Sofia Reyes."
"One thing is that it feels authentic and real to myself, and honest," Reyes told Nicki Swift in an exclusive interview after being asked what drew her to this campaign in the first place. "I grew up eating Tostitos, I love Tostitos. We have Tostitos in my house all the time. It's like part of who I am ... It was a no-brainer." As for those TikTok challenges that have been created, Reyes approves of the brand's suggestion to get fans involved. "The TikTok challenge is super, super fun. I love that Tostitos had this great idea of putting this Lotería card that asks you to do something, it makes it challenging and fun," she explained.
Reyes isn't alone during this campaign. In fact, she stars in a commercial alongside iconic actor Danny Trejo, who she ended up bonding with behind the scenes.
Meeting Danny Trejo exceeded Sofia Reyes' expectations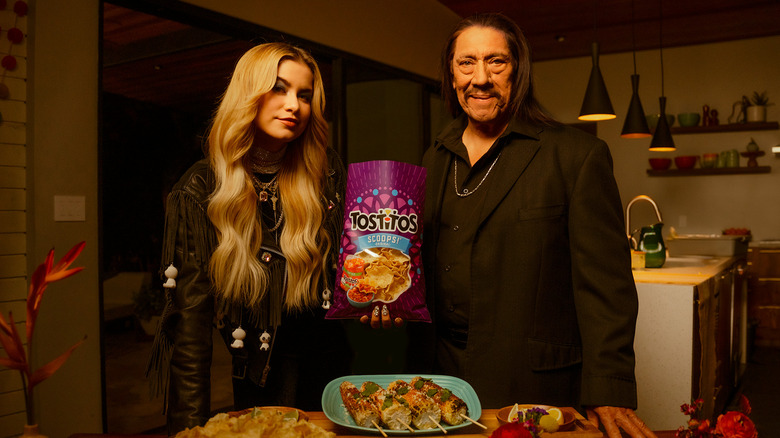 It goes without saying that Danny Trejo is a legendary actor. After starring in beloved films including "From Dusk Till Dawn," "Anchorman: The Legend of Ron Burgundy," and "Con Air," it comes as no surprise that Sofía Reyes was excited to work with Trejo on the Tostitos campaign. Reyes admitted that a huge reason for wanting to be involved in the campaign was partly because of the iconic actor. "When they mentioned Danny Trejo, I got super excited because I've been wanting to work with him for years," she said. "It's beautiful how both our culture, Danny's and I, got us together and made this whole beautiful campaign."
Prior to meeting on the set of the commercial, Reyes and Trejo were first connected on a Zoom call where the singer learned that the appreciation was mutual. "I thought he had a hilarious personality. He also told me, 'I love your music and what you do,'" Reyes explained. However, meeting him face to face was an even better experience for Reyes. "He was the sweetest, super funny guy. We even talked about deep things, about life, and a lot of things," she stated. In fact, Reyes was gifted an album of his and learned that he too is also a musician. "I had no idea about that. We really bonded, so it was definitely an honor," the "Muévelo" hitmaker expressed. "It's great when you meet someone that you admire, that you've been wanting to meet, and that you have an even bigger impression. That's what happened to me with Danny."
To learn more about Sofia Reyes' partnership with Fiesta Remix and find even more ideas for all your summer get-togethers, head to Tostitos.com/FiestaRemix.