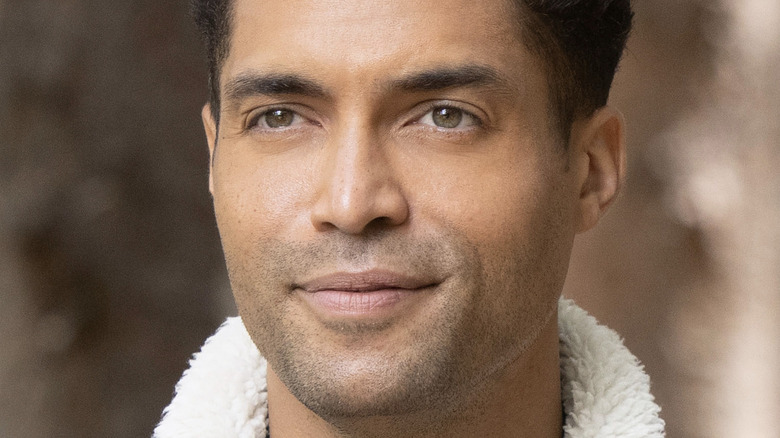 If Henderson Wade looks familiar, it's because he's been steadily building his acting portfolio by starring in all of your favorite shows. From his turn as Sheriff Michael Minetta in "Riverdale" to appearing in Netflix's "Dear White People" to his roles in "A Million Little Things," "Swamp Thing," and "Walker," Wade has been acquiring quite the fanbase in recent years. And now the actor is back in Lifetime's latest adorable Christmas move, "A Picture Perfect Holiday," in which he stars alongside literal icon Tatyana Ali.
"A Picture Perfect Holiday," which premieres on Lifetime on November 13, follows fashion photographer Gaby (played by Ali), as she attends a photography course in an idyllic mountain town to learn how to capture the festive season on camera. It's there that she meets Sean (Wade), a wildlife photographer with whom she has sparkling chemistry. Without giving too much away, it's safe to say that viewers will instantly be drawn in by Wade and Ali's natural chemistry — and the fact that Wade first appears on our screen wearing only a towel.
Nicki Swift caught up with Henderson Wade to find out all about Lifetime's "A Picture Perfect Holiday," what it was like working on "Riverdale," and which superhero he'd love to play one day.
Henderson Wade auditioned in his pajamas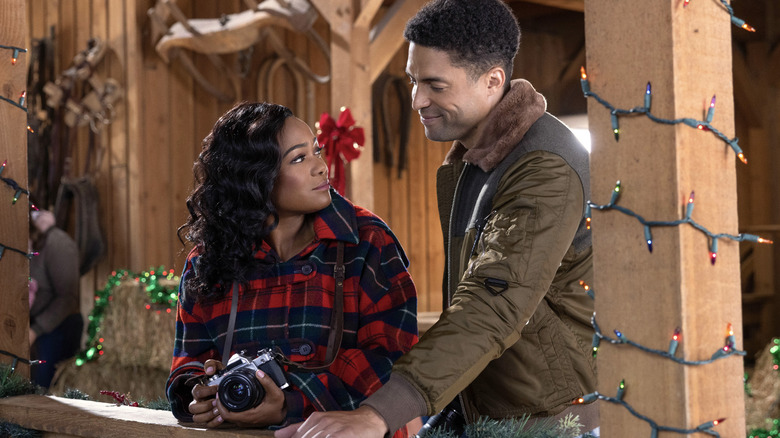 I just watched "A Picture Perfect Holiday" and loved it. How did you get involved, and what drew you to that script?
Oh, wow. Well, as an actor, I just get a glut of audition tapes. I've worked on a Christmas movie or seasonal film in the past, and this one came my way. You know what really struck me about the initial script ... I was like, this one's actually fun. I was able to find the humor in it. I was able to find the holiday cheer. And there was a lot of me in Sean, which only makes my job easier.
Funny story about the audition tape. Literally, I did it in my own pair of Christmas pajamas. And after I got to set, I'm talking to the director, and he pulled me aside and he goes, "You realize the fact that you wore your own Christmas pajamas is why you got the part." ... Guys, gals, dress for the part, I guess. There you go.
Finding chemistry with Tatyana Ali was easy
You have great chemistry with Tatyana Ali in the film, and your rapport feels really natural. What was it like working with her?
Oh, goodness gracious. What can I not say about working with Tatyana? I mean, she's got such an incredible pedigree when it comes to not just acting, music. She's really a slash creative person. But I don't know, she has this really uncanny ability to just put everybody at ease, because I get to set and the first thing I think is, "Oh my God, it's Ashley Banks," "Fresh Prince [of Bel Air]," and all that's running through my head. And I remember she was the first one to get out ahead of it and acknowledge it. She was like, "Yes, look, I worked on 'The Fresh Prince.'" And I was like, "Oh my God, thank you so much. Oh my God. Got so many questions."
She was always there to kind of tell me a story. There was also a lot that I was able to learn from her and learn from working with her because she has that pedigree. She has that history in the biz. Everything just led to and lent itself to us just hitting it off really quickly. And that works for the characters. And so, we were really able to find and carve out those moments to build Sean and Gaby's relationship gradually.
I really loved the love/hate thing that you had going on with each other. It worked really well.
I swear that's not part of my real personality.
A Picture Perfect sequel isn't out of the question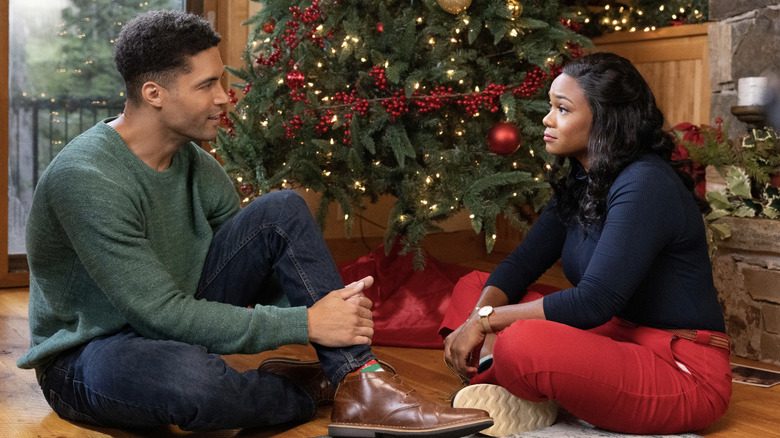 Is a sequel on the table because I'd love to know what these two characters do next?
I mean, as I said, "A Picture Perfect Holiday" got me back on Lifetime's payroll, so I'd like to think that I'm in the network's good graces. I'm also going to utilize this interview to kind of goad them into that sequel talk. I mean, could we have "A Picture Perfect Thanksgiving"? Could we have "A Picture Perfect Halloween"? I mean, the franchise possibilities are endless here.
It writes itself.
Right. Well, I mean, I will say this, if the opportunity did present itself, I would jump to work with Tatyana, this cast, and this crew again.
Another thing I really liked about "A Picture Perfect Holiday" was that there were no sad overtures. In some Christmas movies, there are big deaths at the beginning or family tragedies, and I can't cope with that. This one was just really uplifting and had a sweet story. Are you a fan of the genre? Was it important to you that the movie was uplifting?
You know what's funny? I didn't really think about the uplifting aspect of it until we were actually shooting. And I remember in collaborating with the director [J.E. Logan] and the writer, Anna [White], they were always mindful of keeping things upbeat and bringing a lot of optimism to Sean and not letting him kind of sink into that dark place that I think you're mentioning a lot of these types of movies fall into.
Because ultimately I think these films are an escape. The holidays are stressful enough as is. I don't want to add to that. So I think we found this really comfortable gray area that we play in where it's like, just when we start getting a little too down, boom, we pick it right back up again. I think it was almost kind of subconscious. I mean, it's really a testament to the script and direction.
Henderson Wade has the perfect Luke Perry story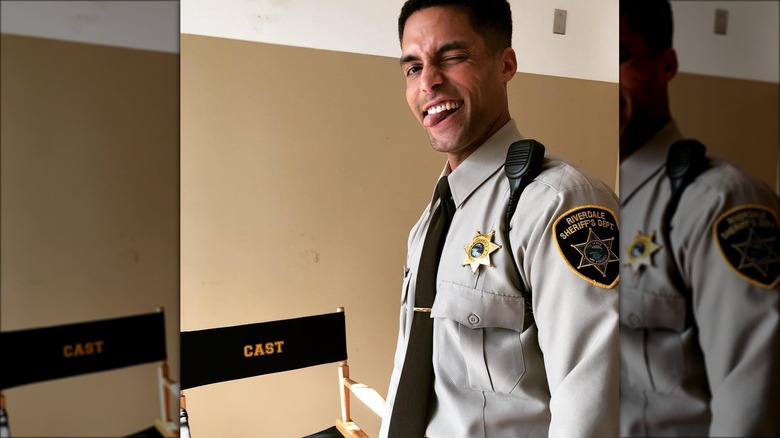 You spent some time on "Riverdale." Do you have any standout memories from that set?
I think the thing that would really stand out to me was getting to work with Luke Perry prior to him passing away. I'll just share a really awesome story. My brother is five years older than me and was right in the thick of "90210" fandom. So I told him that I was having an opportunity to work with Luke on "Riverdale." Oddly enough, I've worked with a couple cast members of "90210" at this point. Ian Ziering being another one.
And so, my brother, he took that as an invitation to come visit me on set in Vancouver. So I had wrapped one day and we went to a local restaurant. It just so happened that Luke walked in. And I had told him that my brother was in town, he was a huge fan and all that. Luke took the opportunity to sit down with my brother and I, and just [talk about] basketball games that were playing at the time and connect with my big brother.
And I got to watch my big brother, who was the end all, be all, my role model, turn into an absolute fanboy. He was just putty in Luke's hands. It was the coolest thing that I've ever seen. That was a really big learning experience for me as far as just what I get to do for a living. I get to play imagination in the most awesome sandbox ever. I get to meet these tremendous people along the way, who at some point or other I looked up to.
And so, "Riverdale," it was that every single day that I was there. I mean, it was all these icons from the movies that I grew up with, and then this young crop of stars that I just sat back and was in awe of. I was in the middle not trying to screw anything up, basically.
Swamp Thing was canceled too soon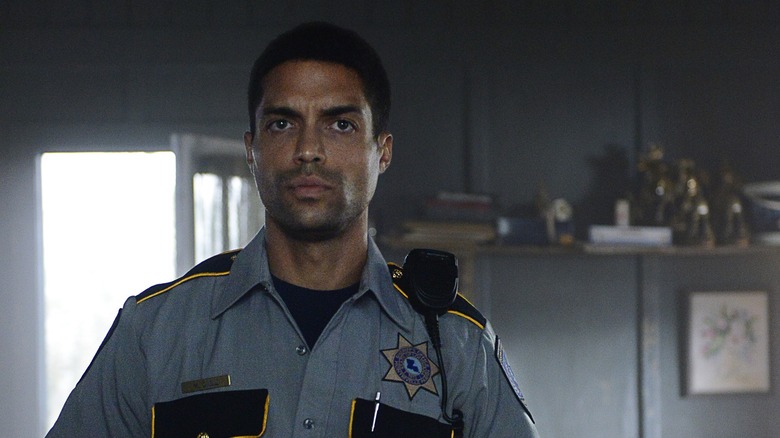 "Swamp Thing" looked like it was such a lot of fun to film. What was your experience like on the show?
"Swamp Thing" was, like I just mentioned about my job being to play imagination, and "Swamp Thing" was literally the most awesome sandbox. I mean, we had this sound stage with a working swamp that I could literally drive the police boat through. And so, there was no acting with a tennis ball. They went for broke, and ultimately that might have been their downfall.
But man, I got to be honest with you, I've just been so lucky throughout my career thus far. Every single gig has a story associated with it or some awesome person I got to work with. "Swamp Thing" was just top to bottom, from the town of Wilmington, North Carolina, the crew, the directors we got to work with, the production team, period, the actors. I mean, it became a family.
As a result, even though "Swamp Thing" didn't go forward, I still have so many of those relationships. And I'm really, really hopeful at some point that we can get the gang all back together, maybe for something else, maybe for something "Swamp Thing" related, who knows? And really just have one more kind of field trip together, if you will.
I didn't realize it shot in Wilmington. So many classic TV shows have filmed there [such as "One Tree Hill" and "Dawson's Creek"].
Which I'm so jealous of now because they get all the cool movies down there, all my favorite TV shows. And because it's such a small community, they all work on every project that comes through there. I'm checking in on my timeline and harassing these people via DMs and text messages. And I'm just jealous all the time. So shout out Wilmington. Yeah.
Henderson Wade has a superhero role in mind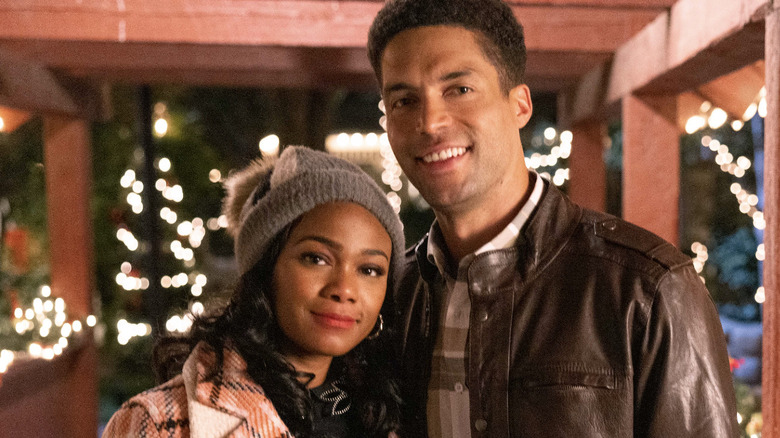 Obviously, "Swamp Thing" was in the DC Universe. Do you have a dream superhero role in mind or is there a particular franchise you'd like to join?
Yeah. Of course. I'm constantly, whenever I'm working out, if I'm really feeling good about myself, I'll try to thirst trap posts in my stories. And I'll tag DC and write like "cape wanted" or something. But honestly, if I had to pick a character, and I've kind of had this one in the back of my mind, I think it would be Green Lantern, honestly. I would love to take a stab at it, and it's something that I really feel as though would be right in my wheelhouse. So hopefully this is us manifesting something along these lines. Let's get some DC execs to read this interview here.
But honestly having worked on "Swamp Thing," I love the genre. I love comic books. I grew up with them myself. Any opportunity that I might have to bring one of those kind of iconic characters to life would be an absolute honor. So I'll take what I can get basically.
Is there anything else you want to say before you run back to set?
I just want to thank everybody who's interviewed me thus far, helped me promote "A Picture Perfect Holiday," who was involved with the movie, everybody who's going to watch the movie. I started off as a fan of films, and it's a dream come true for me to actually be in them. And you can't do it without all those people that I just named being involved. I started off as a fan and now I'd like to think that that's who I'm doing it for. So for me, it's all gratitude, positivity, and thank yous from the bottom of my heart.
"A Picture Perfect Holiday" premieres Saturday, November 13 at 8pm ET / 7c on Lifetime.