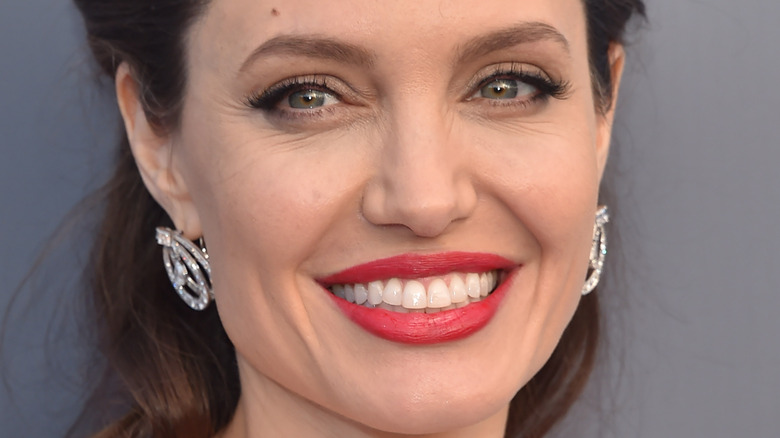 It's hard to believe that it's 2021, and Angelina Jolie and Brad Pitt's divorce still isn't finalized. The two actors exchanged vows at Château Miraval, an estate and winery that they own in France, in 2014, according to Hello! magazine. However, two years later, Jolie filed for divorce, citing the ever-popular irreconcilable differences as her reason for seeking to end her marriage to Pitt, according to TMZ. In her initial divorce filing, Jolie sought full physical custody of her and Pitt's six kids, only allowing her ex "visitation." At the time, sources told TMZ that Jolie was "fed up" with Pitt, specifically with his "consumption of weed and possibly alcohol." The source also said that Jolie wasn't a fan of Pitt's parenting style, and also mentioned that he had an "anger problem." All of things supposedly caused Jolie to file for divorce.
And while official court documents list Jolie and Pitt's separation on September 15, 2016, the two are still going back and forth in court, in what has been one of the longest, most expensive divorces that Hollywood has seen in a long time — and there may not be an end in sight. According to the Daily Mail, both Jolie and Pitt have spent $1 million each paying legal fees in their custody battle that continues to rage on. That custody battle could very well last until their youngest child turns 18 — which won't happen until 2027.
Keep reading to learn more about Pitt and Jolie's complicated divorce.
Angelina Jolie and Brad Pitt's court proceedings have been kept private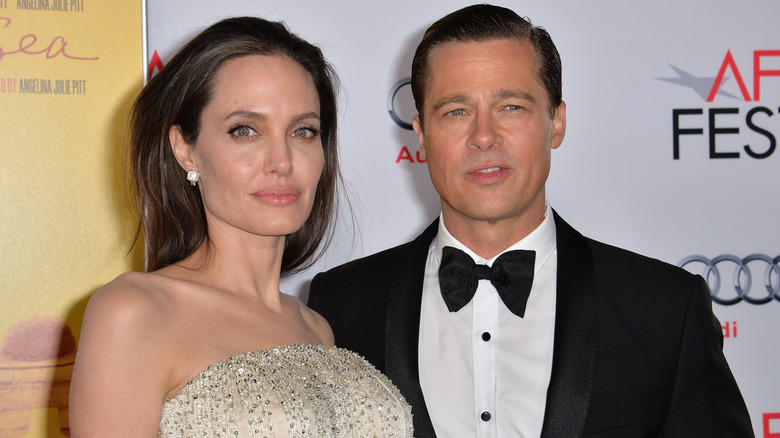 Around the same time that Angelina Jolie filed for divorce, TMZ reported that Brad Pitt was under investigation by the FBI for child abuse, but was cleared in the case a short while later. "The FBI has conducted a review of the circumstances and will not pursue further investigation. No charges have been filed in this matter," a statement from the agency read. Outside of this, however, Jolie and Pitt's divorce proceedings have been kept private. In 2017, Jolie spoke out about the divorce proceedings for the first time, telling BBC News that her divorce from Pitt "was very difficult." She added, "many people find themselves in this situation. My whole family have all been through a difficult time. My focus is my children, our children. We are and forever will be a family and so that is how I am coping."
While it seemed as though Jolie and Pitt were going to reach a common ground and settle their custody battle, things only seemed to get more complicated. In December 2020, Jolie and Pitt found themselves back in court, and things were just starting heating up — again. According to Us Weekly, Pitt had a small victory when he was permitted to be with his kids on Christmas Eve, but the custody battle would rage on in 2021. "Brad and Angelina are equally responsible for the never-ending drama. Sadly, their children are collateral damage," a source told the outlet.
Brad Pitt had a small victory in May 2021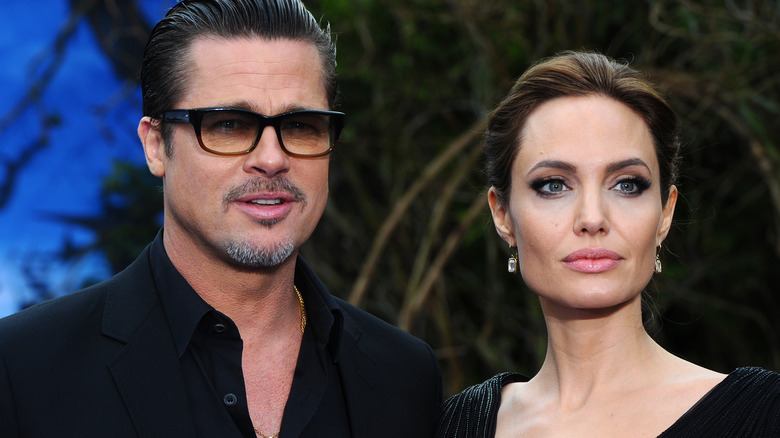 In May 2021, Brad Pitt was awarded joint custody of five of his six children with Angelina Jolie (the sixth child is over the age of 18). A source told Page Six that the private judge overseeing the case made a "tentative decision" in favor of Pitt — and Jolie has already filed an appeal. On July 9, attorneys for Jolie and Pitt were back in court, and Jolie's lawyer, Robert Olson, requested that the judge – Judge John W. Ouderkirk — be removed from the case, according to Entertainment Tonight. The reason? "Olson argued that the private judge was not impartial in the custody battle case, alleging that he was working on legal matters involving Pitt's lawyer."
As things continue to progress, Nicki Swift wanted to get an expert's opinion on why things are so complicated for Pitt and Jolie, so we caught up with Marin County divorce attorney Brent Kaspar for some information. It seems as though having a private judge oversee the case is causing things to get sticky. Read on to find out Kaspar's thoughts on Judge Ouderkirk and his take on whether or not the private judge will end up being removed from the case.
Is there a downside to using a private judge?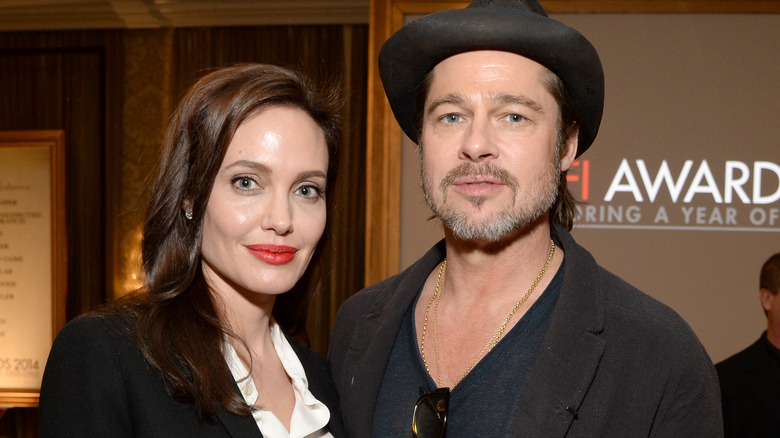 Attorney Brent Kaspar told Nicki Swift that "judges must disclose any relationships, no matter how distant. Let's say they are a member of the same private tennis club as one of the involved parties, though they have never met. Just the fact that they belong to the same club should be disclosed to prevent an appearance of bias." Kaspar explained that private judges are expected to disclose even more. "If you're monetarily motivated you're going to want more cases — your business is predicated on getting a steady stream of cases from law firms. It's a Catch 22 for these guys. They have the same requirement as a public judge to disclose things, but they are also getting paid differently. If you follow the money, that's a cause for concern in trying to protect the public from a perceived bias by the fact finder," he explained.
"The way private judging works, if you're a successful law firm and your client wants a private judge, you're going to go back to a judge you've worked with. Take the best private judge in the world ... if you're a celebrity, you're going to go to one or two of the very top law firms, who will funnel them to that judge. So is there a bias? Perhaps there is, but perhaps not. His business is predicated on getting cases from law firms," Kaspar added.
The judge in Brad Pitt and Angelina Jolie's custody case 'did screw up,' lawyer says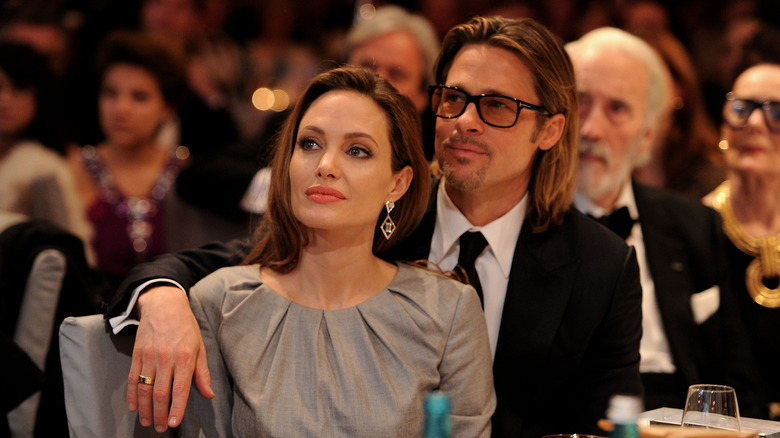 Brent Kaspar told Nicki Swift that Judge John W. Ouderkirk "did screw up" because he didn't "disclose" the information about working with Brad Pitt's lawyer. "As a judge you have an on-going duty to disclose any relationships you may have. The code of judicial ethics requires judges to be free of bias, and the rules of judicial conduct are in place to prevent even the appearance of impropriety," he said. So, will Ouderkirk — the judge who seems to be favoring Pitt and giving the actor a shot at joint physical custody of his kids — end up being removed from the case? "It's hard to say," Kaspar says.
Meanwhile, Pitt's lawyer, Theodore Boutrous, claims that Angelina Jolie was aware of all the facts up front. "There were no surprises. Ms. Jolie and her counsel knew about the relationship and the grounds," he said, according to Entertainment Tonight. Family law attorney Kelly Chang Rickert told the outlet that Jolie "would never be filing this appeal" if the judge had sided with her. "She would not challenge his ruling as biased," she said. "The only reason she's challenging it is because she lost. I mean, she's struggling, she's reaching here," Rickert added.
For now, the appeal continues, and Judge Ouderkirk is still presiding over the case.