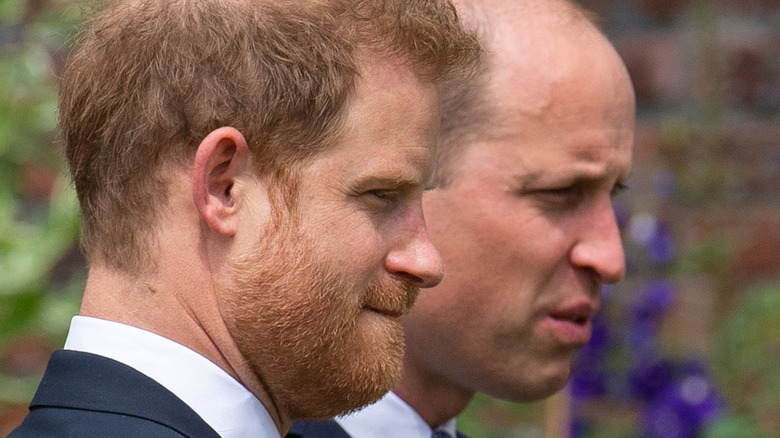 At the July 1 unveiling of the Princess Diana memorial statue, there were as many, if not more, eyes on Prince William and Prince Harry than the actual sculpture. It's been widely reported that the brothers have been distant recently, and many hoped the reunion would help bring them at least a smidge closer together. This is why we enlisted the help of a pro: Media Trainer and Communication Consultant, and author of "A.W.E.S.O.M.E., 7 Keys to Unlock the Speaker Within," Jess Ponce III, to break down their body language for us.
"While no words were spoken by Prince William or his brother, Harry, their personalities were definitely on display today," Ponce tells Nicki Swift. "While both wore similar solid blue suits, each wore them differently. Harry was more relaxed with an open jacket, light-colored tie, and brown shoes. Whereas William was more formal, both with a buttoned-up jacket and formal black shoes."
Ponce also explained how the brothers' personalities shone in their expressions. "Both brothers were smiling, but there was a lightness to Harry's expressions as they walked toward the memorial. Prince William seemed more measured and solemn." He continued, "The one day king definitely seemed to hold a certain non-verbal cadence in the way he presented himself. Harry was more expressive and playful, even in the way he posed for the camera."
But the most telling picture, according to Ponce, was one of them looking at the statue.
How do Prince William and Prince Harry's demeanors relate to a reconciliation?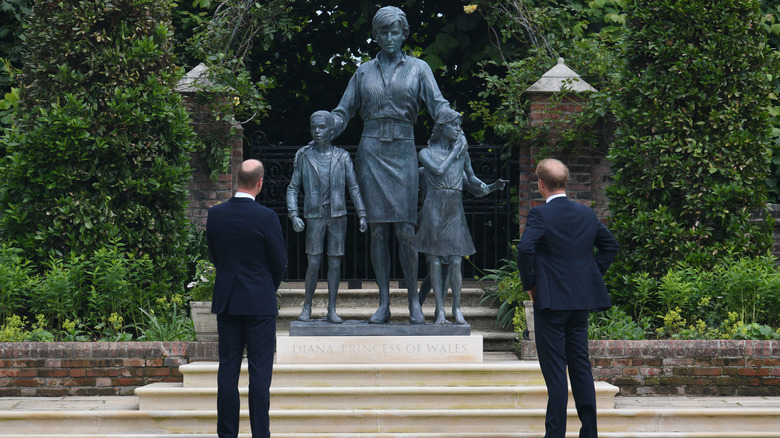 According to body language expert Jess Ponce III, you can see how Prince William and Prince Harry's different demeanors came together in a really beautiful way at the unveiling of the Princess Diana memorial statue.
"One of the most telling images was of the two brothers looking at the statue of their mother," Ponce explains to Nicki Swift. "You can definitely see each of their different personalities. Harry's hands were on his waist with a slight bend at the knees.While you cannot see Harry's facial expressions, there is a sense that he is taking it in with awe as if to say, 'Look at that.' Prince William's hands are in front of him folded in a more reverent pose. His head is slightly tilted with a steady gaze, looking straight forward at the statue."
But rather than highlighting the issues between them, Ponce says these photos show how their different styles work together. "These two different personalities, while different, can also be complementary. Someone who is more playful, expressive, and 'in the moment' has a lot to give to someone who is more 'appropriate,' measured, and forward thinking, and vice versa," he shares. "They are not opposites, rather just distinct in their approaches. When joined together for a purpose, as we saw today, the two can be great assets to one another and inspiring to those around them." Aw. Maybe there's hope for these two after all!