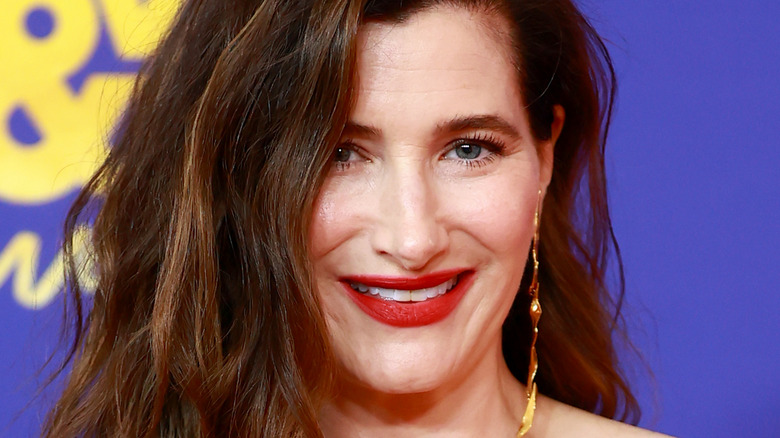 On May 16, the first night of the two-part MTV Movie & TV Awards aired, in a pared-down version that celebrated only scripted shows, with unscripted content getting its own show on May 17. "WandaVision" led the nominations with five in total, according to Us Weekly, including two nominations (and eventual wins) for Kathryn Hahn. Hahn, who played Agnes/Agatha Harkness in on the popular Disney+ show took home awards for Best Fight, along with her co-star Elizabeth Olsen, and won her own award for Best Villain. Hahn and Olsen also accepted the award for Best Show on behalf of the entire "WandaVision" cast.
During Hahn's numerous appearances on stage, she seemed energetic and incredibly positive, giving a fantastic acceptance speech honoring a variety of people who worked on the show and the "humans" that voted for her. Her positivity and appreciation wasn't only just conveyed by her words, however, but also expressed by her body language. Lauren Cohen, a body language expert, executive and career coach, spoke to Nicki Swift to explain the message Hahn's expressive body language conveyed.
Kathryn Hahn's body language showed that she wanted to be 'relatable'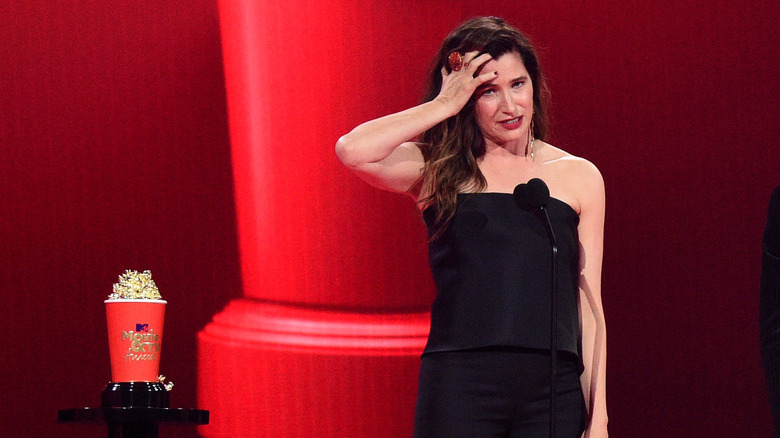 When Kathryn Hahn won the Best Villain award for her role as Agnes/Agatha Harkness in "WandaVision," she immediately portrayed her gratitude and enthusiasm from the moment she stepped out onto the stage, Lauren Cohen, a body language expert, executive and career coach exclusively told Nicki Swift. "Kathryn Hahn's body language was so expressive she didn't even need to speak when she first walked up to accept her golden popcorn," Cohen said. "She used her head movements and hands to generate enthusiasm from the audience and express her gratitude." Cohen also talked about how Hahn treated the award almost like "an idol or shrine. She bent her head down and placed her hands on her head, trying to show disbelief that she won."
Cohen detailed that Hahn also used her body language to "seem down to earth" and "relatable," describing how the actor "[tilted] her head to expose her neck and gain audience support." Cohen also mentioned how Hahn "wanted the world to know she is so grateful for the votes and support and she wants to ... [use] her body language to try to connect with us." Cohen concluded that Hahn uses her body and "very exaggerated gestures ... to connect with the audience" and said the actor "emanates positivity from head to toe."