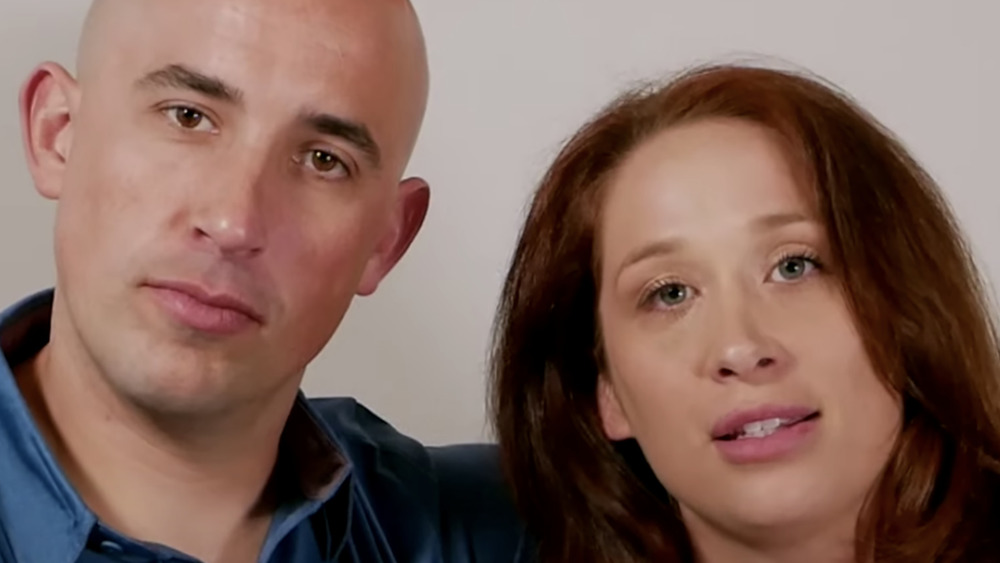 Married at First Sight: Couples Cam stars Elizabeth "Beth" Bice and Jamie Thompson are used to sharing almost every aspect of their daily lives with the world. Having won fans' hearts when they appeared on Season 9 of Married at First Sight, Beth and Jamie are back on our screens once more for the show's spin-off series, and they're happy to update their fans on what married life is really like.
As for what it's like to get married on a TV show, Jamie told Nicki Swift, "It's a risk. You've got to roll the dice for sure." Luckily, his wife Beth agreed and said, "It was a fun risk. I love rolling the dice." As viewers will know, the couple may have had their ups and downs, but ultimately, Beth and Jamie seem happier than ever. As Jamie explained, "Well it worked out well for us."
In an exclusive interview with Nicki Swift, Beth and Jamie opened up about everything from their sex life to being diagnosed with COVID-19 to moving to Santa Barbara, Calif. amid the pandemic to whether babies are in their future.
Beth is teaching Jamie all about the Kardashians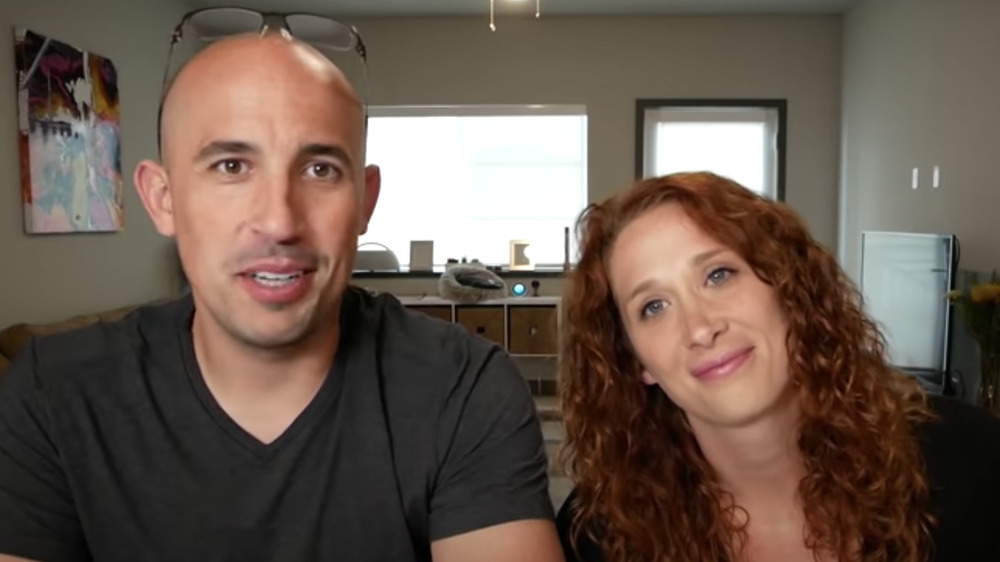 You recently moved to Santa Barbara. How are you finding it, and have you bumped into any celebrities yet?
Beth: We moved from San Francisco to Santa Barbara like three months ago, back in October of 2020. Unfortunately due to the pandemic and the lockdown state that everyone is in, I haven't even seen much of outside of my house. So unfortunately we haven't run into any celebrities yet, but my fingers are crossed. I hope Meghan [Markle] wants me over for tea soon.
Jamie: Yeah, we love it. It's super nice. It's like a beachy place with the laid back vibe, but there's still stuff going on when it's not locked down.
Beth: A lot of hiking and a lot of beach time here right now. ... Maybe I'll run into a celebrity on a hike or something or we'll catch the paparazzi on that Santa Barbara beach, because I do think you're right. There's a lot of celebrities who get photographed on Santa Barbara beach on some of those beaches down there on the coastal line.
Jamie: Really?
Beth: Yeah, there's a lot, I saw Scott Disick was there like a couple of weeks ago and I was so mad. Jamie doesn't know who Scott Disick is, and I don't know if I can be married to him anymore. ... I physically have had to draw out a Kardashian web for Jamie one night, just because I was showing him the wild web of the Kardashians. So it's really fun. ... He's learning.
Jamie and Beth's advice on making a marriage work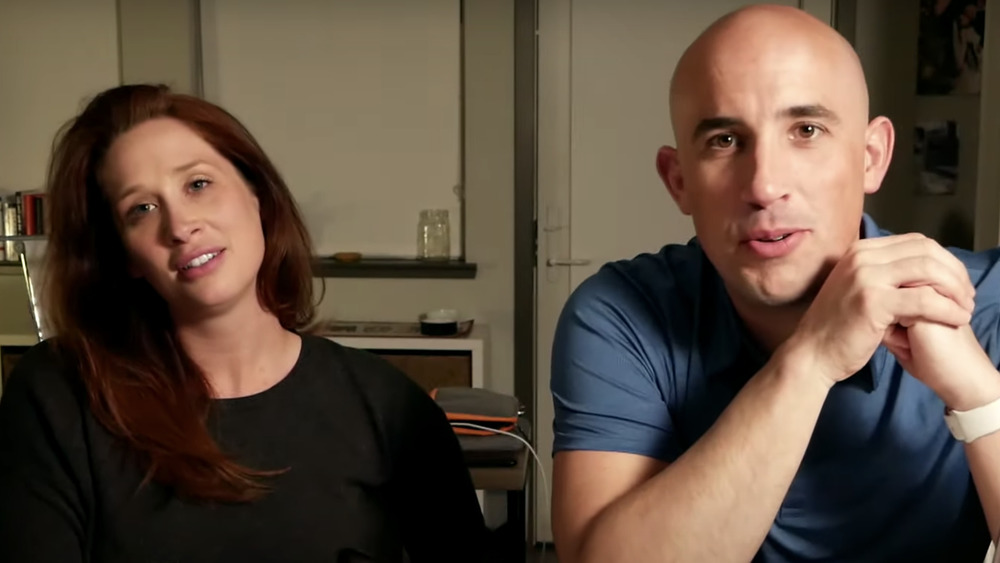 Your relationship has been through a lot of ups and downs. Do you have any hints and tips for making a marriage work?
Beth: I actually do. I think with our generation of millennials and beyond, I think we're such instant gratification type of people. And I think we're so quick to be able to ghost people or dismiss people from our lives when you don't agree with them. So I would say in marriages, there's going to be so many times that you guys don't always agree on the same things or your opinions aren't the same, but the most important thing is just to respect each other's opinions and listen to each other and don't just dismiss your spouse because you guys don't see eye to eye that day. It's just a moment in time. And you've got to remember the good times and how much you love each other, and what brought you to that argument anyway. So I'd say that's just been the biggest learning experience, not being so dismissive and actually listening to my husband and being respectful that he may have a different opinion, and it doesn't mean that we don't belong together. It just means that we've got to respect each other on that. Now it's my job to change that opinion, but we'll get there.
Jamie: Yeah, exactly the same. I mean people in today's society can't stand the fact that I may not agree with you or I may have a little bit a different view than you. And today it's like, "Oh, well we shouldn't belong together. We shouldn't associate with one another." But it's actually okay to have a little bit of a difference and respect that opinion.
Beth: The biggest thing is definitely just to respect the marriage and respect one another and don't give up. When you're in a really bad time, just remember all those really fun times that you guys have. And I swear that'll get you out of the argument or the bad time that you're having at that moment. So that's just my personal opinion on how to keep a marriage healthy and strong.
Beth and Jamie keep in touch with the 'Married at First Sight' experts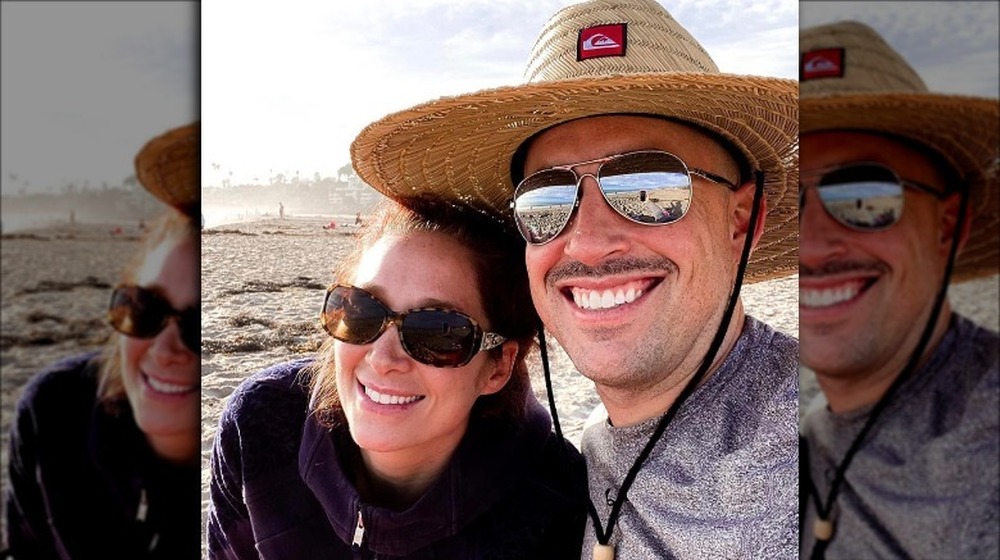 Do you still speak to any of the experts from Married at First Sight?
Beth: Oh my gosh, absolutely.
Jamie: We keep up with Dr. Viviana [Coles] and Pastor Cal [Roberson].
Beth: We were going to go to Pastor Cal's couples retreat last year in Costa Rica. But, of course, clearly that got canceled. And Dr. Viviana, I love her to death. Her and I talk at least three or four times a week, at least just girl stuff or just about how we're doing and things like that. So it's been really, really ... The experts are really awesome at the end of the day. So I think they get a lot of slack or a lot of backlash, but ... they really, really do stay in your lives after the show. And they actually really care. Dr. Viviana went above and beyond when we finished on Married at First Sight.
Jamie: Yeah, that's right. Yeah, we still, even once the filming was over, we still kept in touch with her and we did weekly or biweekly Zoom check-ins and things like that.
Beth: They just don't send us on our way when we're done, I promise.
Jamie: Yeah, they're invested. It's a good feeling.
Beth: Yeah, it really is.
Beth and Jamie aren't afraid to talk about intimacy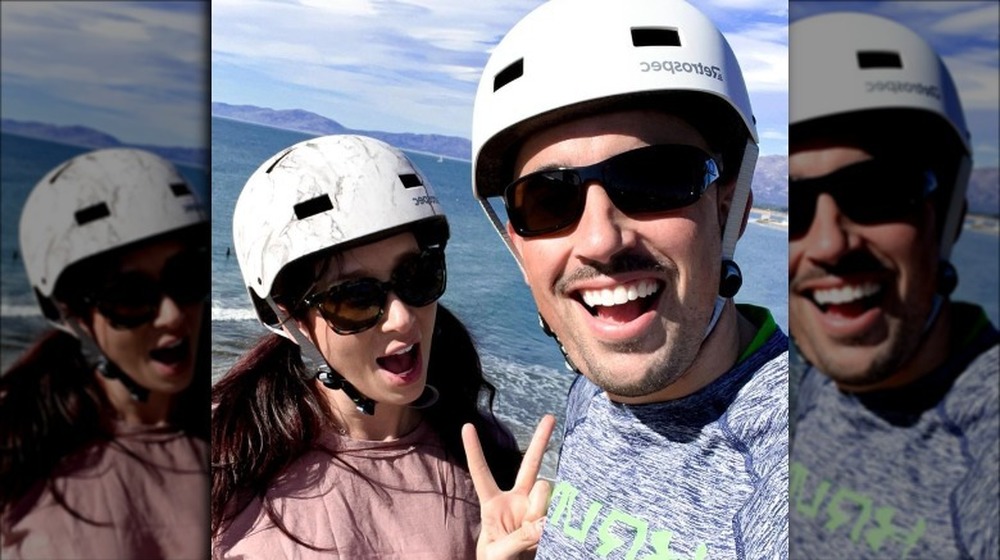 How is your sex life?
Beth: How is our sex life, Jamie? You know what? I'll be fully transparent. We're just like any other married couple and we have our ups and downs in our sex life. But the good thing is, is that Jamie and I, we're able to communicate in a really great way about it, that we're able to sit down and talk with each other about sex. And if we're feeling some type of way, or if we're noticing something about each other ... And I still love to hear if you aren't getting your needs met or you're noticing something about me. But for the most part, I'd say we have a really healthy sex life. You're welcome, everyone.
Jamie: Just being able to communicate. That's the big deal for us. That's it.
Beth: Yeah, but we love each other though. I mean hopefully we're having a baby eventually, sooner than later. That gives an answer about our sex life. People stop us on the street and ask us these questions. And I'm like, "You know what? We put ourselves out there like this and if this information will help just one person today, you've done a good job."
Jamie and Beth on overcoming COVID-19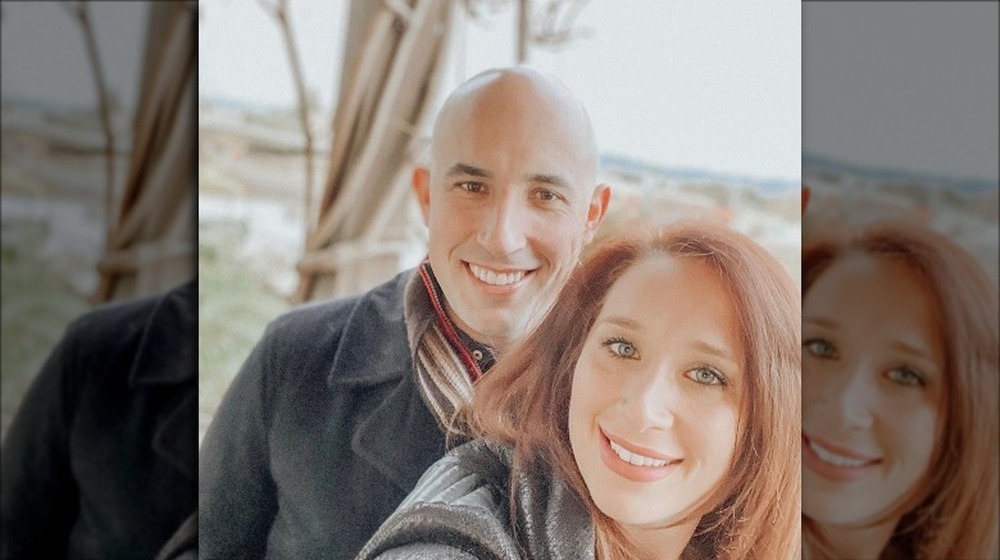 You both caught COVID. What was that experience like? How are you coping?
Jamie: COVID was tough, but it was nice that we caught it together. Because I showed symptoms and then 12 hours later, if that, Beth was showing symptoms, so we both knew. And then it was just getting through it at that point. And, I think it helped our relationship. I hate to say that ...
Beth: Yeah, it did bring us together.
Jamie: It seems strange to say that, but we really had to team up together and get through this thing.
Beth: Clearly I handled it better. I took care of us. Us women, we can handle those things better, but no, he was a bit of a baby about it. Because Jamie, he never gets sick, he's never had surgery or anything. So I don't think you've ever really broken anything severely or anything like that. So it was kind of funny to watch him handle how he got COVID.
Jamie: I usually don't get sick. Yeah, I don't take medications and things like that. And so having this, this was like, "What the hell is going on?"
Beth: He was a hard patient. He was a really difficult patient. ... Don't get it. Just stay in your four walls. It's okay, stay in your bubble. You don't want it. It's awful, it hurts, it takes like three weeks of your life because it feels like you have the ... You know when you have the flu, it's like two or three days of feeling really achy and feverish? Take that and do two weeks of that. And you finally crack your fever at the end of those two weeks. And it's an aggravating fever, like a mild one. So you're constantly just sleeping through it. But just don't catch it and everyone just stay safe. It's not worth catching it. It's just not. ... If you didn't catch COVID in your marriage together, did you even have a marriage?
Jamie: That's right.
Beth opens up about being attacked by a dog
Beth, you shared a story about being attacked by a dog and it sounded pretty scary. Have you and Dharma recovered from it?
Beth: I would say physically, yeah, we've recovered. Mentally, I have not fully recovered. I've been trying to work on things. I won't ever knock the breed. I love animals, although I don't care what kind of animal it is. I'm going to love an animal. So it's just a matter of going onto the beach with your dog, or another dog approaching you or something. I didn't realize the traumatic PTSD from that. If a dog comes up to me on the beach or anything right now, I would still buckle to my knees and have a severe panic attack. So it's something that I'm really working on as far as the trauma from dogs. I don't want to feel like that. I want to get better. I don't want to be scared of the larger animals. So I'm really working hard. Every weekend, Jamie and I try to take Dharma out to a public dog area.
Jamie: Like a park or a hike or to a dog beach or something like that. So at least we can start trying to get back around the animals and feel good.
Beth: Yeah, yeah. So it's been a challenge and I have nightmares still about it and sometimes I will pause for a second and just have to shake it off. But I think it's just the actual trauma, the gore from the incident is what I can't quite shake. I'm going to get there though. So if anybody's ever been through a dog attack, don't fault the animals, it's okay. Just work through it. I think I might even try to attempt to go to a rescue or something and spend some one-on-one time with the actual breed that it was. I want to get better though. It was hard. It was really, really hard.
It just sounds like a long process.
Beth: It is, yeah. I don't wish that upon anybody to have to see or go through anything like that. It's hard because it's an animal, you don't want to hate animals and you don't want to hoard hostility towards them. So that's how I feel about it.
Well, we're very glad you're getting better.
Thank you, thank you. And Dharma is getting better. I think her hair fully grew back and she has not missed a beat. It's more like mom's having a hard time with it now.
Beth and Jamie are creating new lifestyle products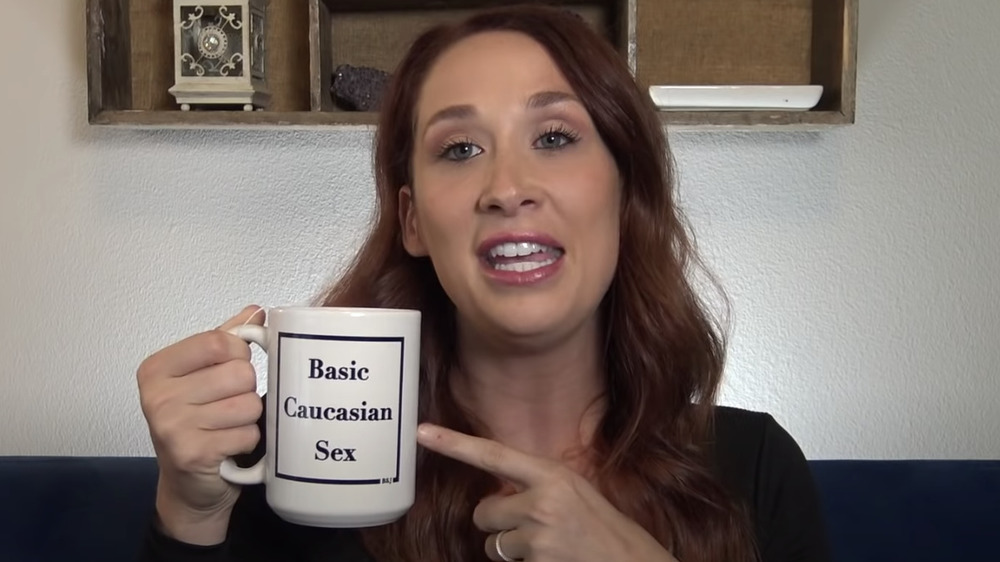 You're basically influencers on social media, and you've been advertising branded mugs that say "basic caucasian sex" on them. Do you have any plans to launch more products?
Jamie: I know you want to take this one. She's much more excited.
Beth: I want to show you this. I'm so excited. We're about to launch these [pillows] for Valentine's Day. So the "basic Caucasian sex" mugs, Jamie made those, and so those really took off. People love them.
Jamie: It was such a hit, it blows my mind.
Beth: So we've got pillows that are about to come out for your bed and on the back it says, "bam, bam, done," for the definition of basic Caucasian sex.
Jamie: You can send a message. You may not be sure what the message is you're sending, but at least you know you're sending a message.
Beth: It's such a funny gag gift. Imagine if your boyfriend, like the first time you ever went to his house ... and you're looking through his house and you go into his bedroom and you see these pillows sitting on his bed. What would be your first thoughts if you saw that?
Jamie: For sure, conversation starter.
Beth: Yeah, conversation piece. That's what it's about. We're just trying to have some fun with it.
So can we expect some other products down the line?
Beth: I want to play ... I'm a very intricate, like, eccentric person. And so there's a lot of different lifestyle items for your household I think I'm going to start working on. So hopefully in the future, everybody will have those really cool ... Can I tell you one of my ideas? Should I tell [them] one of my ideas that I want to do?
Jamie: I think so.
Beth: Okay, so you know how in your house, we all have our novelty items and things like that, that you don't quite want everybody to see, but you're maybe a little bit proud of them? So I want to create a "no-no box" for everyone. So you can have a really cute box for your goodies, whatever you want to put in there, like your sex toys. If you want to put other novelty, fancy items you don't want people to see in your house. But it's just a fun conversation piece. You're like, "Oh, my no-no box? Oh yeah, that's for me." So I want to do little things like that, [that] I think are going to be really funny. So I don't know what might come out of my little creative head coming up.
Beth and Jamie on dealing with trolls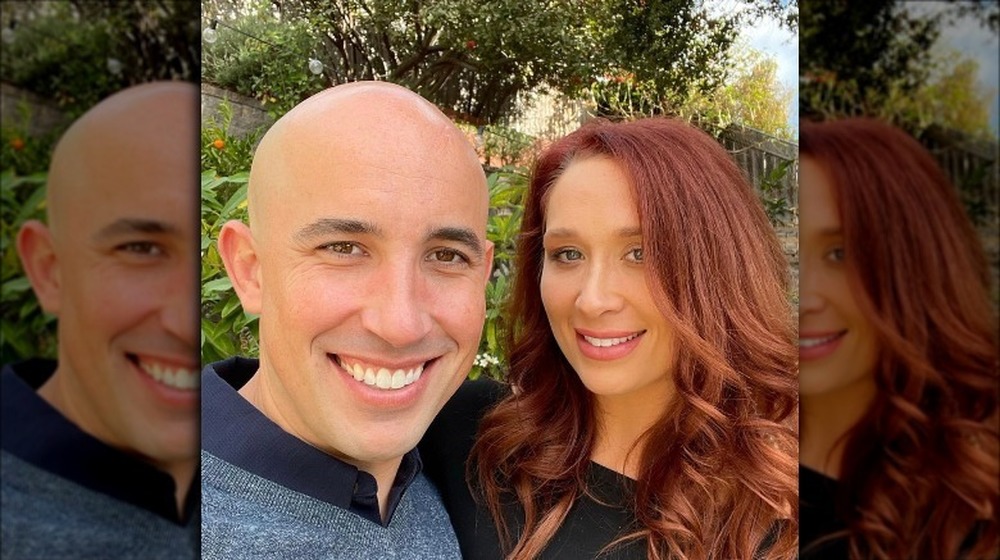 So the other side of social media is being harassed. How do you deal with getting hate on social media?
Beth: At first, Jamie hasn't gotten it I don't think as bad, because he's a dude and dudes just don't really ... I don't know what it is about guys, they just don't care about that stuff. I wish I had that mentality. But my philosophy on it is if people are going to come at me on Instagram ... any stranger you've never met and judge them and want to spit hate at them, I don't really care because they're never going to sit on my team anyway. I don't want those types of people around me, so I can't even give them energy anymore. So I try to spend more time focusing on people who do send positive things to me because those are the people that deserve my responses. My mentality behind it now is if you're going to hate on me, you can have a seat, just not at my table. And so I don't care about your opinion. Go bother someone that actually does care.
Jamie: That's what I say. If it's a complete stranger, it doesn't matter. I don't want to say I don't care what your opinion is of me, but I don't feel like you really know me. So I don't put a lot of stock if you're somebody that literally has judged me off of a character that I was on TV for.
Beth: You were a character on TV?
Jamie: I'm a character all the time.
Beth: That wasn't you? No, I'm just kidding. But no, everyone has gone through so much in 2020. I just hope that we all start focusing more on things that make our lives better and not so much on the things that hinder our lives. That's what's really important in 2021.
Beth and Jamie reveal what viewers will see on 'Married at First Sight: Couples Cam'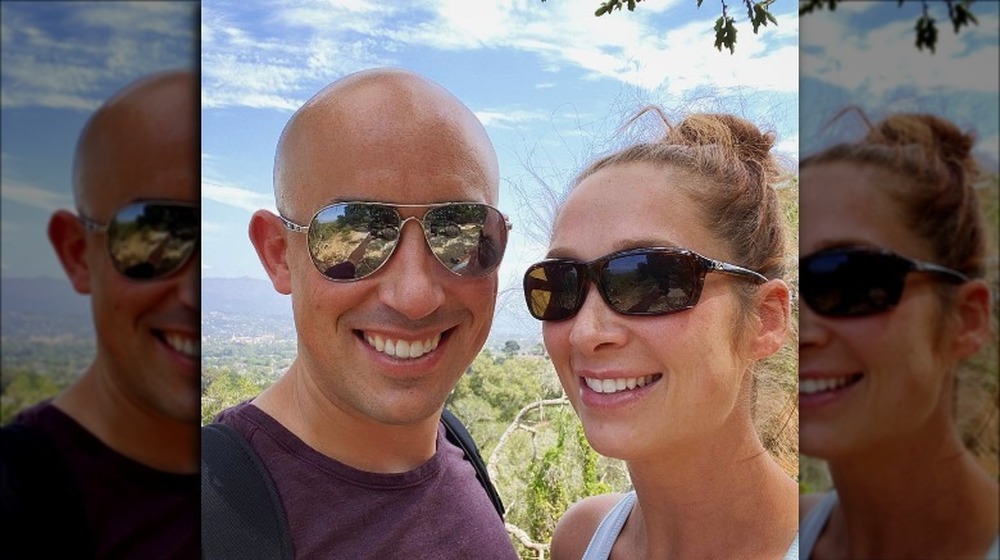 So you've spoken before about how the drama on Married at First Sight was real, and now you're doing Couples Cam. Does that mean it's going to be even more real?
Jamie: Yeah, yeah. It's extremely real, first off. Let me say that, it's extremely real. And everything that saw in the main show was us. It wasn't like we were prompted to say that kind of stuff or anything. And it's still real with Couples Cam, because honestly, it's been ... almost two years ago we got married. And so since then, we have grown a lot in our relationship. We've learned how to communicate better. We've learned how to respect differences of opinions and things like that. So that's what you're going to get. That's where we are in our lives. We're trying to figure out where we want to move, where we want to live.
Beth: When are we going to have a baby? I'm starting to get really bad baby fever lately. I hate to say that, I really am. But I mean also, too, when Jamie and I started filming Couples Cam, we made a promise to each other and to our producers that we would be 100% transparent and we'll give them anything and everything that they want. I want people to see reality. And I want people to know we're not living over here in La La Land. I want to help people in their marriage because I went through a lot. And I feel like with the amount of people that reached out to me, a lot of people go through those same issues. And so I just want to let people know it's okay to argue and it's okay to disagree, but guess what? You guys can still love each other and that doesn't dictate your whole entire marriage or dynamic or your day.
Jamie: Well said, Beth.
Beth: Thank you, sweetie.
Is it difficult putting yourself out there like that? Because it sounds like Couples Cam is going to be really, really intimate.
Beth: I don't feel like it's difficult. I'm a very transparent person. I've got nothing to hide, okay? Except just in my "no-no box." But other than that. I remember going through the process with Married at First Sight. And I remember looking at all of the producers and I said, "You can go through my house, you can go through my phone, you can go through anything. I don't have anything to hide." And I've stayed so true to that this whole time.
Jamie: Yeah, that's the same for me. I also create a degree of separation where I'm like, I create my content, or we create our stuff for Couples Cam, and then it's out there and what people want to do with it is fine. And I try not to really think about it because we are open people. So we're just used to that.
Beth: Make sure your work is meaningful. That's the most important. Yeah, make it count. ... I promised myself at a really young age in life I never wanted to be fake. And so I did that.
Beth and Jamie have some exciting plans for the future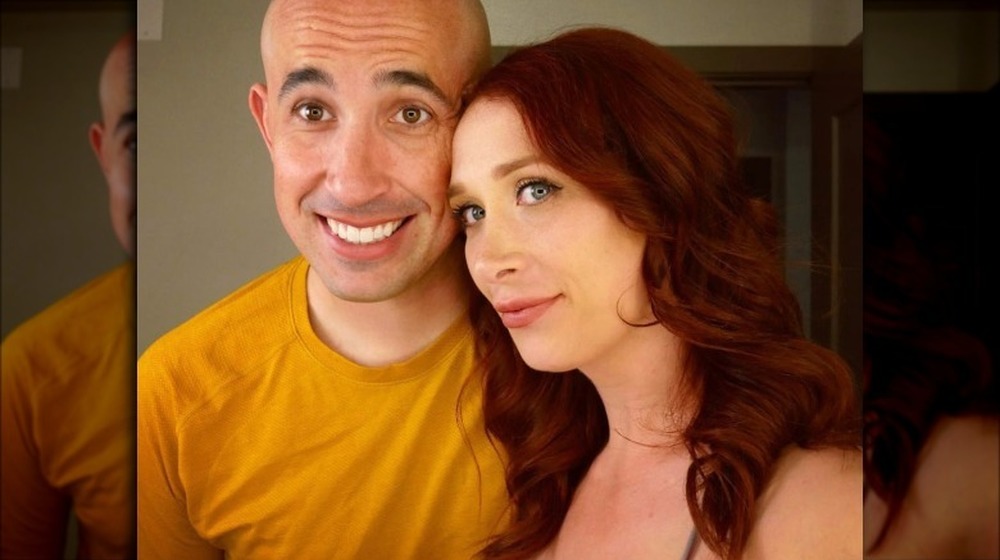 So what are your plans for the future after from Couples Cam?
Beth: Of course, we're hanging out in Santa Barbara right now, but we are starting to get more serious about buying a home and where we're going to buy a home. And of course, baby fever, that's coming up more and more now. So we're really just trying to figure out that, where we're going to do that in life, where we want to raise our child at. And also too, I totally lost my career in the pandemic. I was a hairstylist and I worked in the beauty industry. So it's been really fun to figure out what else I'm good at right now. So that's all I've known and I would never have guessed 10, 12 years ago when I got my license that, hey, guess what? You're not going to have a career in 2020. So it's just been really great. And I've had a really great support system here from Jamie who's really helped guide me in a different direction. And he's been letting me know what else I'm good at. And it's been kind of cool.
Jamie: Yeah, you're good at a lot of things. As soon as you said that, I was like, "No, you're good at a lot of things."
Beth: Thanks sweetie, I appreciate that. So, that's basically what's been going on: Beth lost her career and we're trying to figure out where we want to buy a house.
Jamie: Yeah, it was a conscious decision for us to come to Santa Barbara. We knew that this was a stepping stone or a stop off point, if you will. So we know that we actually want to buy a home. We're renting right now and we want to buy somewhere and lay down some roots.
Beth: We've got this. We've totally got this. ... Watch Couples Cam, it's the best show ever.
Jamie: It's a good watch.
Beth: No, it really is. It's a great dynamic. If you loved Married at First Sight, keep up with the rest of the couples that have made it. It's so much fun. You guys are really, really going to like it, and also keep watching Married at First Sight, because we love that show too. And be good, be kind out there guys.
If you've been wondering how any of your favorite reality TV couples have been doing, tune into Married at First Sight: Couples Cam on Lifetime. You can also shop Jamie and Beth's lifestyle brand online now.