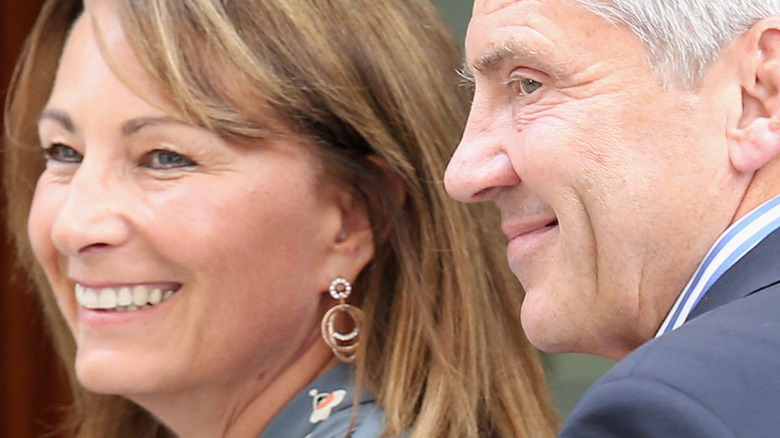 With their eldest child set to become Queen of England one day, it only makes sense that royal fans have long been interested in Michael and Carole Middleton.
Catherine Middleton will be the first middle-class woman to serve as Queen Consort when Prince William accedes the throne. However, royally connected or not, the prince's university sweetheart had a rather plummy upbringing, herself. As Daily Mail reported in 2005, shortly after she and her now-husband went public with their relationship, she attended two elite schools as a child. First, she attended Downe House — which, today, costs more than $34,000 per year to attend (via their website). Thereafter, she attended Marlborough College, which set parents back £21,000 per year in 2005, according to Daily Mail — roughly $36,000 per year in today's terms. On top of that, the Middletons' daughters were also gifted an apartment by their parents in their 20s. According to Vanity Fair, the couple was thought to have paid for it in cash. Per Daily Mail, said apartment was sold recently for a whopping £1.88 million — just under $2.4 million.
Given that, per Vanity Fair, the Middletons also contributed a "six figure" sum to their first-born's wedding, it's pretty clear that, although not necessarily royally connected, this couple has an impressive net worth all their own. So, just who are Michael and Carole Middleton, in-laws to the future king?
Michael Middleton is linked to the aristocracy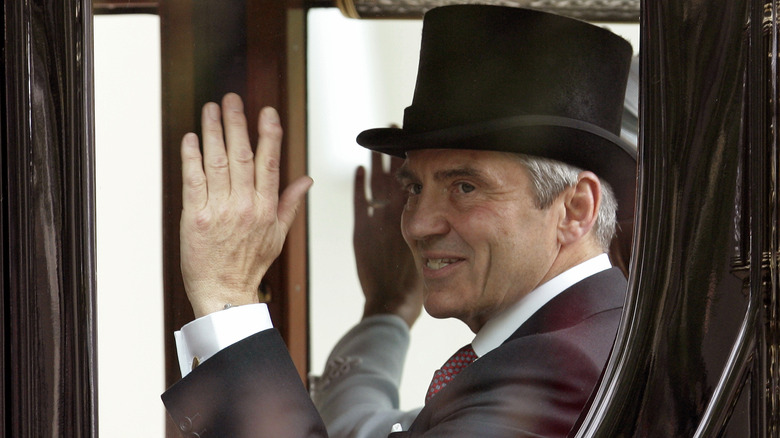 It's a popular assumption that the Duchess of Cambridge's family had no royal connections prior to her meeting and later marrying Prince William. However, her father Michael Middleton actually does have high society ties. As Vanity Fair revealed, Michael is the grandson of Olive Lupton. Lupton was a wealthy socialite who moved in upper crust circles. Sure enough, last year, Daily Mail published pictures of Lupton and her family alongside none other than Princess Mary, all of them attending a garden party in the 1920s. Per Town & Country, the princess was the younger sister of King George VI, making her Queen Elizabeth II's aunt.
As Vanity Fair noted, Lupton received a sizeable inheritance from her father — we're talking more than $10 million, split between her and her sister — some of which was held in trust funds for Michael. As for where Luptons' father's wealth came from, Daily Mail reported he was the son of Frank Lupton, who transformed the centuries-old family wool business into an exceptionally successful endeavor. In light of those trust funds, Michael enjoyed a rather refined upbringing. Like his children, he attended an elite school, Clifton College (via Mirror).
Family inheritance aside, Michael Middleton went on to have an impressive career of his own as a flight dispatcher for British Airways. However, by far his biggest professional achievement is the company he owns with his wife. That is, Party Pieces.
Carole Middleton is a self-made millionaire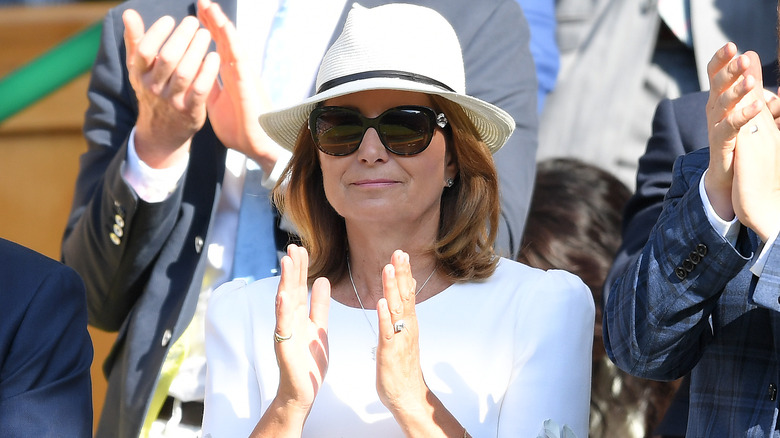 While Michael Middleton may have historic ties with the upper class, his wife does not. In fact, in 2021, Carole Middleton told Good Housekeeping, "My father was a builder, and my mother worked part-time in a jewellery shop and later, would go to work in a factory. I remember them working hard to make ends meet and give us a lifestyle." However, even without royal connections, the Middleton family has their matriarch to thank for their cushy lifestyle.
A flight attendant when she first met her now-husband, Carole started her events supplies company, Party Pieces, in 1983. According to the company's website, the seed for Party Pieces was first planted when she was planning her daughter's birthday party. Carole noticed "a gap in the market for time-pressed parents" — and the rest is history. Today, Party Pieces is a one-stop-shop for everyone's event-planning needs, and it seems to have brought in more than a pretty penny.
On top becoming a self-made millionaire, Carole also birthed three hugely successful children. Not only will her first child one day serve as the Queen Consort, but her other children have done exceedingly well, too. Her second child, Pippa Middleton, wed James Matthews, who, per Evening Standard, is rumored to be a multi-billionaire. As for the youngest of the brood, James Middleton has followed in his mother's footsteps and become a millionaire business owner. She might not be aristocratic, but Carole Middleton has proven herself to be something of a Kingmaker all the same.