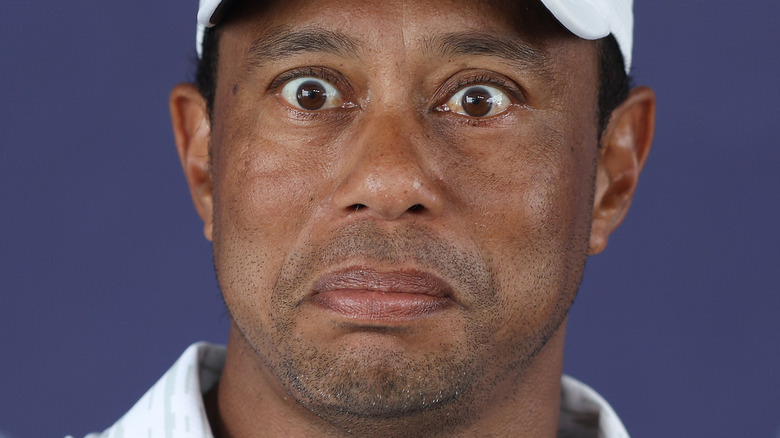 Perhaps the greatest golfer of all time, Tiger Woods has stats from the green that are almost hard to believe. From winning the US Open with a broken leg in 2008 to competing at the Masters after a near-fatal car accident almost 15 years later, Woods has achieved incredible, superhuman feats on the golf course.
The golfer has parlayed his talent into an unbelievable fortune. According to Forbes, Woods is a billionaire, making him one of three professional athletes in the world to boast the appellation, the other two being basketball superstars Michael Jordan and LeBron James.
Despite these accomplishments, much of what Woods is known for is rather negative. In the late aughts, Woods' personal life shattered when news of multiple extramarital affairs went public, making him arguably most famous for his new title: philanderer.
Over 10 years and hundreds of exclusive interviews later, nearly all of Woods' exes have spoken, shedding light on one of the most famous instances of mass adultery in recent history. And the women did not hold back. Here's what all of Tiger Woods' exes have said about him.
Elin Nordegren was happy in their marriage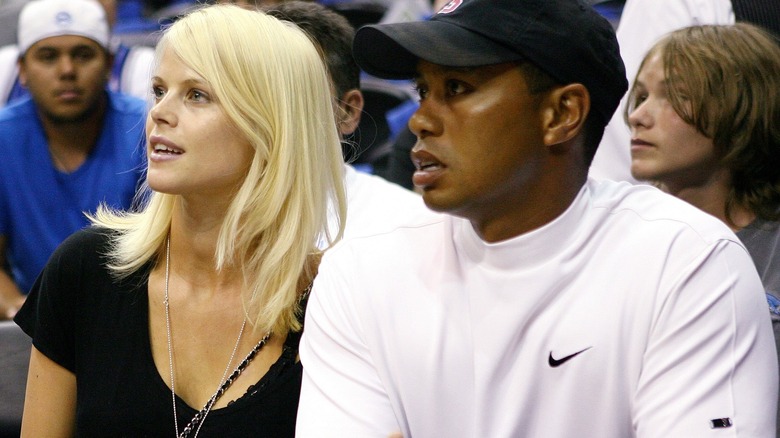 At the beginning of his career, Tiger Woods was known for just that — his job. But in the early 2000s, the sporting legend's personal life became tabloid fodder when he and model Elin Nordegren began dating. In 2004, the couple got married at a golf course in Barbados. They welcomed two children together and the couple had a happy marriage for five years until news broke that Woods had been sleeping with several other woman.
Though she didn't speak about it publicly, the model was alleged to have made her opinions about the situation known by taking a golf club — a wood, perhaps — to her cheating husband's car, per Sports Illustrated. Speaking to People, Nordegren strongly denied the rumors. She instead suggested that she was trying to help her husband get out of the locked vehicle. The couple divorced and she received a settlement of $100 million, per the Los Angeles Times,
About five years after the incident, Nordegren opened up to People about her life and her relationship in hindsight. "I loved him, we had so much fun, and I felt safe with him. Our wedding day was one of the happiest days of my life." However, reckoning with the reality of her marriage proved to be harrowing. She added, "I felt embarrassed for having been so deceived."
Nordegren eventually moved on and in 2019 she gave birth to her third child whom she shares with her boyfriend Jordan Cameron, per Radar Online.
Rachel Uchitel venerated Tiger Woods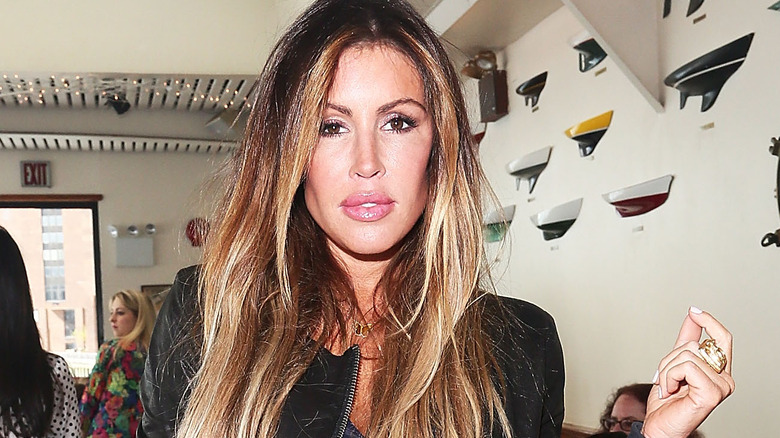 The most infamous of all of Tiger Woods' mistresses — and there were many — is Rachel Uchitel. Prior to pursuing a furtive relationship with the golfer, the VIP host was working for Bloomberg News before carving a career in nightlife, per NY Mag,
The two met while she was working. As she shared in the HBO documentary "Tiger," her job was to host the rich and famous while partying at the club she worked at. They started their affair shortly after meeting. "I remember thinking with him, how am I ever gonna be with a mere mortal ever again?" she stated about their first liaison (via Us Weekly).
Once news broke of her relationship with Woods, everything changed. "This story was so huge, that was the end of my life as I knew it," she said. Though she regrets her behavior, Uchitel feels the blame was largely put on her and very little on Woods. Although she wanted to share her perspective on the scandal, she was offered $8 million for her discretion, per The New York Times. However, after legal fees, taxes, and other complications, the final figure she received was said to be much smaller.
Over a decade later, Uchitel finally felt comfortable detailing her affair with Woods, and she may soon have more to tell. Per Page Six, in 2022 the former nightclub host was looking for a publisher for her tell-all book. We'll eagerly be some of the first to read it!
Jamie Jungers had a crush on Tiger Woods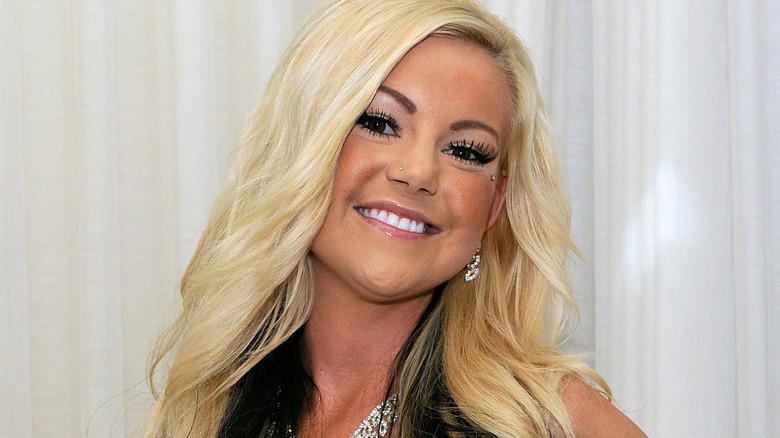 Post-affair and car crash, several more women came forward claiming that they had an affair with Tiger Woods. One of those women was Jamie Jungers, a model based in Las Vegas. In 2009, a Life & Style report (via Extra) claimed the golf legend had paid her to sleep with him, and that she used the money for plastic surgery. The model subsequently made an appearance on "Today" to share her side of the story, prompting a frenzy of women to spill their own stories about the golfer's extra-marital liaisons to various outlets.
On the show, Jungers described alcohol being a driving force behind their involvement on the night she first met Woods. They immediately spent the night together, and started their affair. When asked why she continued seeing a married man, Jungers said, "I'm not a huge sports fan, but I do watch sports ... I've had a crush on him for a while, and I was very excited and honored that he wanted to meet me and had interest in me."
Jungers confirmed that their affair continued for a year and a half. Describing their dynamic as one between a boyfriend and girlfriend, the Vegas resident claimed to have loved Woods. She detailed parts of their relationship in her book, "Captured by Grace: The Jamie Jungers Story" (via National Enquirer), where she also suggested that the fallout from the affair led her into a dark place of addiction.
Cori Rist regretted her behavior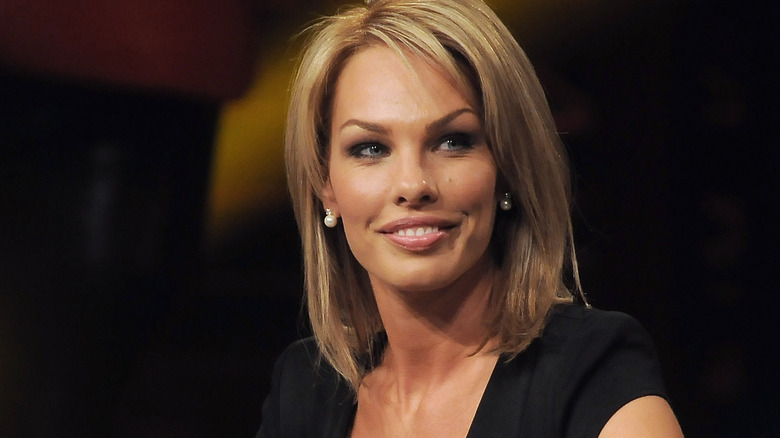 Model Cori Rost also made an appearance on "Today," to tell all about her alleged affair with the disgraced golfer, essentially making the show the unofficial hub for exclusive stories from Tiger Woods' many mistresses. The model's dalliance with the Masters legend began similarly to how his relationship with Jamie Jungers began. Rist was said to have been approached in a nightclub by someone on Woods' payroll who suggested the sports star wanted to meet her. The two began their affair shortly thereafter. "He immediately told me a joke, broke the ice. It was very comfortable. He was funny, polite, and that just started the evening," she said of their first night, adding that their relationship continued for about six months until she ended things.
Although Rist didn't realize there were other women he was involved with, she did know Woods was married, and that was the most difficult part for her. "I'm sorry for her pain. I hate that I am a part of it ... I had no idea it would be like this. I can only imagine the pain she's feeling now, and I'm sorry," Rist cried. While she largely stays out of the spotlight today, in 2017 the model weighed in on Woods' DUI arrest. She told Daily News, "I was definitely surprised and saddened when I heard the news this morning. I don't like to see people suffer."
Jaimee Grubbs thought Woods was amazing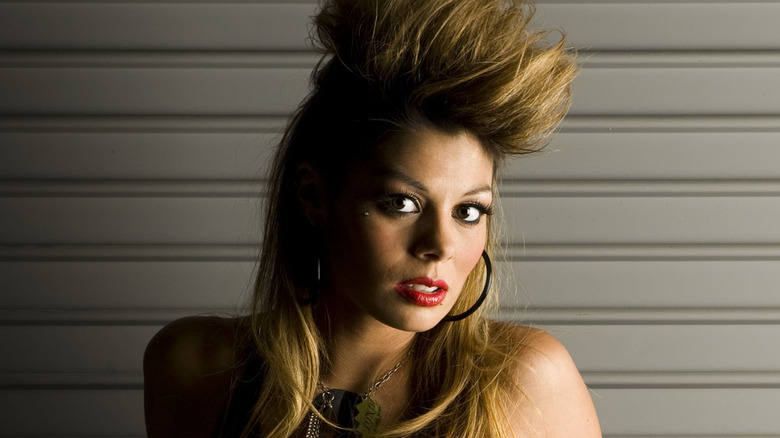 Another woman who came forward that same fateful year that Tiger Woods lost seemingly everything was Jaimee Grubbs, a cocktail waitress from Los Angeles. The woman opened up to Us Weekly, claiming that she not only had an affair but also had receipts to prove it. The waitress had both voicemails and text messages from Woods and appeared on "Extra" to dish about her time with him to host Lauren Sanchez.
Like Cori Rist, Grubbs was sorry for how her behavior affected Woods' wife and family. "I couldn't describe how remorseful ... I am to have hurt her family and her emotionally," she shared. "If it wasn't me it was going to be other girls. I did care about him — I didn't do it for superficial reasons. I didn't do it purposely to hurt her." Even after all that had transpired with him, Grubbs still looked at Woods in a redeeming light. "He's an amazing guy despite everything that is coming forth," she said.
Since the affair, Grubbs hasn't been in the spotlight. Aside from her links to Woods, her biggest claim to fame was a feature in Maxim magazine, as reported by HuffPost.
Lindsey Vonn and Tiger Woods are still friends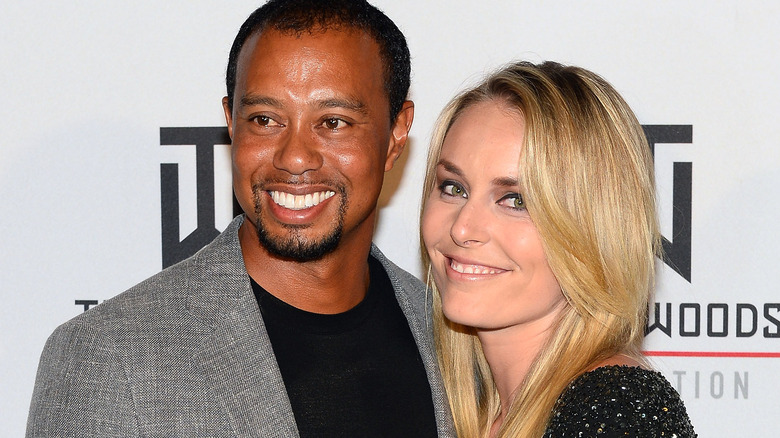 Tiger Woods is proof that no matter what, you can still find love. After his affairs and divorce from his wife, the golfing GOAT began dating Olympic gold medalist Lindsey Vonn. Though the two could've had some of the most athletically gifted children on the planet, the pair were only together for about three years before splitting in 2015.
In a Facebook post (via Golfweek), Vonn wrote, "I will always cherish the memories that we've created together. Unfortunately, we both lead incredibly hectic lives that force us to spend a majority of our time apart ... He and his beautiful family will always hold a special place in my heart." A few years after splitting with Woods, the ski racer competed in the 2018 Winter Olympics, winning bronze in alpine skiing. As noted by Star Tribune, Vonn's memoir, "Rise: My Story" focused on her illustrious career and skipped past specific details of her romantic relationships — including Woods. "It's important to keep ... things like that as private as I can," she told Washington Post.
Despite maintaining a dignified silence regarding their relationship, she remains one of the few exes to only have positive things to say about the golf champ when she does speak up. When Woods had recovered from his horrific car crash in 2021, Vonn told Entertainment Tonight, "We are friends and, of course, I'm happy that he is back and healthy."
Kristin Smith can't say anything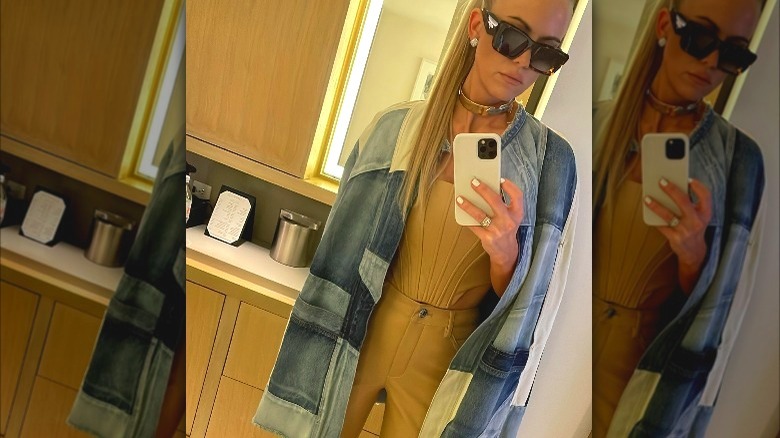 Oh the NDA. It's the enemy of people who want to talk as well as curious listeners like us who would love to know more about the intimate lives of the rich and famous. Following his split from Lindsey Vonn, Tiger Woods dated stylist Kristin Smith for about two years. Per TMZ, Smith signed a nondisclosure agreement, which legally precludes her from sharing any details of their relationship or breakup with the public.
Although Smith would like to speak out — and there are many who would love to hear what she has to say — she legally isn't allowed to. According to The Sun, the stylist, who used to be married to Dallas Cowboys football player Gerald Sensabaugh, reportedly claimed that Woods cheated on her, which isn't too hard to believe considering his past. At any rate, the allegations will likely go unconfirmed considering the legal obligation Smith faces. Per the outlet, she was alleged to want the agreement made invalid so she could spill on Woods' alleged dirty deeds.
It may be in Smith's best interest to keep quiet, though. Per Rolling Stone, breaking an NDA can be quite expensive. Of course, the specific amount depends on the terms of the agreement, but it's estimated that violators could owe anywhere from $25,000 to $750,000 per breach. That's one hefty payment.
Nothing about Tiger Woods surprises Erica Herman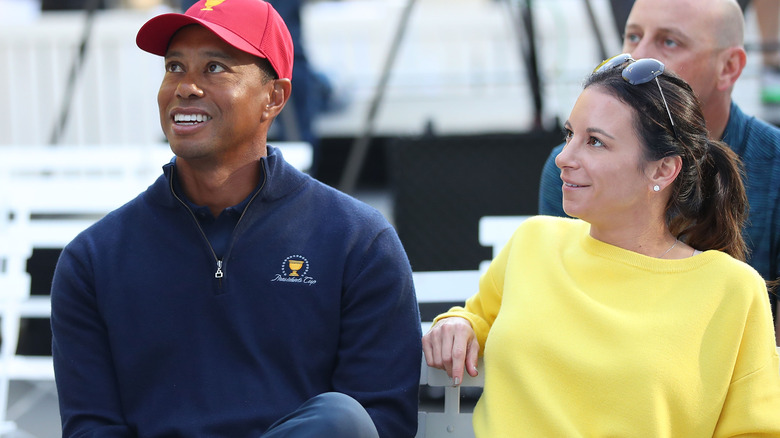 There are some women who still love Tiger Woods, and that includes his current girlfriend, Erica Herman. The two begin dating shortly after he and Kristin Smith broke up in 2017. Since the beginning of their relationship, Woods received the Presidential Medal of Freedom from former president Donald Trump, and he also suffered a life-threatening car accident that left him with broken legs and the possibility of never being able to golf again.
Woods made a full recovery, and he was even able to participate in the Masters again, which came as a huge surprise to most people, but not Herman. "I mean, nothing ever surprises me about him, but he just work so hard to be here, that was the one thing I knew: once he got here, he wasn't going to go home," she told Golf.
As of 2022, things seemed to be happier than ever for Woods — even between him, his ex-wife, and Herman. A source told People, "Elin has a friendly relationship with Erica. Tiger has come a long way and even acknowledges that. She is happy that he is dating Erica." We love to see it.
Kalika Moquin denies anything happened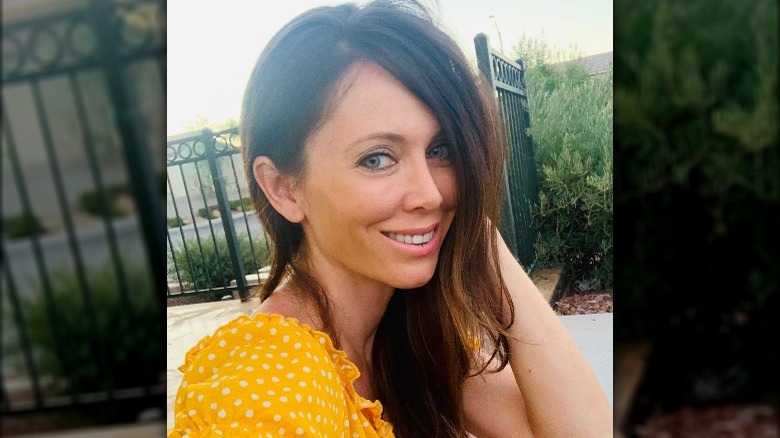 Though it sure seemed that way, not every woman wanted to be associated with Tiger Woods in 2009. In fact, many didn't, including some who were alleged to have had a relationship with him. One of those women was Kalika Moquin, a Las Vegas nightclub manager.
Us Magazine reports that many different outlets, including TMZ, had linked Moquin to Woods during his major string of infidelity. However, she'd maintained that she never had an intimate relationship with the golfer. "Sometimes I'll deal with celebrities on my job on a day-to-day basis just to touch base with people, but it's completely untrue that there's anything more than a professional 'How are you doing? Are you enjoying your time in Vegas?' conversation," she told the outlet.
Despite her protest, another source claimed that the manager was lying to protect her image saying, "She was absolutely sleeping with him. She brags about it!" We might never know the truth about this relationship, but it's safe to say Woods has a sordid past.