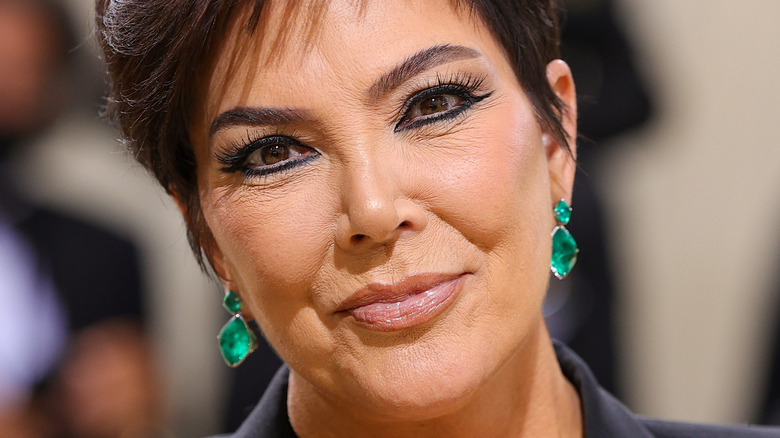 Talk shows have been a staple of television since its advent — in fact, they predate television, since the first talk shows were on radio — and they continue to be a popular format even in the digital age. Still, today's TV talk show slate cannot compete with the heyday of the genre, back in the 1980s and 1990s. In the '80s, tabloid talk shows erupted in popularity, and they continued to dominate for decades thereafter. Many who grew up in that time period have memories of watching Maury Povich, Sally Jesse Raphael, or Ricki Lake after school. The current daytime landscape is filled by everyone from Kelly Clarkson and Drew Barrymore to Steve Wilkos and Dr. Phil.
The debut of "The Oprah Winfrey Show" in 1986 really changed the game, and networks have been trying to find the next Oprah ever since. Winfrey was not the first big daytime show — "The Phil Donahue Show" started in 1970, for example — but she became the barometer of success. Networks were able to find some other long-lasting alternatives, such as "The Montel Williams Show" (1991-2008) and "Jerry Springer" (1991-2018), which kept the tabloid format long after Winfrey went highbrow. There was also "Maury," the longest-running daytime show, as well as "Geraldo," "Ricki Lake," "The Jenny Jones Show," and "Sally." But for every major talk show, there have been two or three failed ones. Here are some of the celebrities you forgot had their own talk show.
Katie Couric gave daytime a try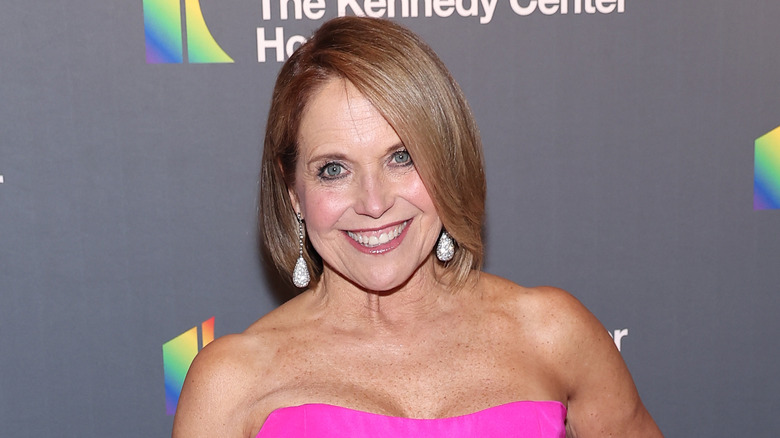 Katie Couric is one of the most respected living journalists, but her career has certainly had its ups and downs. Her time at "Today," spanning from 1991 to 2006, was undoubtedly a high. She left the show, which aired on NBC, for "CBS Evening News," with a side gig at "60 Minutes," but has said that neither show was a great fit for her. (Per Page Six, Couric apparently painted such an unflattering picture of her experience at CBS in her 2021 book "Going There" that CBS didn't let her talk about the book on the network.) After she left CBS, she headed to ABC News and launched a daytime talk show called "Katie."
"Katie" made a strong debut when it first premiered in 2012, when it was the No. 1 new syndicated talk show, but Couric never managed to win people over the way ABC had expected. She did, however, win a Daytime Emmy Award for her hosting in 2014. And despite a much-publicized blunder while interviewing "RuPaul's Drag Race" alum Carmen Carrera and actor Laverne Cox about their experiences as transgender women in Hollywood, we appreciate how Couric brought Cox back to the show to ensure other could learn from the moment (for which she received praise from LGBTQ+ publications like the Advocate). But whereas Couric wanted to mix in harder topics with the fluff, that is not what people wanted. "Katie" ran for only two seasons.
Daytime TV and Jane Pauley didn't mesh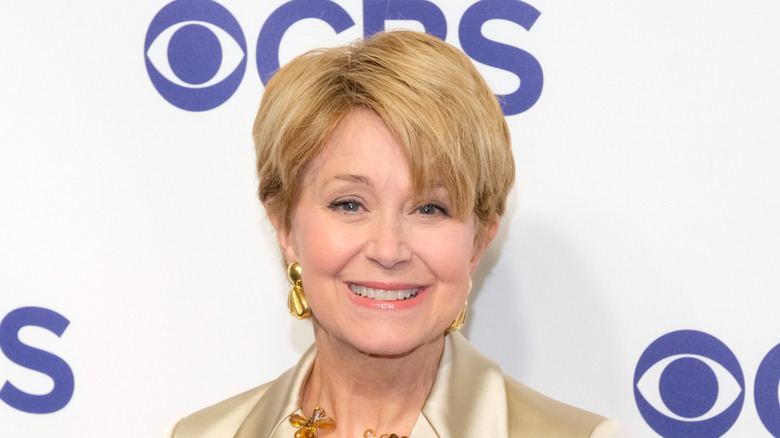 Katie Couric is not the only serious journalist to take on a daytime talk show and fail. Gayle King tried it with "The Gayle King Show" and lasted only one season. "Megyn Kelly Today" also lasted a season, and "The Charles Perez" show lasted two. Perhaps one of the biggest failures in this arena has been "The Jane Pauley Show," which many had assumed would take off due to the popularity of its host, Jane Pauley. After all, Pauley hosted "The Today Show" for over a decade and had been working as an on-screen journalist since 1970, so there is no question she has the charisma and charm needed to front a talk show.
"A show topic might have a lofty reason behind it, or it might be more my own personal agenda," Pauley told Entertainment Weekly in the lead-up to her show, which premiered in 2004. "But I want viewers to come back to the show every day thinking, 'You know, I got an idea from watching this show. And I will never look at my underwear drawer the same.'" We guess people did not need help with the underwear organization, because "The Jane Pauley Show" lasted only 41 episodes before the powers-that-be pulled the plug. While her talk show just did not work, we are glad Pauley found further successful projects, mostly notably her hosting duties on "CBS News Sunday Morning."
Caroline Rhea's show ended after only a few months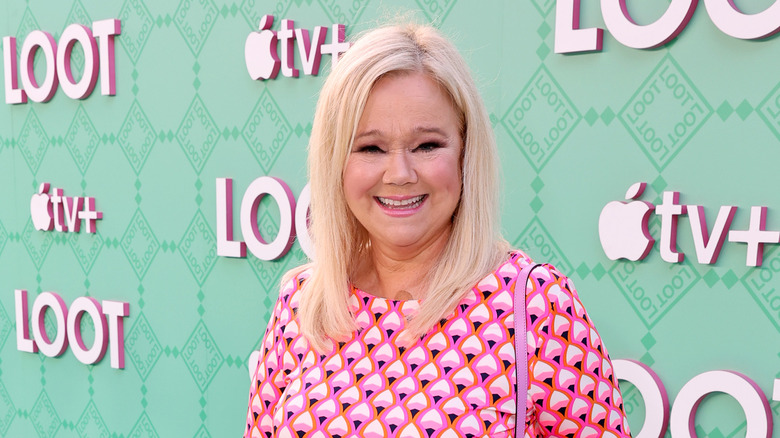 We loved Caroline Rhea as kooky aunt Hilda Spellman on ABC's "Sabrina the Teenage Witch," but she was not able to make herself shine as brightly when she took on daytime TV in the early aughts. Rhea has been doing stand-up since the 1980s, so the comedy part was not her issue so much as living up to the enormous hype. Per Playbill, Rhea was being touted as the new face of daytime TV and there was hope her show would live up to the immensely popular "The Rosie O'Donnell Show," which ended in 2002, just months before "The Caroline Rhea Show" began. Rhea even guest hosted O'Donnell's show on Fridays in the months leading up to her own effort.
Rhea's reviews were overwhelmingly positive, which only makes the situation all the sadder. "I don't get how this works: Maury Povich, Jerry Springer, Jenny Jones and Ricki Lake each put on some of the most embarrassing, low-class television shows known to man, and they get renewed every year," wrote Fox News' entertainment journalist and critic Roger Friedman. "But Caroline Rhea's show — which is classy, funny, interesting and witty — is facing imminent cancellation." The series didn't make it a full year. Rhea is still working in projects like "Sydney to the Max" and "Phineas and Ferb," and as of 2022, is still out there touring with her standup.
Bethenny Frankel pivoted away from daytime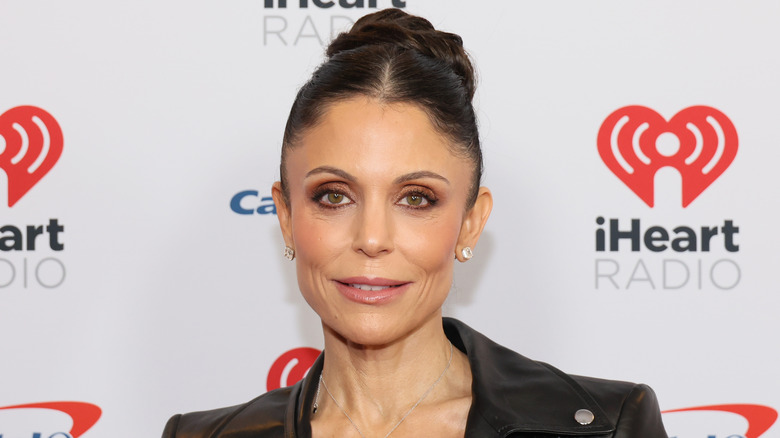 There is no questioning that Bethenny Frankel is a top-tier Real Housewife. We cannot even fault her for placing herself on a hypothetical "Mount Rushmore of Real Housewives" — which she did on "Today" in 2022 — because she truly belongs at the top of the heap. As a talk show host, however, Frankel was just fine. People love Frankel for telling it like it is, but warm and fuzzy she is not. And for the type of chat series she was aiming for, Frankel needed to be a little bit warmer and a little bit fuzzier. The daytime program never did well enough in the ratings to be a huge player like "The Ellen DeGeneres Show," hosted by one of the "Bethenny" executive producers, Ellen DeGeneres.
"Bethenny" ran between 2012 and 2014. According to Deadline, the show was dropped from 70% of its affiliates to make space for an incoming show from Meredith Vieira, which was the nail in the coffin for Frankel's daytime career. In the years since her talk show, Frankel has remained in the public eye by way of her podcast, her work with her charity BStrong, and a number of TV projects including a return to "The Real Housewives of New York City" for Seasons 7 through 11 and a short-lived HBO show called "The Big Shot With Bethenny." She is currently appearing on "Money Court" alongside "Shark Tank" investor Kevin O'Leary.
Kris Jenner's talk show came and went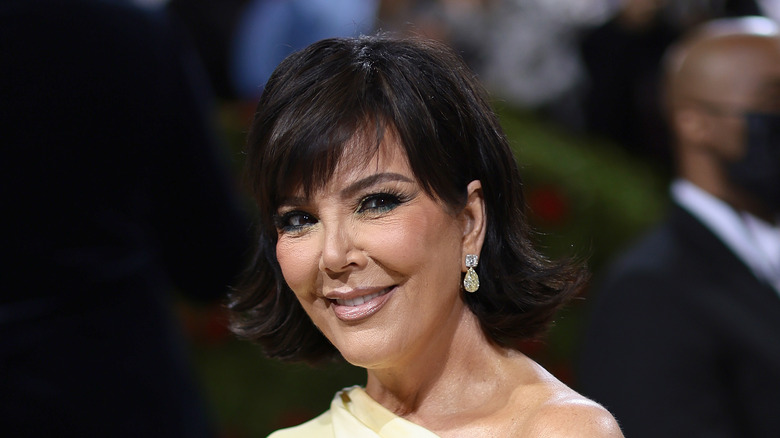 Which Kardashian-Jenner would kill it in the ratings if they had their own show? Perhaps you answered Kylie Jenner or Kim Kardashian, or even Khloé Kardashian, who not only had a short-lived talk show called "Kocktails with Khloé" but later found some success with E!'s "Revenge Body with Khloé Kardashian." In any case, we are going to go out on a limb and assume Kris Jenner was not the first KarJenner to come to mind. (That said, she may not be the most unlikely candidate — that would be Kourtney Kardashian, who seems to loathe being on TV in general.) But in the summer of 2013, Kris was offered the chance to host her very own show on Fox.
Alas, "Kris" never made it past the six-week test phase the show was given, and executives were not exactly kind when discussing Jenner in the press. "I think she was pretty uninteresting [on camera]," said Frank Cicha, president of programming for Fox Television Stations and a senior vice president at the network at the time, in an interview with The Hollywood Reporter. "That was one where [sister company] 20th Television tried to capitalize on a name. ...When the camera was on she looked not just like a deer in the headlights, but like a deer that already got hit." While that had to sting, we hope Jenner dried her tears with her signature black toilet paper as she took solace in her hundreds of millions of dollars.
Gabrielle Carteris' show was a one-season wonder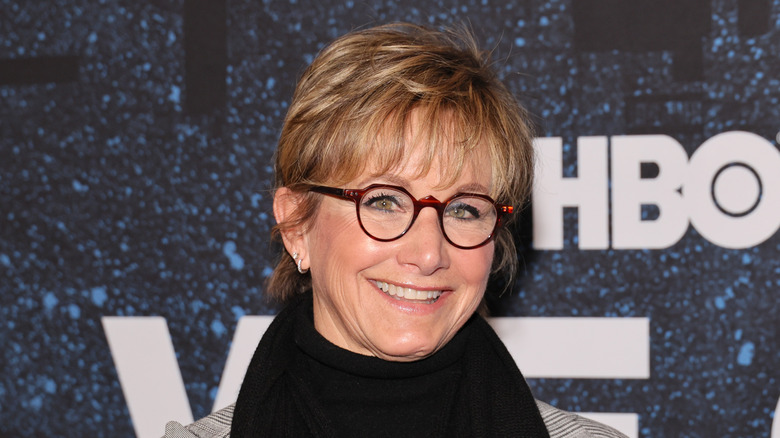 After playing Andrea Zuckerman on "Beverly Hills: 90210" for five seasons, actor Gabrielle Carteris parted ways with the primetime soap opera and decided to try her hand at something completely different. Per The Virginian-Pilot, Carteris moved on to daytime. Her show, "Gabrielle," made its debut in 1995, alongside a slew of other talk shows hosted by celebrities. At the time, Carteris told SFGate that she was uninterested in making shocking for the sake of shocking TV and that she planned to keep things classy and sophisticated.
Alas, "Gabrielle" was cancelled after just one season due to poor ratings. In an interview with Working Mother, Carteris admitted to having been deeply upset by the show's demise. "When I got the call saying the show was canned, I broke down and cried," she said in the article. "My husband was standing next to me and said, 'I love you, honey, and I'm proud of you.' And that was worth more than anything." Carteris has continued to act, but is probably now equally as well-known for having been the president of SAG-AFTRA from 2016 to 2021.
Danny Bonaduce's show didn't take off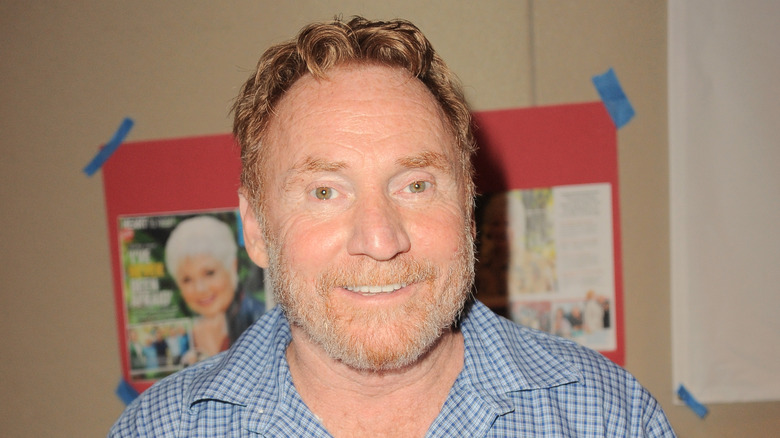 Danny Bonaduce was front and center as the face of another talk show that made its debut in 1995, entitled "Danny!" Bonaduce is, of course, famous for his time as a child actor on "The Partridge Family," which spanned from 1970 to 1974. He has continued to act over the years, but has also explored alternate careers, from celebrity boxing to radio host, which is something he has done off and on over the years. He is currently the co-host of the radio show, "The Danny Bonaduce & Sarah Morning Show," which airs on Seattle's KZOK. Bonaduce has also become a fixture of celebrity reality TV programs, game shows, and specials. This includes appearances on "Battle of the Network Stars," "Re-inventing Bonaduce," and "History of the Sitcom."
But let us get back to that talk show of his that lasted only one season. "Danny!" was supposed to be somewhat of a career rejuvenation for Bonaduce, who had some trouble with the law earlier in the 1990s. The TV veteran was ready to bring his "it" factor to daytime. As he said in the Orlando Sentinel, "I'll have the microphone and be walking around the audience, and there will be people on chairs. So, it will look like every other show you ever saw – until I get started." Though he was a decent host, the show failed to garner a big audience and was cancelled by December 1995, after only four months, per the Buffalo News.
Carnie Wilson's show didn't connect with viewers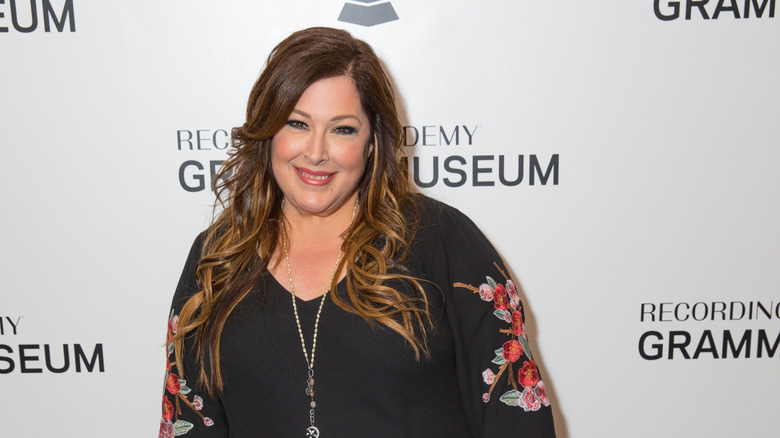 Yet another ill-fated 1995 talk show — and this one also has the totally unnecessary exclamation point in its title — "Carnie!" was cancelled just a few weeks after "Danny!" got the chop, per The New York Times. Hosted by Carnie Wilson, one third of musical trio Wilson Phillips and the daughter of the Beach Boys' Brian Wilson, the show was very much in the salacious TV genre of the 1990s. Topics covered included "Your Flirtatious Ways Are Ruining Our Relationship" and "Help! My Ex is Ruining My Life," which were not quite sensationalized enough to compete with the likes of "Jerry Springer" and "Maury."
Carnie Wilson has always had a big, boisterous personality and so she made sense as a host on paper, but the daytime TV landscape was simply too crowded and "Carnie!" too indistinct to make it. Unfortunately, some viewers did not quite love what she brought to the table. "It's considered impolite to kick someone who appears to be down," wrote the Los Angeles Times just before the show's cancellation. "Yet no one merits kicking more than the host of shrill, obnoxious 'Carnie,' whose ratings–despite being best among new daytime talk shows this season–still may not ensure its survival, so high are audience demands and fiscal stakes in this arena." Carnie has remained in the public eye since the show's cancellation, taking on many different gigs including being a frequent guest co-host on "The Talk" and appearing alongside her band on Season 8 of "The Masked Singer."
Tempestt Bledsoe's show couldn't find its footing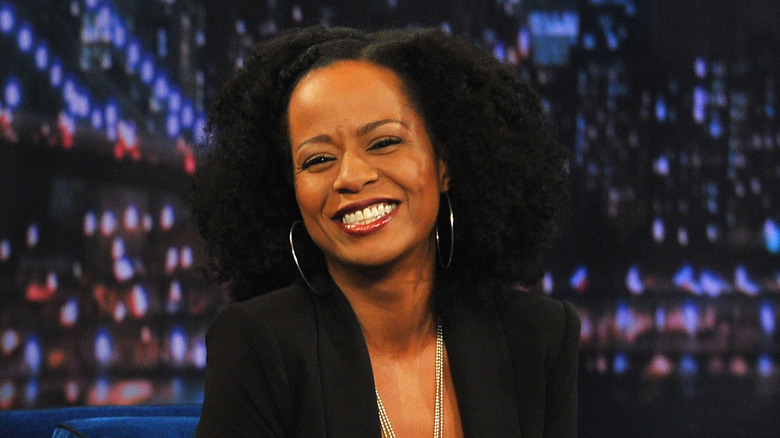 We have one more talk show from 1995 to discuss, and sadly, it was a one-season wonder just like the rest of them. Tempestt Bledsoe shot to fame in the mid-1980s as Vanessa Huxtable on "The Cosby Show" and remained with the series until it ended in 1992. Without much going on in the way of acting, Bledsoe signed on to host her own show, "The Tempestt Bledsoe Show." But given that even veteran programs were having ratings trouble in the 1995-1996 season, per Variety, new shows had an uphill battle to find an audience. Per Variety, Bledsoe's show performed better than some of the other newbies, like "Gabrielle," but not well enough to last.
In September 1995, Entertainment Weekly graded the big-name new celebrity talk shows, including "Danny!," "Gabrielle," "The George & Alana Show," "Carnie!," "The Mark Walberg Show," and Bledsoe's project. Bledsoe's show was given a C-, one of the worst ratings on the list. "Of all the new shows, 'Tempestt' takes the highest road — no showbiz razzle-dazzle, and its subjects have more to do with mild annoyances than with major dysfunction — but unfortunately, that also makes this show one of the most boring," wrote the critic. Bledsoe's still working as an actor and has found success in reality TV. She has appeared in everything from "Fear Factor" to "Celebrity Fit Club" to "Househusbands of Hollywood."
Harry Connick Jr.'s acclaimed series got dropped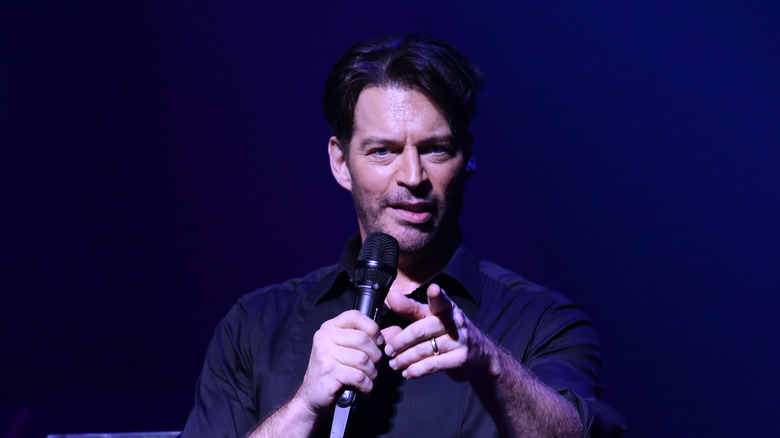 It is hard not to love Harry Connick Jr., who oozes both charisma and relatability whenever he is on screen. And yet, a good personality is not enough to sustain a talk show in the media-saturated culture in which we live. Not even awards cred can do it, as proven by the six nominations and two wins that Connick Jr.'s show, "Harry," racked up at the Daytime Emmy Awards during its two-season run. "Harry" made its debut in 2016 and was cancelled in February 2018. "I have truly loved doing this show and appreciate your welcoming me into your homes every single day," Connick said, per The Hollywood Reporter.
The network certainly had high hopes for Connick Jr., who had amassed a following through his music, acting, and "American Idol" judging duties. Plus, two of David Letterman's former "Late Show" head writers, Eric and Justin Stangel, co-created "Harry," which added to the expectations. Even Letterman himself was optimistic when he told Variety, "I think you could put him anywhere on TV. He has enormous appeal." But again, appeal is not enough. Lucky for us fans, Connick Jr. has remained active in both music and television. His latest album, "Alone With My Faith," came out in 2021, the same year he appeared in "Annie Live!," and he is set to be a judge on "Australian Idol" beginning in 2023.
Queen Latifah gave daytime another shot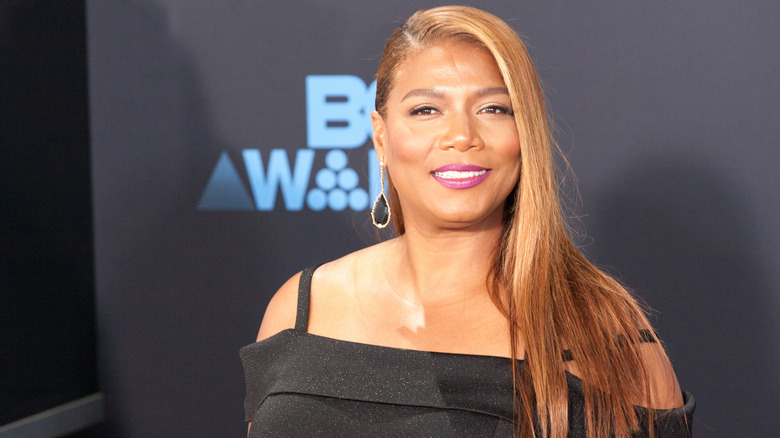 Queen Latifah's talk show is a peculiar case because it happened twice. The first version of "The Queen Latifah Show" aired from 1999 to 2001, after which Latifah went on to establish herself as a headlining actor in films such as "Bringing Down the House," "Beauty Shop," and "Last Holiday." She also earned an Academy Award nomination in 2003 for her showstopping performance in "Chicago," and put out multiple albums in the first decade of the 2000s. But by 2013, Latifah clearly wanted to take another stab at the talk show thing, so she rebooted her show using the same name after 12 years out of the game.
The 2013 version of "The Queen Latifah Show" featured a set designed by Lenny Kravitz and boasted a slew of big name producers including Will Smith and Jada Pinkett Smith. "I was in London having a Guinness, a van rolled up, someone jumped in grabbed me, it was Will and Jada, and they kidnapped me and made me do this talk show," Latifah joked in an interview with CBS. "I did do a talk show before and I learned a lot. I had a good time doing it, but I think there was a lot more I wanted to do at the time." Despite positive reviews from outlets like the Los Angeles Times, and good ratings in its first year, "The Queen Latifah Show" was cancelled in March 2015.
Tony Danza's show wasn't the boss of daytime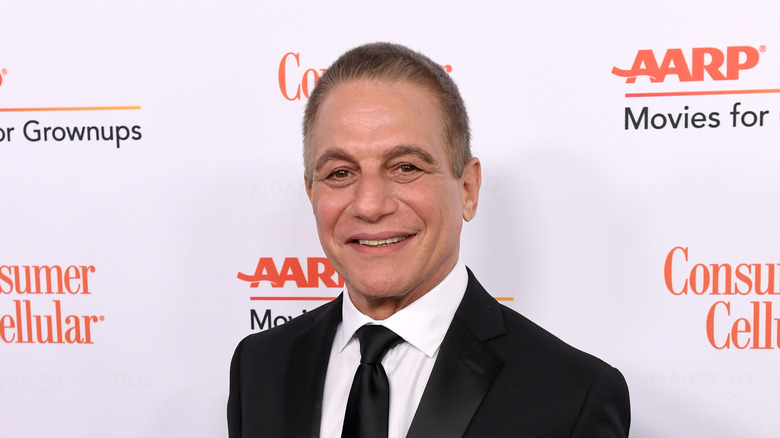 Tony Danza is a Hollywood legend who has been working in show business for over four decades. As a youngster, Danza paired acting with his professional boxing career, and his character on "Taxi" was also a boxer. Danza is also known for his work on "Who's The Boss?," which earned him three Golden Globe nominations. He has appeared in many other television series as well as in films and on stage, including multiple stints on Broadway. That is not to say that everything Danza has done has been a success. For instance, his sitcom "The Tony Danza Show" ran for just five episodes back in 1997 before being cancelled.
Despite his sitcom's failure, Danza was not soured on the show's name and opted to also call his daytime talk show "The Tony Danza Show." The live talk show launched in 2004 and lasted for two seasons before it was taken off the air. "It was living on the edge, and it was so much fun," Danza said in an interview with the Television Academy. "And I was pretty devastated when it ended because ... it's not like you're playing a part, you're playing you, and they rejected you." In the time since his talk show ended, Danza has continued to act in projects such as "Don Jon," and has experimented with reality television, most notably with "Teach: Tony Danza," which saw him become a high school English teacher.
Wayne Brady's Emmy-winning series didn't last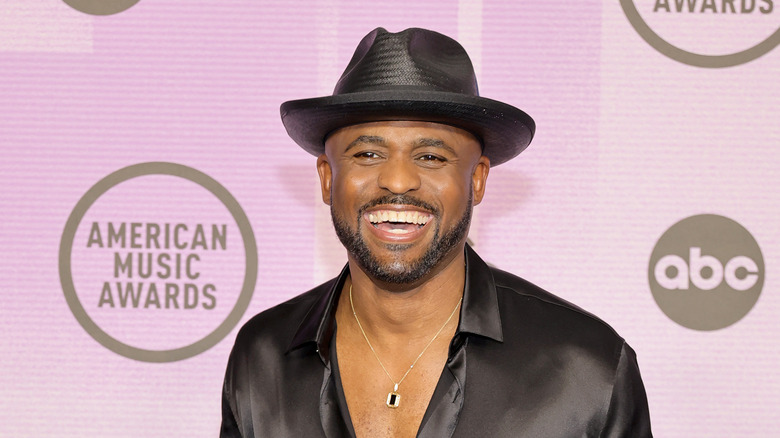 Wayne Brady is a great host, and he has the resume to prove it. He has not only dazzled as the host of "Let's Make A Deal" since 2009, but has won two Daytime Emmy Awards for his work on the series. He has also hosted everything from "Don't Forget the Lyrics!" and "Game of Talents" to Miss America pageants, award shows, and holiday parades. One of his biggest hosting gigs came in the form of his own variety show, "The Wayne Brady Show," which made its debut in 2002.
"The Wayne Brady Show" was actually quite good, despite its cancellation after its second season on the air — per CNN, the program got the ax to make space for "The Tony Danza Show" (oops). What's more, Brady won back-to-back Daytime Emmy Awards for Outstanding Talk Show Host in 2003 and 2004. Don't feel too bad for the guy, though, because Brady's career has been just fine in the decades since his talk show failure. He has continued hosting game shows as well as acting — even appearing on Broadway — and has also become a go-to celebrity reality TV contestant, appearing on shows such as "The Masked Singer" and "Dancing with the Stars." And then there's his Primetime Emmy Award-winning work on "Whose Line Is It Anyway?," so yeah, Brady is doing his thing.
The Osmonds' talk show fizzled out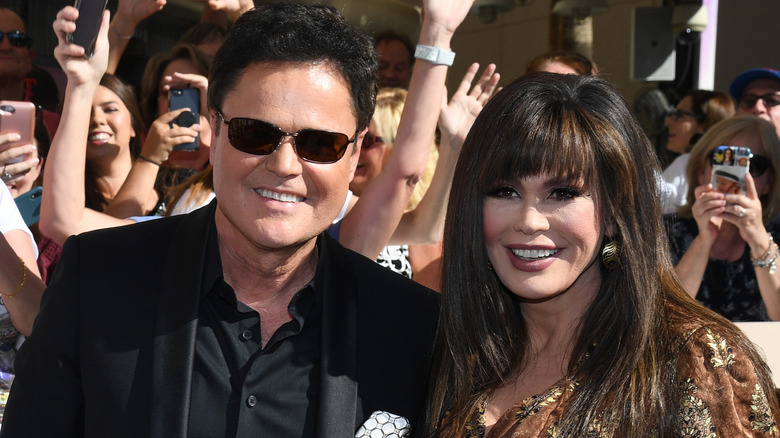 Duos do really well as morning show hosts but in a more traditional talk show format, successful co-hosts are hard to come by. Yes, Kelly Ripa and Ryan Seacrest have made it work, as have all the other combinations of hosts that show has seen, but there are not many others. Married couple Boris Kodjoe and Nicole Ari Parker did not have much success with their series, "The Boris & Nicole Show," and the same could be said about George Hamilton and ex Alana Stewart when they tried with "George & Alana." So, it is not just Donny and Marie Osmond who failed at the task, but perhaps the expectations were higher for the lifelong entertainment partners.
The Osmond siblings began hosting their talk show, "Donny & Marie," in fall of 1998. Though the duo have a long track record of working together — on the 1970s variety show "Donny & Marie," on albums, and on a Las Vegas residency that lasted more than a decade, for example — and enlisted the iconic Dick Clark as a producer, the talk show lasted only two seasons. Despite not lasting long, the show was a hit on the awards circuit, earning 12 Daytime Emmy Award nominations. Both Donny and Marie have worked steadily since their talk show went off the air, but it is Marie who has been steadily trying to break back into the talk show game. She had her own short-lived talker, "Marie," which ended after a season, and also spent one season co-hosting "The Talk."
Meredith Vieira's series wasn't a ratings winner
Meredith Vieira was a great moderator on "The View," a role she filled for the show's first nine seasons, and she has been equally as effective in most of her other gigs, including "West 57th," "60 Minutes," "Turning Point," "Today," and "Who Wants to Be a Millionaire." But like most of us, Vieira does not win them all. Case in point: "The Meredith Vieira Show," her 2014 daytime talk show. It lasted only two seasons, with ratings that steadily declined throughout its run. "I am so sorry to see our show come to an end after this season, but I am also incredibly proud of the work our staff has done and forever grateful to our supportive viewers," Vieira said in a statement at the time, per TVLine.
According to Deadline, while "The Meredith Vieira Show" premiered to high ratings, the format was changed for Season 2 — it became live and panelists were brought on — to accommodate the downward trend. "I'm excited to be returning live for our second season — uncut and unfiltered, anything can happen," Vieira told The Wrap. After the show's cancellation, Vieira continued to work as a host, with projects such as the PBS miniseries "The Great American Read" and the game show "25 Words or Less." She still works as a journalist too, appearing on various programs on the NBC News banner from time to time.
Jeff Probst's talk show couldn't survive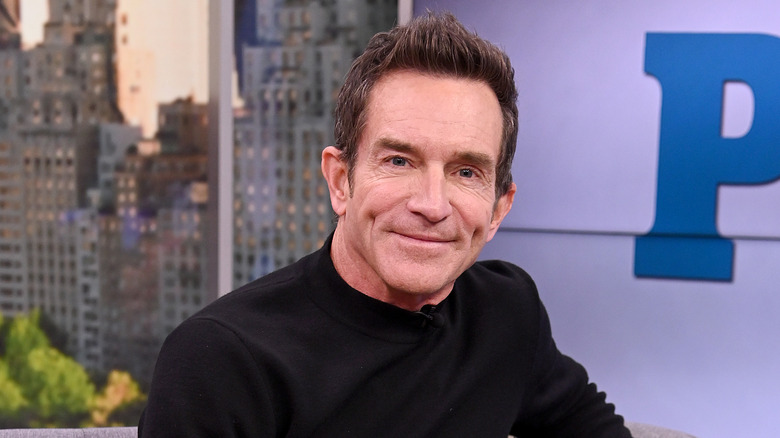 Jeff Probst is a rarity in Hollywood — a popular celebrity who has kept the same gig for decades without any hint of decline. Probst began hosting "Survivor" in 2000 (he is also a producer) and, over 40 seasons later, is still at the top of his game. As a reality show host, he is the best of the best, but as a talk show host, things just did not click. "The Jeff Probst Show" made its debut in September 2012 and, though Probst came across as affable as ever, it was not long for this world. The show was cancelled in February 2013. "I'm super bummed but extremely proud. The truth is all shows come to an end. Ours just ended a decade sooner than we had hoped," Probst said in a statement, per Entertainment Weekly.
The biggest issue that Probst faced was the fierce competition from other newbie talk shows. The incoming slate included talkers from Katie Couric, Steve Harvey, Ricki Lake, and Trisha Goddard — and that is on top of the returning daytime talk shows, of which there were plenty. "We believe Jeff is an incredible talent, and that he and his dedicated producing team delivered quality episodes throughout the season," said a studio statement, per Entertainment Weekly. "Unfortunately, the audience isn't there to support a second year." In addition to the ongoing success of "Survivor," Probst has been a guest co-host for shows such as "Live with Kelly and Ryan" and "The Kendall K. & Friends Show."
Fans rallied behind Bonnie Hunt's show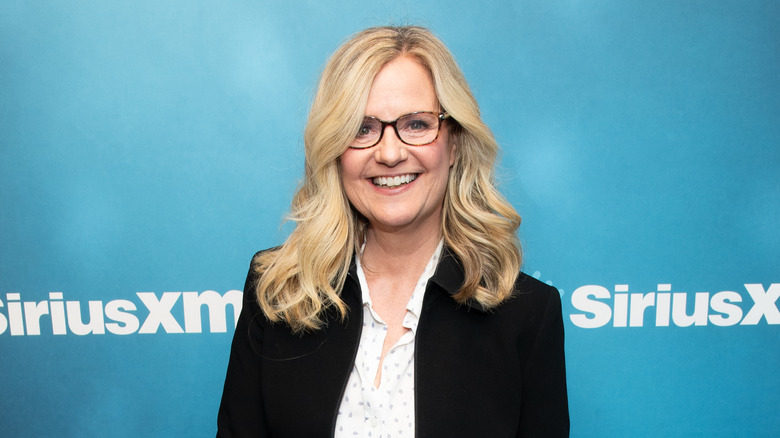 Bonnie Hunt is not as big a name as she once was, but she was still pretty famous when she got her own talk show in 2008. "The Bonnie Hunt Show" ended after its second season due to low ratings and a lack of interest from syndicators. According to the Chicago Tribune (via Tuscon.com), some diehard fans tried to mount a campaign to stop the cancellation, but their pleas went unheard. Even though it ended by 2010, "The Bonnie Hunt Show" earned six Daytime Emmy Award nominations over the course of its two years, including one for Outstanding Talk Show Host.
Hunt has been working in Hollywood since the late 1980s, starting with her breakout role in "Rain Man." Her other film credits include notable turns in "Jerry Maguire" and "The Green Mile," and memorable roles in family-oriented franchises like "Beethoven" and "Cheaper by the Dozen." Hunt has also had a strong presence on television, where she has appeared in numerous programs centered around her, including "The Building," "Bonnie," and "Life with Bonnie." Though all of them were short-lived, the latter earned a Primetime Emmy Award nomination and two Golden Globe Award nominations. Today, Hunt is much more active as a voice actor, appearing as characters in massive franchises like "Cars," "Toy Story," and the "Monsters Inc." series.
Sharon Osbourne's talk show didn't wow critics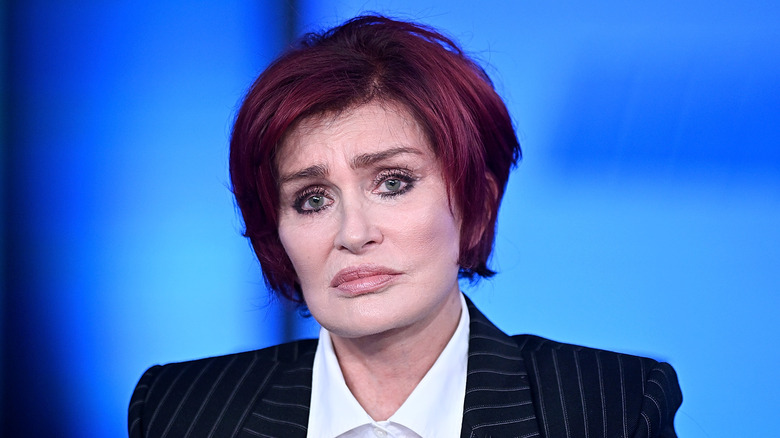 Most pop culture fans know that Sharon Osbourne was a talk show host, given that she spent eleven seasons as a co-host of "The Talk" on CBS. They might also remember that Osbourne left "The Talk" in early 2021 after an on-air discussion about race led to an internal investigation into her conduct on set. Fewer people are aware that Osbourne tried her hand at hosting years before "The Talk" producers called. Based upon the notoriety she gained from her family's reality show, "The Osbournes," Osbourne inked a deal to host "The Sharon Osbourne Show" starting in the fall of 2003.
It should be noted that "The Osbournes" was still on the air and thriving when Osbourne's talk show began. Still, not even that could keep it alive longer than one season since both ratings and reviews were terrible. "Osbourne's fame is based on, well, what exactly? Exposing her family's dysfunction to a national audience? Doing a spectacularly bad job of raising her children? That may get you a guest shot on a talk show, but I'm not sure why it recommends you as a host," wrote USA Today's renowned former TV critic Robert Bianco. "Indeed, the only reasons to watch Sharon are if you are insatiably drawn to failure or if you have some medical need to have your nerves jangled." In addition to being a host and reality star, Osbourne has been a judge on both "The X Factor" and "America's Got Talent."
Roseanne Barr's tough time slot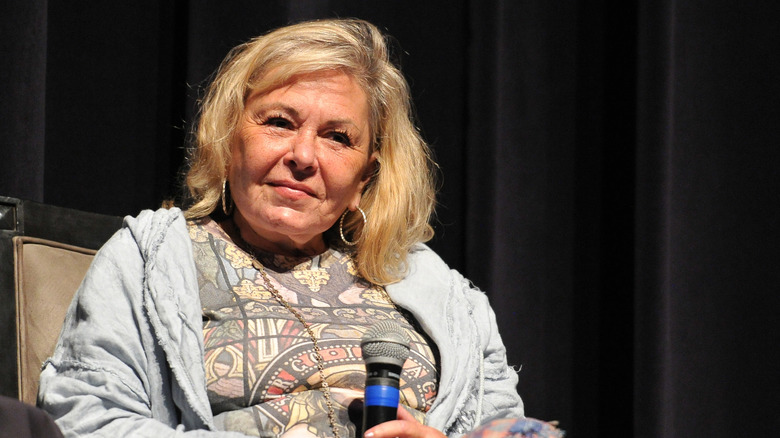 Roseanne Barr is the kind of celebrity that you can't help but talk about whenever she appears on your TV screen. Or movie screen. Or Twitter, even. In fact, it was because of the racist posts she made on Twitter that Barr's rebooted sitcom "Roseanne" was cancelled in 2018. The comedian seems to be steering clear of the public eye nowadays, but her career has been nothing if not unpredictable. For instance, she has starred in multiple reality shows and films, including one documentary that traced her quest to become president. Another project was called "Roseanne's Nuts" and followed Barr's family life on a macadamia nut farm.
Earlier in her career, Barr made more traditional choices. She is best known for her self-titled hit sitcom, but also made a handful of films in the 1980s and 1990s, including "She-Devil" and "Look Who's Talking Too." She also tried her hand at hosting a talk show, which lands her right here on our list. "The Roseanne Show" started in 1998 and lasted for two seasons, but the writing was on the wall a while before its cancellation. According to The Journal Record, some TV stations even began airing the show in the wee hours of the morning because of how unpopular it was. Per Us Weekly, Barr was also reportedly verbally abusive to the staff on "The Roseanne Show" — echoing the many reports of her being difficult to work with on the set of her sitcom.
Megan Mullally's show didn't last a year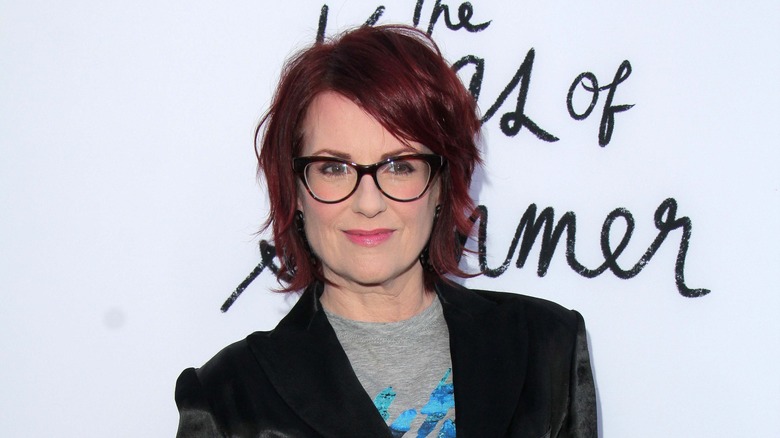 Megan Mullally was magical as Karen Walker on "Will & Grace," earning every one of the many awards — including two Primetime Emmy Awards and four Screen Actors Guild Awards — that landed on her mantle. In her other projects, she has been hit or miss. Hits include her guest appearances on "Parks and Recreation," "Happy Endings," and "Web Therapy." As for misses, none of them were bigger than "The Megan Mullally Show," Mullally's hapless daytime talk show. Only 71 episodes of the talker were filmed before its demise.
"The Megan Mullally Show" debuted in 2006, fresh off the heels of the end of "Will & Grace" (well, the first end). According to the AP (via The Toronto Star), Mullally's desire to become a host started after she subbed for David Letterman in 2003. "It had never occurred to me that hosting a talk show was a job that you could actually have," she told the AP. "It had seemed like a very far-fetched profession. Like being an astronaut." While it turned out to not be as far-fetched a career move as she had assumed, Mullally did not excel as a talk show host. "The Megan Mullally Show" did not even make it a full season, but a mere five months.