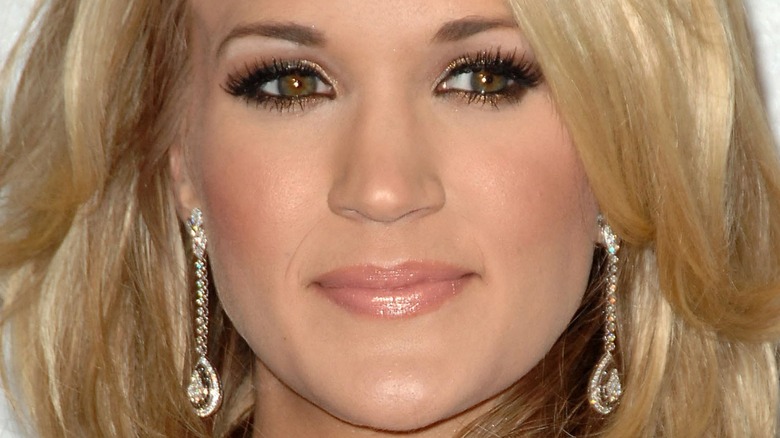 Carrie Underwood is back as the face of NBC's "Sunday Night Football" coverage, once again blessing us with a sassy opening to the weekly sports installment alongside the now iconic theme tune. Underwood confirmed on August 5 that she'd be foraying into the football world for her whopping tenth year, sharing a video to her Instagram that gave us a glimpse at some of her best openings over the years as well as a new snap of her in a bedazzled jersey. "10 years and we're still going strong, @snfonnbc! See you Sunday nights beginning in September!" she wrote in the caption.
"Sunday Night Football" shared the same video to Twitter to celebrate the mom of two's tenth anniversary, as they urged fans to relive some of her iconic openings from the decade before.
After so long seeing the "American Idol" Season 4 winner turned multiple Grammy winner fronting the hugely popular sports broadcast, it's hard to even believe there was a time before Underwood was the glamorous face of "SNF." But there are actually a couple of hugely famous faces that came before her...
Pink kicked off 'Sunday Night Football'
Back in 2006, it was actually Pink who kicked off the "Sunday Night Football" theme song tradition. The star appeared in an epic opening video of her own for a single season, which showed her performing on a CGI rooftop in front of a crowd in red and black outfits as large screens behind her showed some of the highlights from the football season prior. The opening also featured giant versions of football stars Shaun Alexander, LaDainian Tomlinson, and Tom Brady running through a cityscape as the streets below — which were made to look like New York City — were flooded with spectators.
Pink (who went on to perform the national anthem for the 2018 Super Bowl) actually helped to create the broadcast's signature song, "Waiting All Day for Sunday Night" using the tune of Joan Jett's big hit, "I Hate Myself for Loving You." Producer Fred Gaudelli shared why they zeroed in on the "Take Me Home" hitmaker to CBS News, saying at the time, "We chose Pink as the signature voice because she is a tremendous talent with a crossover appeal that makes her relevant to all segments of our audience." But Pink's gig didn't last too long, as a new face took over the song in 2007.
Faith Hill was 'honoured' to be the face of 'Sunday Night Football'
When we said bye bye to Pink, we said hello to Faith Hill. In August 2007, it was announced that the country star would be taking over the "Sunday Night Football" theme song, with the star telling Associated Press (via The Oklahoman), "I'm honored to have been asked." She added she was a genuine fan of the sport, noting, "Particularly men find it hard to believe that women can be big fans of football, but I love it."
Hill fronted the broadcast until April 2013, when producer Fred Gaudelli told The Hollywood Reporter she was exiting but would always be "SNF" family. He didn't reveal exactly why Hill left but explained the star's rendition of the theme song had become important to football fans, adding, "We will always be grateful for her performances and friendship. We wish Faith nothing but continued success." As for what Hill had to say? She tweeted, "Difficult decision. Kinda emotional. Love all u guys at SNF — I'll b watching!!!"
One month later, Carrie Underwood was announced as Hill's replacement. Billboard reported it was Hill's decision to step away and Underwood was first choice to take over. "It just always seemed like something that would be fun to do. To watch Faith do it week after week, to see that hype for the game, it's something that's so cool," Underwood said at the time. And the rest, as they say, is football history.