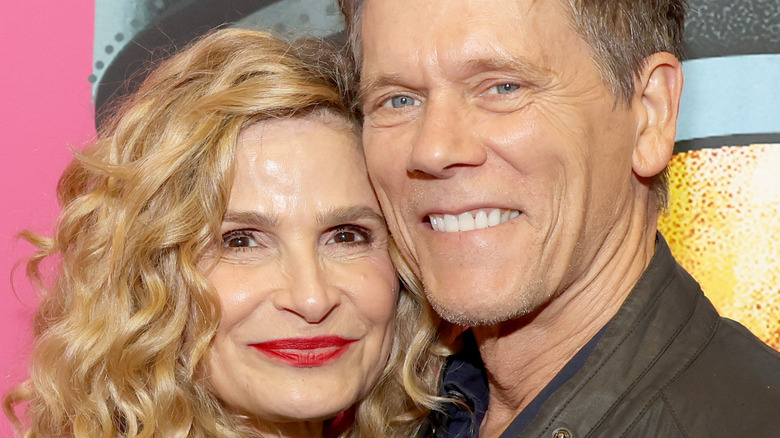 The following article includes brief mentions of drug and alcohol addiction.
It's commonly said that 50% of all marriages end in divorce. However, that statistic seems to change significantly in Hollywood, with some stars even going through more than one divorce in their lifetime. Take actor Nicolas Cage who has been married five times. In February 2021, he wed his girlfriend, Riko Shibata, in Las Vegas, to the shock of many fans. The actor has been known for his short-lived marriages, so here's hoping the fifth time is the charm.
There's also Kim Kardashian, who has walked down the aisle three times. Her first marriage was to Damon Dash when she was just 19, which ended in 2004. Her infamous 72-day marriage to Kris Humphries ended in 2011. Sadly, she'd go through a very public third divorce with Kanye West in 2021 after nearly seven years together. Since then, the star has continued to hit the dating pool — and she might find inspiration for her search for love in the celebrities below, who have managed to defy the odds by getting hitched once and staying happily married.
The stars on this list found their perfect match and have been praised for their long-term relationships. From marriages that have lasted over 20, 30, and even 40 years, these A-listers know what it takes to have a blissful union, and some have shared their secrets to a happy marriage. So, a few celebs (and maybe the rest of us) should take notes!
Salma Hayek and Fancois-Henri Pinault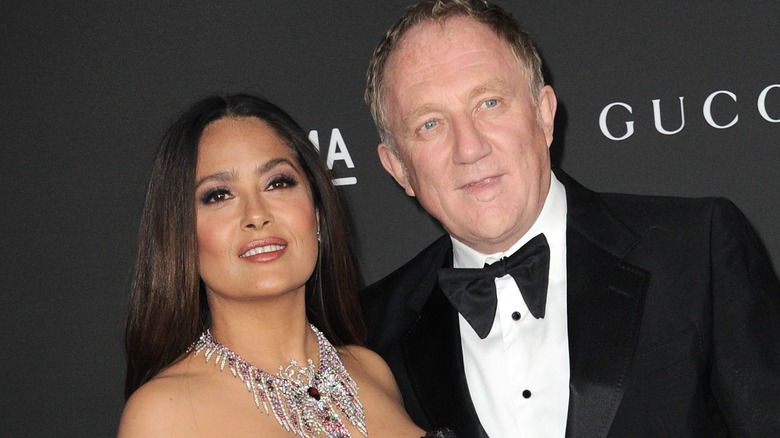 Salma Hayek has worked with elite Hollywood actors, including George Clooney, Ben Affleck, Matt Damon, and Johnny Depp. So naturally, people might assume that the "Frida" star would spark a romance with one of these famous Hollywood men, but Hayek found an ever-lasting love elsewhere.
According to People, Hayek first met French businessman and CEO of French luxury company Kering, François-Henri Pinault, in 2006. The couple moved fast and announced their engagement in March 2007. They welcomed a daughter that September, who they named Valentina; however, the couple called off their engagement the following year. Their break was short-lived, as the pair married in February 2009 in Paris, France. When celebrating their 12th wedding anniversary in 2021, Hayek shared on Jada Pinkett Smith's "Red Table Talk" the secret to their successful marriage. She said, "When there is conflict, we put all the energy in solving the problem — never finding who to blame or, 'You should have done this or that.' No. All our energy goes into, 'How do we solve this?'" Hayek added, "We've never said anything nasty to each other."
While it is Hayek's first marriage, it became Pinault's second. Parade reported that the billionaire businessman, who also has three children from previous relationships, was married to his first wife, Dorothée Lepère, between 1996 and 2004.
Jessica Alba and Cash Warren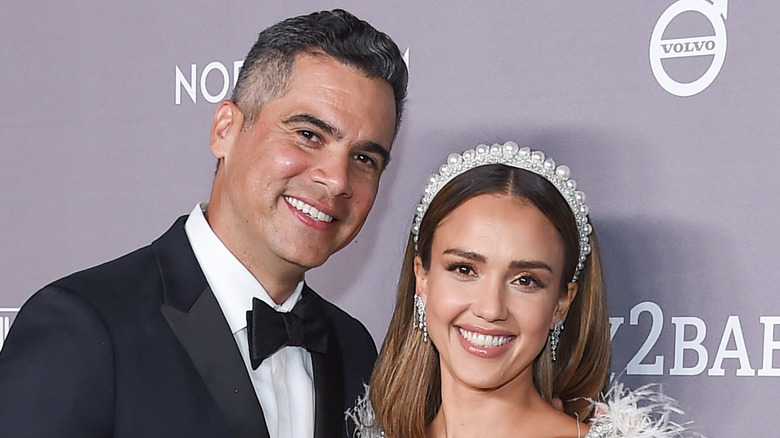 Jessica Alba celebrated 14 years of marriage with her husband, Cash Warren, in May 2022. To commemorate the anniversary, the Honest Company founder shared a touching Instagram post where she shared a series of photos and a video of the pair. She captioned it, "18 years of life 14 years of marriage — through thick and thin we've always found our way back to each other. Can't think of anyone else I would want to share this life with."
The pair met in 2004 on the set of the film "Fantastic Four," where Warren worked as a production assistant. In 2008, the couple tied the knot in Beverly Hills and welcomed three children — Honor, Haven, and Hayes. While speaking with InStyle in 2013 (via Us Weekly), Alba called her and her husband "kindred spirits," adding, "I just knew when I met him that I was going to know him forever. It was weird; he instantly felt like family. It was so easy."
Warren has also shared many heartfelt posts about his wife on social media. For their 11th wedding anniversary, the film producer and entrepreneur took to Instagram to reveal that the couple quickly decided to tie the knot while Alba was nine months pregnant with their first child. "11 years and 3 kids later, we're still learning, growing, giggling and loving ... here's to a lifetime of pushing each other to be the best versions of ourselves and catching each other when we fall," Warren wrote.
Sarah Michelle Gellar and Freddie Prinze Jr.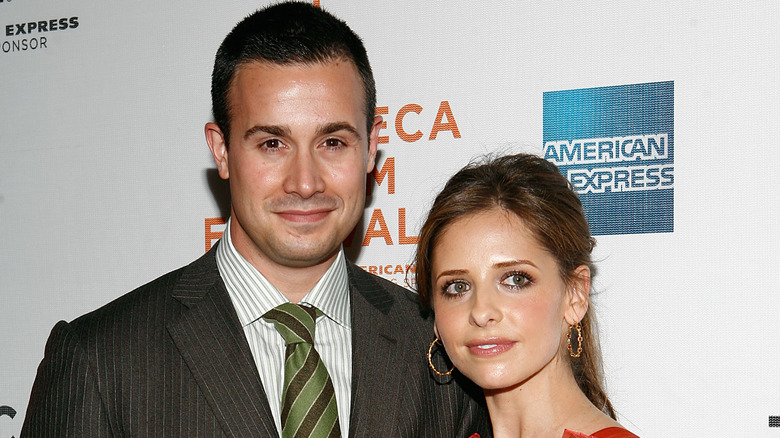 Sarah Michelle Gellar and Freddie Prinze Jr. celebrated 20 years of marriage in September 2022. To commemorate the milestone, Gellar took to Instagram to share a photo of their wedding day with a simple caption that read, "20." According to Page Six, the "Buffy the Vampire Slayer" actor also called out radio host Howard Stern, who bet $1 million that their marriage would ultimately end in divorce when speaking to Prinze in 2001. Gellar shared an Instagram Story that featured clips of her husband's interview with the shock jock and wrote, "@HowardStern I think you owe us." There's no word if Stern apologized to the couple.
Gellar and Prinze first met on the set of the 1997 movie "I Know What You Did Last Summer," but they didn't get together until 2000. Having tied the knot in Mexico two years later, the couple shares two children named Charlotte and Rocky.
Having one of the most successful marriages in a place like Hollywood, people have wondered how they make it work. Gellar told Us Weekly in 2019, "I think the truth of any relationship is that, whether you're a couple, whether you're friends, whether you're business partners, is you have to put the work into a relationship." She added, "To keep a relationship, you have to have stuff that's private and things that are your own and between the two of you."
Sarah Jessica Parker and Matthew Broderick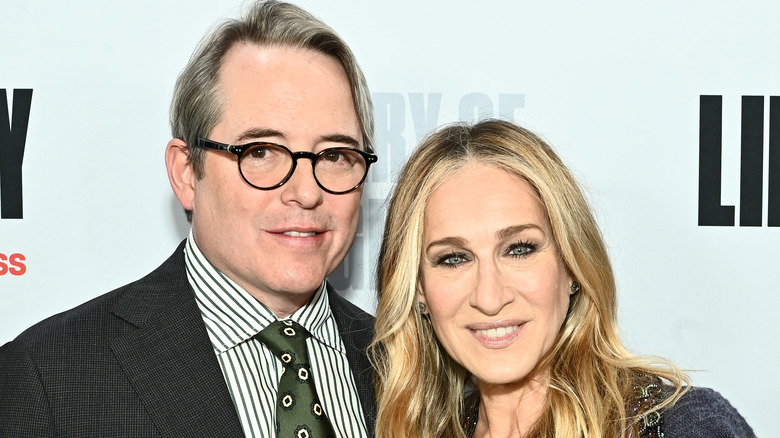 Sarah Jessica Parker and Matthew Broderick's love story goes back to the early '90s. The couple's shared Broadway connection first brought them together in 1991, when Broderick was directing a play at the Naked Angels Theater Company. After Parker's brothers, who started the company, introduced the duo, she and Broderick began dating the following year. They even starred together in the revival of "How to Succeed in Business Without Really Trying" in 1995. The couple tied the knot two years later and welcomed a son named James in 2002. Parker and Broderick later welcomed twin daughters, Marion and Tabitha, via surrogate in 2009.
The couple celebrated their 25th wedding anniversary in May 2022. On Instagram, Parker shared sweet sentiments about their milestone with a photo that showed the "Sex and the City" star nuzzling up to her husband while a second picture featured their wedding invitation. She captioned it, "Evening attire. Silver baby. 25 years. And counting. X, your wife."
In 2016, Parker appeared on Sophia Amoruso's "Girlboss" podcast to discuss her long-lasting marriage and revealed that spending time apart has actually helped keep their marriage so successful: "I know this sounds nuts, but we have lives that allow us to be away and come back together." That said, she and Broderick have since worked together again in the 2022 Broadway production of Neil Simon's "Plaza Suite."
Kevin Bacon and Kyra Sedgwick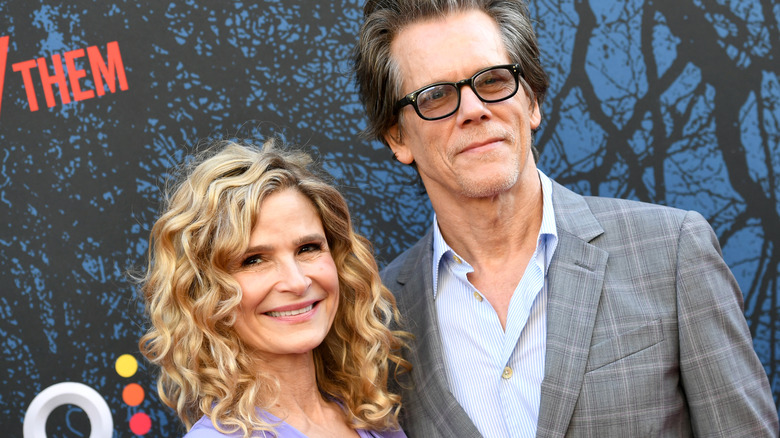 Kevin Bacon and Kyra Sedgwick have been married for over 30 years. The couple became husband and wife a year after they fell in love on the "Lemon Sky" movie set in 1987. The pair clearly enjoy working together, as the "Footloose" actor and "The Closer" star have starred in several other projects throughout their relationship, including "Pyrates," "Murder in the First," "Cavedweller," and "Loverboy," the latter of which also starred the couple's two children, Travis and Sosie.
In 2019, Bacon admitted on "The Late Show with Stephen Colbert" that while working with his wife, he can't keep his hands off her, which can get awkward on set. "We're very affectionate people. ... She said to me once, 'Please don't touch me there, you know, while we're working,'" Bacon said, without giving too much away.
Although people may ask the couple for marriage tips, they have had difficulty finding an answer, with Sedgwick telling People in 2020 that she just managed to get lucky in love. "I joke that the secret to a successful marriage is to not take marriage advice from celebrities," she said, adding, "I guess if I had to think too much about [our marriage], that would probably not be a good thing. We just got lucky. I honestly believe that's the truth."
Jamie Lee Curtis and Christopher Guest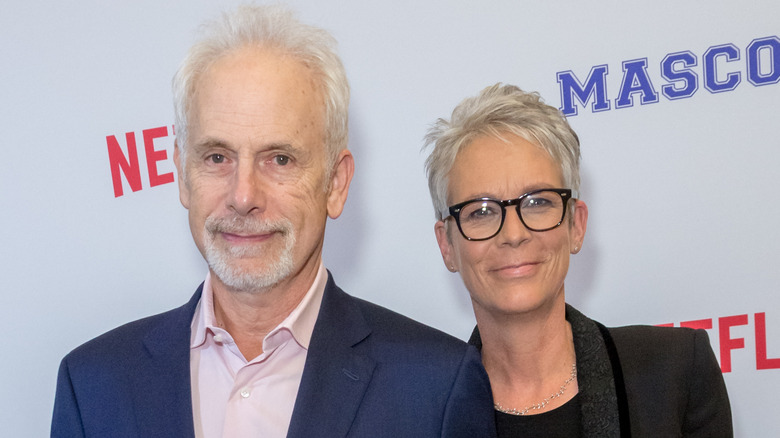 Jamie Lee Curtis set her sights on now-husband Christopher Guest when she spotted his photo in Rolling Stone in 1984. Recalling that moment to Sigourney Weaver for Interview magazine in 2015, she shared that she gushed to her friend, "Oh, I'm going to marry that guy." Five months after seeing his picture, Curtis and Guest got married and have been together ever since.
According to People, the couple is parents to two adoptive children after the "Halloween" actor revealed that she could not conceive. They adopted their daughter, Annie, in 1986, and Ruby, who has publicly come out as transgender, in 1997. Curtis wrote the 1996 children's book "Tell Me Again About the Night I Was Born," she later shared with Pact's Point of View Newsletter, "To let children who joined their families through adoption know that their own birth stories were exciting, too."
Curtis and Guest have managed to keep their marriage, which has been both stars' only union, strong thanks to dedication and hard work. In 2018, Curtis told Good Housekeeping, "Don't leave. There's a recovery phrase that says, 'Stay on the bus ... the scenery will change.' You think you're having a bad week, but stay on the bus because one of these days you'll look out the window, and it'll be beautiful.'"
Adam Brody and Leighton Meester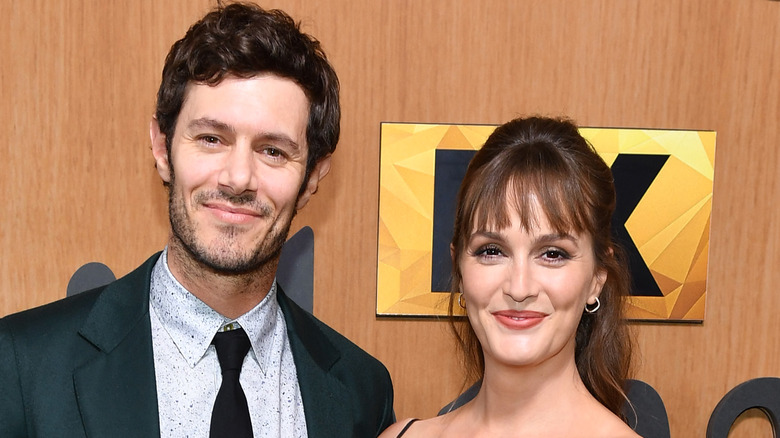 Leighton Meester and Adam Brody are a couple that most forget have been together for almost 10 years, as of this writing. Meester — who famously starred as Blair Waldorf in "Gossip Girl" — and Brody (aka Seth Cohen on "The O.C.") worked together in the 2011 film "The Oranges," and two years later, began dating. Having kept their relationship mostly private, it wasn't a surprise when the pair secretly wed the following year and even kept the birth of their first child, a daughter named Arlo in 2015, under wraps, too. In September 2020, the couple welcomed their second child, a son, whose name is publicly unknown, as of this writing, per E! News.
Despite being known as a low-key couple in Hollywood, the duo has shared a few sweet comments about one another. In 2019, while speaking to The Hollywood Reporter about her role in "Single Parents," in which Brody also nabbed a minor role, Meester said, "I want to work with him on everything, and I think he's the best in everything." Brody shared similar heartfelt feelings during an appearance on the "Anna Faris Is Unqualified" podcast in 2021, stating, "She's literally like Joan of Arc. She is the strongest, best person I know. She is my moral compass and North star, and I just can't say enough good things about her character. It's crazy."
Jon Bon Jovi and Dorothea Bongiovi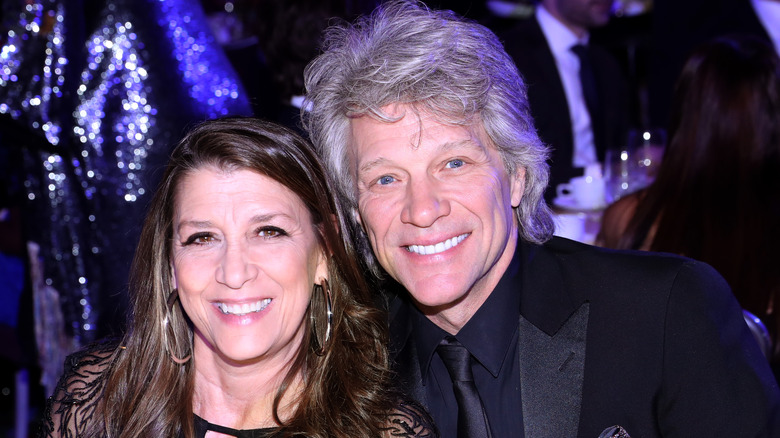 Rock stars get a bad rap for being unfaithful. However, Jon Bon Jovi and his wife Dorothea Bongiovi's marriage is an exception to the rule. The couple tied the knot in April 1989 but have been together for over 40 years after meeting in high school. They share four children, and despite the pressures of Hollywood, have managed to maintain a strong marriage. Bongiovi shared with People in 2016 about their prosperous relationship, "Somehow it works. I think because we grow at the same rate. We grew equally and not the opposite directions."
In 2020, the "Livin' on a Prayer" singer revealed that respecting one another was the secret to making their marriage work. Echoing Bongiovi's sentiment, he told People, "Having grown up together and grown together. And we really like each other. We want to hang out." Despite the musician stating in 2007 that he had lived that cliche rock and roll lifestyle at one point, Bon Jovi's marriage is solid. His wife isn't even bothered by the fans, especially the women who adore her husband, stating, "I think it's great they love the music. They love the band and are so loyal."
Ron and Cheryl Howard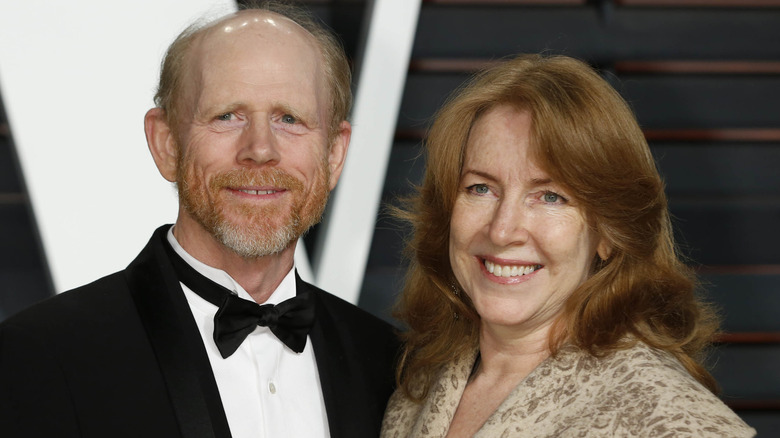 Ron Howard may be known for starring in "Happy Days," as well as his extensive work in the director's chair for films like "A Beautiful Mind," "Cinderella Man," and "The Da Vinci Code," but he should also be praised for his long-lasting marriage to his wife, Cheryl Howard. According to People, these two were high school sweethearts, with Ron stating, "I met her, and there was never anybody else." Thankfully, as Ron became even better known in Hollywood for his work in front of and behind the camera, it did not hinder their marriage. The couple, who got married in 1975, welcomed four children, with their daughter, Bryce Dallas Howard, also venturing into acting with her best-known role in "Jurassic World" and its sequels.
Ron told People in 2019 that their relationship has thrived thanks to the couple constantly talking to one another. "People say, 'How'd you do it?' There's no technique. There's no tactic other than communication is really important," he explained. "You have to learn to communicate and have difficult conversations in constructive ways. Beyond that, there's an element of luck because people either grow together or they don't and I don't think you can force that.'"
As of this writing, he and Cheryl are on track to celebrate their 50th wedding anniversary in 2025.
Denzel Washington and Pauletta Pearson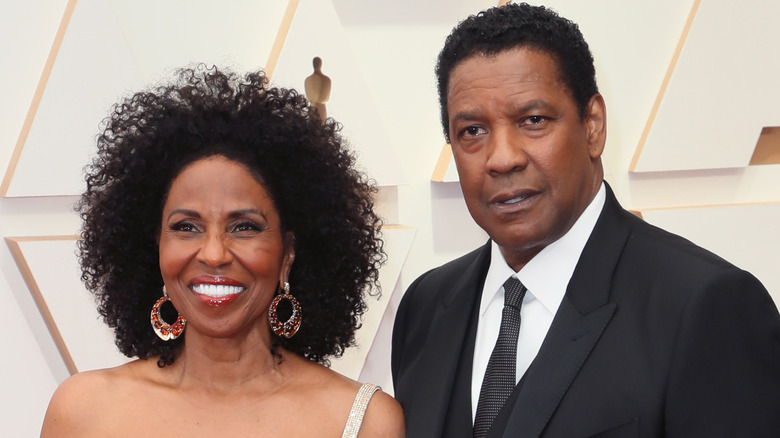 Denzel Washington and Pauletta Pearson have been married since June 1983, but believe it or not, the "Malcolm X" star had to work hard to get Pearson to be his wife. In a 2013 interview with Access Hollywood, Pearson revealed that she initially turned down Washington's marriage proposal not once but two times. "She turned me down, she said no. And since it was three times, that means she turned me down twice," Washington joked after some playful back and forth on how things went down.
But after all, the third time's a charm, with the couple eventually having one of the strongest marriages in Hollywood. The longtime pair, who share four children, even made a new commitment to one another when they renewed their vows in a South African ceremony officiated by Archbishop Desmond Tutu in 1995.
However, as one of the most enduring romances in Tinseltown, Washington told The Guardian in 2010 that there isn't an exact reason why their relationship has been indestructible. "There is no secret to the perfect marriage," he said. "... Everybody has their ups and downs; we've had ours. It's hard work, you know. But we made a commitment. A spiritual foundation helps everything — marriage, work, peace of mind."
Jeff Bridges and Susan Geston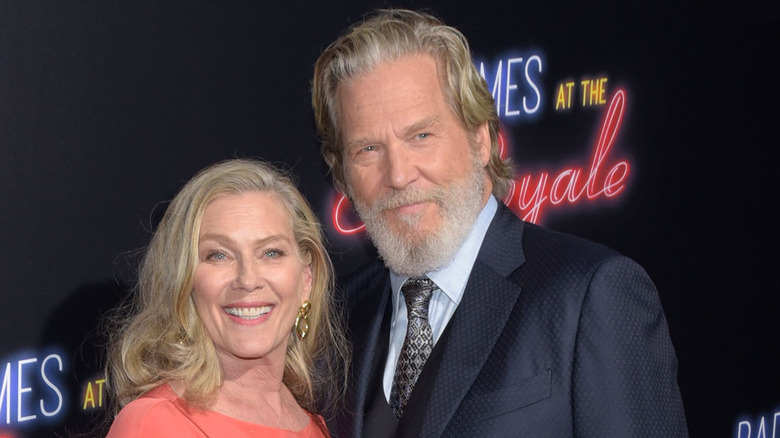 Jeff Bridges admitted that he was never the marriage type, but had quickly changed his mind when he met his now-wife and fellow actor, Susan Geston. "The Big Lebowski" star met Geston in 1974 while he was filming "Rancho Deluxe," and she was working as a waitress. They began dating, but Geston had bigger plans in mind, including marriage and children, with Bridges sharing with Conan O'Brien, "It was love at first sight, but getting to the altar was so tough." Eventually, as Bridges admitted on Oprah's Master Class, he feared losing Geston, so the couple got engaged in 1977. They married just five days later.
Bridges shared about being a married man, "What marriage gives you is you open a doorway to the marriage hall, and it's a hall filled with all these doors on either side with kids, all kinds of emotions that you've never experienced if you weren't married." He added of this range of feelings, "But the context of it, saying, 'We're going to do this together, and we're going to learn and experience all kinds of joyful things and sorrowful things, but we're going to do it together.'"
In an article written by Bridges for Reader's Digest in 2006, he shared that he and his wife had worked in over 50 movies together. Now that's the ultimate Hollywood love story.
Mariska Hargitay and Peter Hermann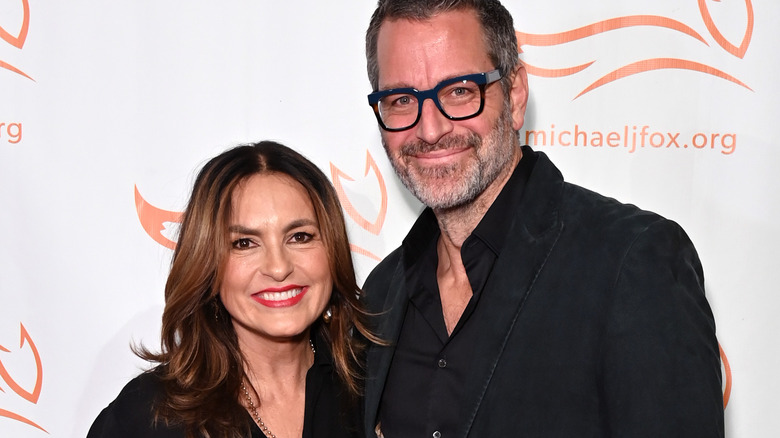 Mariska Hargitay found love portraying her most well-known role as officer Olivia Benson on the hit television drama "Law & Order: SVU." Hargitay met her now-husband, actor Peter Hermann, in 2002 when he guest-starred on the show. Two years later, the two tied the knot in Santa Barbara, California, marking both star's first marriages.
The couple is the parents of three children, two of whom they have adopted. In 2018, Hargitay told People that her family meant everything to her when she shared, "They taught me to really listen. My husband is my North Star, and my kids are my teachers. ... Together we're just this whole happy, joyful, chaotic, crazy unit. I've never known anything that was more right." However, the actor has shared with Good Housekeeping that she and Hermann are total opposites but figure out how to make things work regardless. "We have to sit down and figure out how to carve this time out for you and this for me because we need both. That's just the way we are, so let's just make peace with it," Hargitay said.
In August 2022, Hargitay took to Instagram to share a black-and-white photo of the pair on their wedding day to commemorate their 18th wedding anniversary. She captioned it, "Eighteen years. Grateful. In love. Together."
Rob and Sheryl Lowe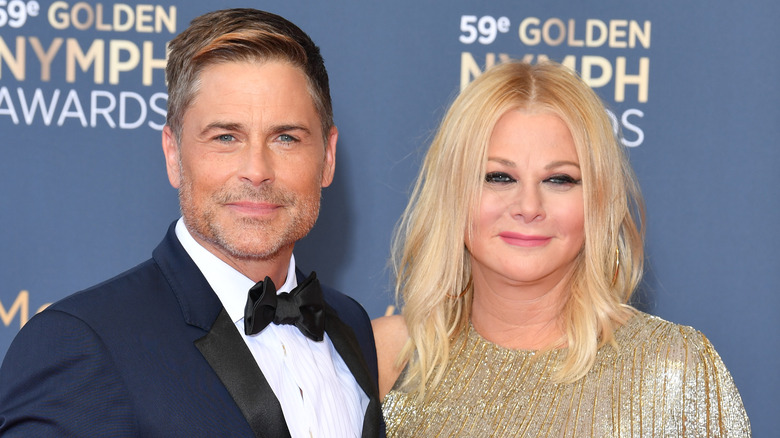 "Parks and Recreation" star Rob Lowe had his sights set on his now-wife, Sheryl Lowe, in the early '90s, but his alcohol addiction was a significant factor in deciding what was to become of the couple. He told People in January 2022, "Intimacy and I were not very well acquainted until very late in my life," adding that his alcohol and drug use made it so marrying Sheryl was not possible at the time.
Rob's success in films like "The Outsider" and "St. Elmo's Fire" led him to venture into a partying lifestyle as a teen. Luckily, in 1990, he wanted to straighten out his life and went to rehab, and he has been sober ever since. Rob also got to marry the love of his life, Sheryl, in 1991.
The star also shared with People that his wife has ultimately been his rock throughout his ups and downs. "She saw things in me that nobody had ever seen before," the "9-1-1: Lone Star" actor said, adding, "I still think she's the hottest, sexiest, most beautiful, insane, complicated, entertaining person that I know, in addition to being a great mother." The couple shares two children.
If you or anyone you know needs help with addiction issues, help is available. Visit the Substance Abuse and Mental Health Services Administration website or contact SAMHSA's National Helpline at 1-800-662-HELP (4357).
Leslie Mann and Judd Apatow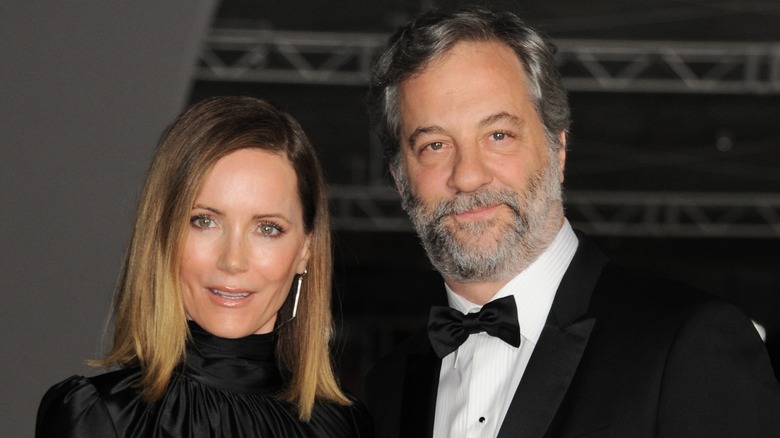 Leslie Mann and Judd Apatow have made audiences laugh for years. While Mann has taken on comedic roles in films like "The 40-Year-Old Virgin," "Knocked Up," and "Funny People," Apatow has been the man behind the scenes, directing his wife. The pair met when Mann auditioned for Ben Stiller's 1995 film, "The Cable Guy," which Apatow produced. When meeting Mann for the first time, the director later shared with Elle, "There goes the future Mrs. Apatow. I had a soul connection instantly. I meant it. That's why I remember it." After their first date at a basketball game, Mann reflected to the outlet, "I felt like I was already in love."
The couple tied the knot in June 1997 and welcomed their daughter, Maude, that same year. In 2002, the stars welcomed a daughter named Iris. In 2017, Mann and Apatow hit a milestone when they celebrated their 20th wedding anniversary. On Instagram, Apatow shared a sweet black-and-white photo of the pair on their wedding day in Hawaii, captioning it, "Today is the 20th anniversary of my marriage to the brilliant, hilarious, amazing Leslie Mann. The greatest thing that has ever happened to me."
That same year, Vice asked Apatow how he managed to stay married for two decades, with the star jokingly sharing, "It's easier if you marry Leslie [Mann]. That's advice that's harder for others to take, I guess."