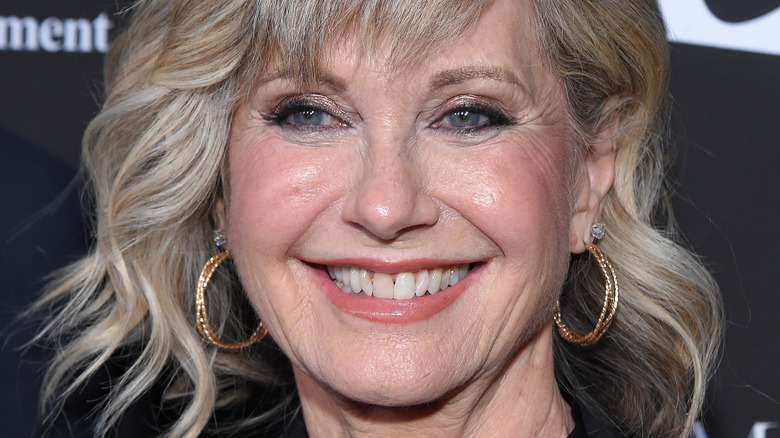 The following article references suicide, anorexia, and drug addiction.
We might only ever see them on the internet or our television screens but that doesn't make celebrities any less important to us. So, of course, when they pass away, a great deal of us are left heartbroken. And while a number of celebrities' famous last words have been revealed through the years, a few others seemingly left us with a little piece of them — their final texts to their loved ones.
"Bit of time out and you'll be good to go, Flack," actor Paddy McGuinness wrote in what would be his last conversation with reality star Caroline Flack over the phone. "Thanks for reaching out xx," Flack replied. According to Mirror, the exchange took place in December 2019, only a few weeks after Flack appeared in court for assaulting her boyfriend Lewis Burton. Two months later, Flack died by suicide. After WWE star Jonathan Huber, a.k.a Brodie Lee, died in December 2020 from idiopathic pulmonary fibrosis, his widow, Amanda "Synndy Synn" Huber, took to Instagram, sharing a screenshot of one of his last texts to her. "I love you. Holy f*** do I love you," the text read. "We're going on vacation after all this and we're gonna do everything we ever wanted. Yolo for real."
From Bob Saget to Cheslie Kryst to Olivia Newton-John, here are the last texts some of our favorite celebrities sent before their death.
If you or anyone you know is having suicidal thoughts, please call the National Suicide Prevention Lifeline​ by dialing 988 or by calling 1-800-273-TALK (8255)​.
Taylor Hawkins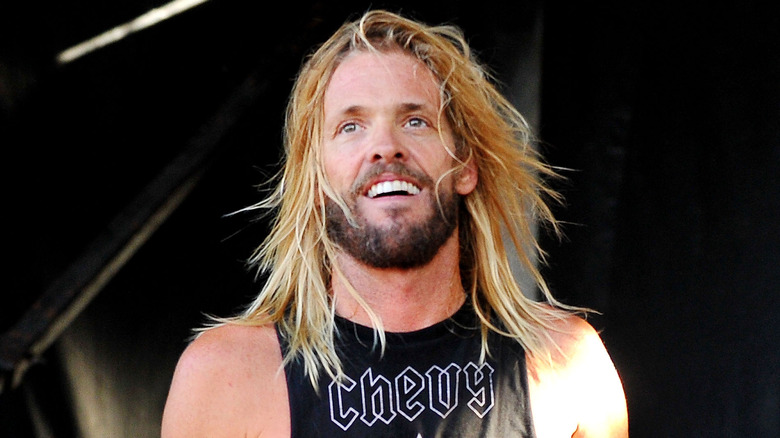 If there were any doubts as to how loved and respected rockstar Taylor Hawkins was, the outpour of tributes following his tragic death was all the proof needed. "@TaylorHawkins was truly a great person and an amazing musician," singer/songwriter Ozzy Osbourne tweeted. "My heart, my love, and my condolences go out to his wife, his children, his family, his band, and his fans. See you on the other side."
Remembering the Foo Fighters' drummer, "Full House" actor John Stamos took to Twitter, penning a tribute while also sharing his last conversation with Hawkins. "This was Taylor Hawkins' last text to me: 'Ya We've yet to fully have a hang -Got a put that sh** together before we die,'" Stamos tweeted. "Wise words from my friend- put that sh** together! I'm so f***ing sad. Another one gone too soon."
Per The Guardian, Hawkins was found dead in his hotel room on March 25, only a few hours before the Foo Fighters performance at Colombia's Estéreo Picnic festival in South America. According to Daily Mail, an autopsy revealed Hawkins, who'd struggled with drug addiction throughout his life, suffered a "cardiovascular collapse" believed to have been brought on by the combination of drugs found in his system. He was also confirmed to have overdosed on heroin, antidepressants, and some benzos.
If you or anyone you know needs help with addiction issues, help is available. Visit the Substance Abuse and Mental Health Services Administration website or contact SAMHSA's National Helpline at 1-800-662-HELP (4357).
Anthony Bourdain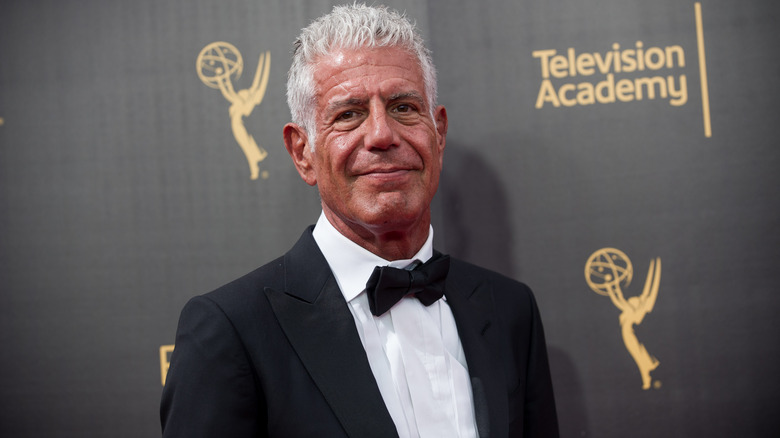 Celebrity chef and award-winning television host Anthony Bourdain died on June 8, 2018, only 17 days shy of his 62nd birthday. Bourdain, who according to CNN, was filming an episode of his show "Parts Unknown" in France, was found unresponsive in his hotel room. Bourdain's death was ruled a suicide, with The Hollywood Reporter confirming there were no traces of drugs in his system. Beloved by many, Bourdain's death left many questions in the minds of his loved ones — some of which were answered a few years later.
In his 2022 biography "Down and Out in Paradise," journalist Charles Leerhsen shared intimate details about the days leading up to Bourdain's death, including his last text to Ottavia Busia, his estranged-wife-turned friend. "I hate my fans, too. I hate being famous. I hate my job," Bourdain reportedly sent. "I am lonely and living in constant uncertainty." Seemingly shedding more light into Bourdain's state of mind, Leerhsen revealed the chef's anguishing last conversation with his girlfriend at the time, Asia Argento. "I am okay, I am not spiteful. I am not jealous that you have been with another man," he wrote. "I do not own you. You are free. As I said. As I promised. As I truly meant. But you were careless. You were reckless with my heart. My life."
If you or anyone you know is having suicidal thoughts, please call the National Suicide Prevention Lifeline​ by dialing 988 or by calling 1-800-273-TALK (8255)​.
Bob Saget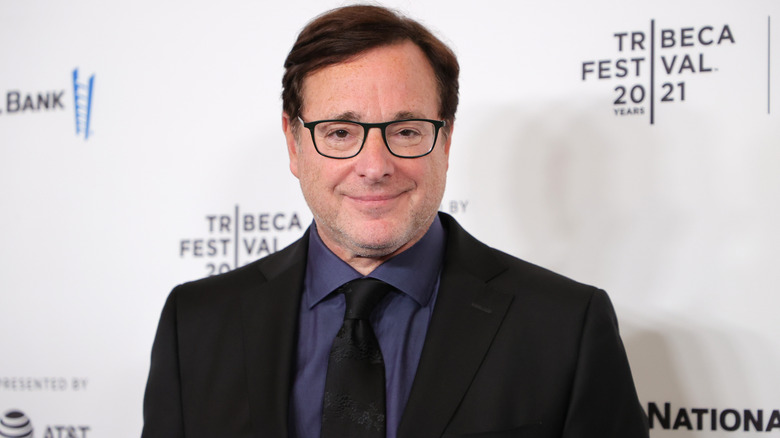 As the world mourned Bob Saget's tragic death, his television daughter Candace Cameron Bure held on to one last piece of the actor — his final text to her. During an appearance on "Today," Bure told host Hoda Kotb she got into an argument with her "Full House" co-star some weeks before his death. Thankfully, they resolved things before it was too late. "[I]n Bob fashion, the next day he wrote me, like, what would be pages long of a text," she added. "And he was apologizing, saying he was cranky and he was just so sorry." Speaking further, Bure recounted Saget jokingly drawing similarities between his behavior and that of his late mother. "And he said at the end, 'I love you more for the trouble you're giving me if that's even possible," Bure said of the comedy icon's last words to her. Understandably, the text means a great deal to Bure, and she told Kotb that she worries about accidentally losing the message.
Saget died in January 2022 after suffering head trauma in his Ritz Carlton hotel room following a standup show. In a statement to People, his family said, "They have concluded that he accidentally hit the back of his head on something, thought nothing of it, and went to sleep."
Olivia Newton-John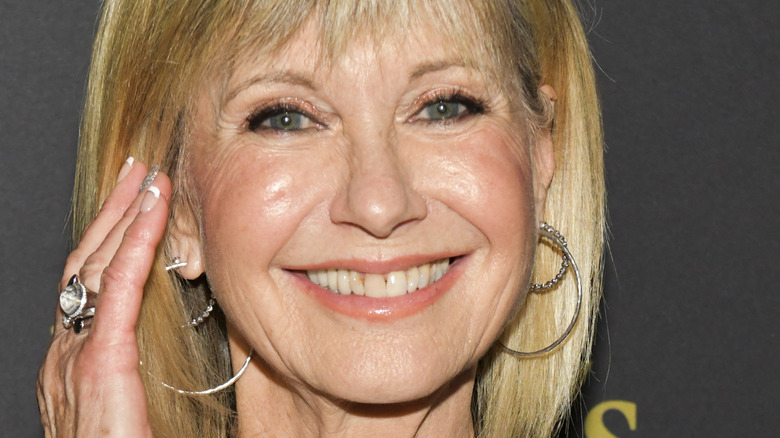 On August 8, 2022, beloved "Grease" star Olivia Newton-John died after suffering from cancer for decades. "Dame Olivia Newton-John (73) passed away peacefully at her Ranch in Southern California this morning, surrounded by family and friends," her family announced on Instagram. "We ask that everyone please respect the family's privacy during this very difficult time." Expectedly, the singer's tragic death was met with tributes from her loved ones and colleagues in the entertainment industry including talk show host Leeza Gibbons.
"There will never be another like her.... a true angel on earth," Gibbons told People of Newton-John following her death. "Not just an iconic artist, but a humanitarian and game-changing voice for empowering women to show up for themselves. Like with so many others, she changed my life and encouraged me to reach higher and be better." She also recounted some of their favorite friendship memories including 2015 when Newton-John agreed to Gibbons' request to have her perform at "Celebrity Apprentice." In their final text, the former "Entertainment Tonight" host recalled Newton-John upholding herself with the same grace and goodness she had carried through her life. "Her last text to me was, 'I'm grateful for all the love in my life. I'm such a lucky person,'" Gibbons told People.
Bill Turnbull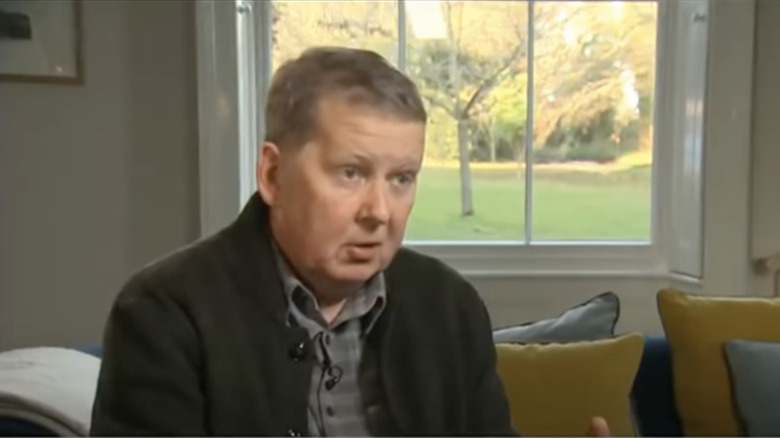 In 2005, television personality Bill Turnbull appeared as a contestant on Britain's "Strictly Come Dancing." There he partnered with pro dancer Karen Hardy, who at the time had already hung up her ballroom shoes. "I had been dancing for, gosh, 20-odd years, I'd won some of the biggest titles in the world and I had long retired," she said on BBC News, per Daily Mail. "And out of the blue, I got this phone call from the BBC saying, 'I'm not sure if you've heard about this TV show, "Strictly Come Dancing," but we'd love to have you on it.'" On the show, Turnbull and Hardy lasted seven weeks, finishing sixth place out of twelve contestants. During their time together, Hardy and Turnbull established a friendship and a bond that seemingly transcended "Strictly Come Dancing."
Turnbull was diagnosed with prostate cancer in 2017. Five years later, on August 31, 2022, he died. Hardy reminisced on her favorite memories with Turnbull as well as the final message she received from him. "One of my last texts with him, he goes, 'Amazing how after 16 years people still ask me about Strictly. Some of the best fun I ever had. I'm always grateful to you for that,'" the pro dancer said on "BBC Breakfast," according to Metro.
Cheslie Kryst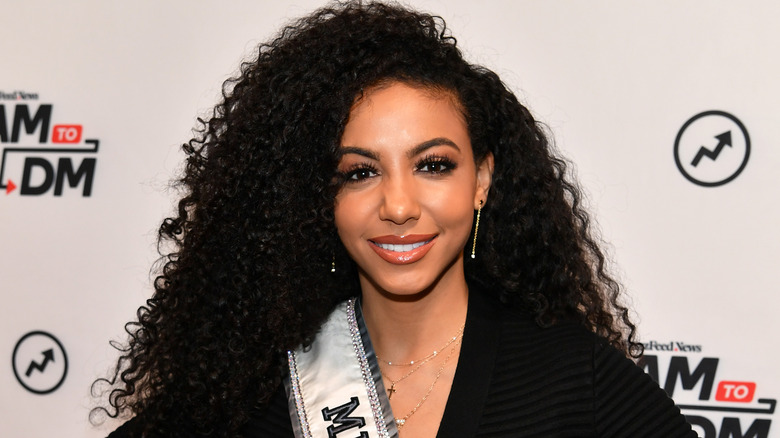 On January 30, 2022, America lost its 68th Miss USA, Cheslie Kryst. At the age of 30, Kryst died by suicide. Despite leading a seemingly happy public life, her mother April Simpkins noted that Kryst privately suffered from depression. "While it may be hard to believe, it's true. Cheslie led both a public and a private life," Simpkins said in a statement, per The Los Angeles Times. "In her private life, she was dealing with high-functioning depression which she hid from everyone — including me, her closest confidant — until very shortly before her death."
Appearing on "Red Table Talk" a few months later, Simpkins shed more light on Kryst's struggle with depression, while also sharing an excerpt from the distressing last message she received from the late beauty queen. "I wish I could stay with you but I cannot bear the crushing weight of persistent sadness, hopelessness, and loneliness any longer," Simpkins read. "You've done nothing wrong. You've done everything right. I no longer feel like I have any purpose in life. I don't know if I ever really did."
In addition to her career in pageantry, Kryst also worked as an attorney seeking to reform America's justice system. She also worked as an entertainment news reporter at Extra, earning two Emmy nominations for her stellar work with the network.
If you or anyone you know is having suicidal thoughts, please call the National Suicide Prevention Lifeline​ by dialing 988 or by calling 1-800-273-TALK (8255)​.
Nikki Grahame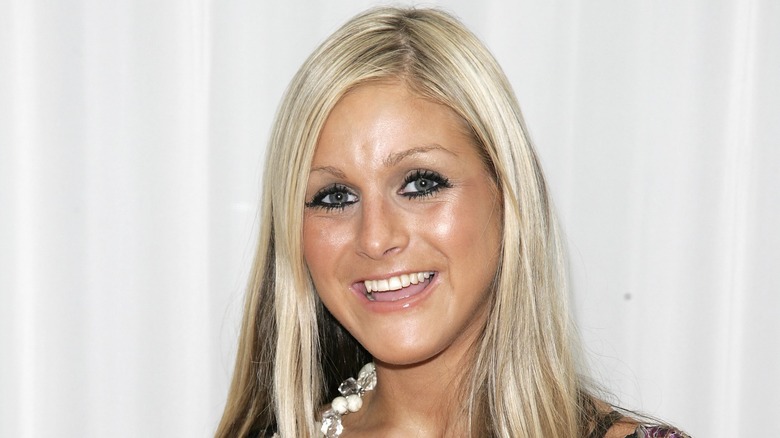 In April 2021 "Big Brother UK" star Nikki Grahame died from anorexia-related complications. "Nikki Grahame passed away in the early hours of Friday 9th April 2021," a representative said at the time, per Deadline. "Please respect the privacy of Nikki's friends and family at this tragic and difficult time." Grahame suffered from anorexia for years, with the doctors first diagnosing her when she was a child. Throughout her life, Grahame was in and out of hospitals to seek as much help as she could. As reported by the Daily Mail, the reality star's tragic death came only a few hours after she was released from Dorset County Hospital where she had been receiving treatment for three weeks.
Speaking to Heat shortly after her death, fellow "Big Brother" alum Pete Bennett recounted the last time he saw Grahame as well as the text she sent to him after leaving. "A few days later, she texted me to say, 'Hey Petie, all good on my end. Starting a clinic on Monday, which is good. And the sun is shining today!'" That would become Grahame's final text to Bennett. Of his former girlfriend, he told the magazine, "She was so funny, dramatic, kind, sweet and princess-like."
If you need help with an eating disorder, or know someone who is, help is available. Visit the National Eating Disorders Association website or contact NEDA's Live Helpline at 1-800-931-2237. You can also receive 24/7 Crisis Support via text (send NEDA to 741-741).
Leslie Jordan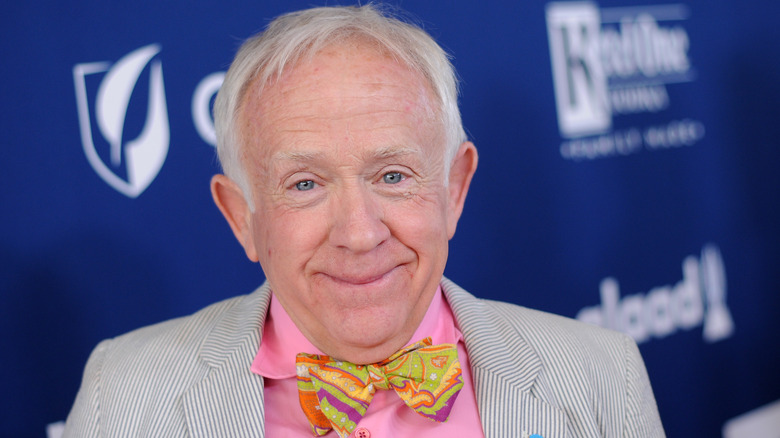 "Will & Grace" actor Leslie Jordan maintained his bubbly personality till the very end. Days before his death, Jordan had quite the unpleasant experience at his former co-star Max Greenfield's book signing event in Los Angeles — but trust the "Call Me Kat" actor to have known how to make light of a not ideal situation. As Greenfield revealed in an interview with E! News, "[Jordan] texted me and he was like, 'I tried to get in. I saw that you was so famous they wouldn't let me in. And they turned my little a** away.'"
But despite not getting to see Greenfield or celebrate his book with him in person, Jordan had nothing but nice things to say to him. "I couldn't stay, I had to go anyway because I have important things to do," Jordan reportedly wrote before adding: "They won't let me near you, superstar. That's what you are. Congratulations. I got to run or I would stalk you."
Jordan and Greenfield met back in 2017, while filming "Will & Grace" and went on to become good friends. After Jordan tragically died in a car accident on October 24, 2022, Greenfield paid tribute to the TV icon on Instagram. "He was a famous star. And when the world finally embraced him as such everything finally made sense. To him," the "New Girl" alum wrote. "He was so grateful for it all. We loved you very much, Leslie."