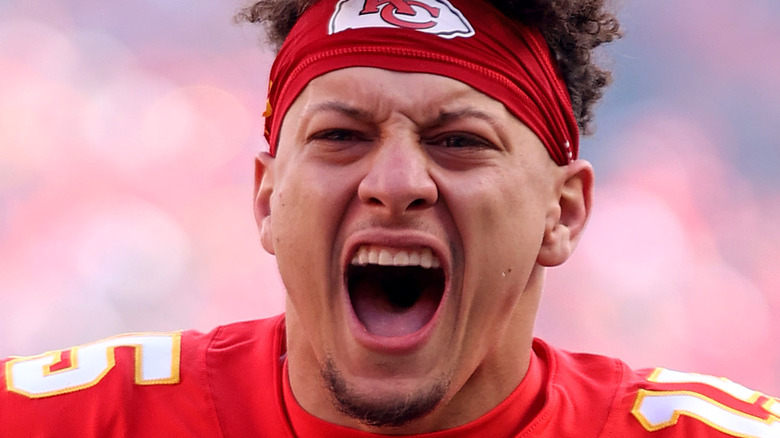 Patrick Mahomes is tired of the trolls constantly criticizing his fiancee Brittany Matthews. On February 17, the Chiefs quarterback hit back at the haters on Twitter after a viral video caused another round of harsh comments against Matthews. The mom of Mahomes' baby Sterling Skye has received more than her share of internet trolling. In January, the future Mrs. Mahomes was at the center of controversy after the Chiefs won their division, beating the Bills in a close game. Matthews posted an Instagram video celebrating the win by popping a bottle of champagne in a suite, which sprayed on some Chiefs fans.
After the internet trolled the champagne video, Matthews was hit by a media tsunami, with the story becoming so big it made international news. The drama surrounding the video appeared to wear on the mom of one. The day after the video went viral, Matthews tweeted: "I just wish I could do what I want without getting attacked every week." We feel you, Brittany. But we're glad the strong, independent Matthews is with a man who has her back, as Mahomes took a stand against the haters.
Patrick Mahomes slams trolls attacking Brittany Matthews again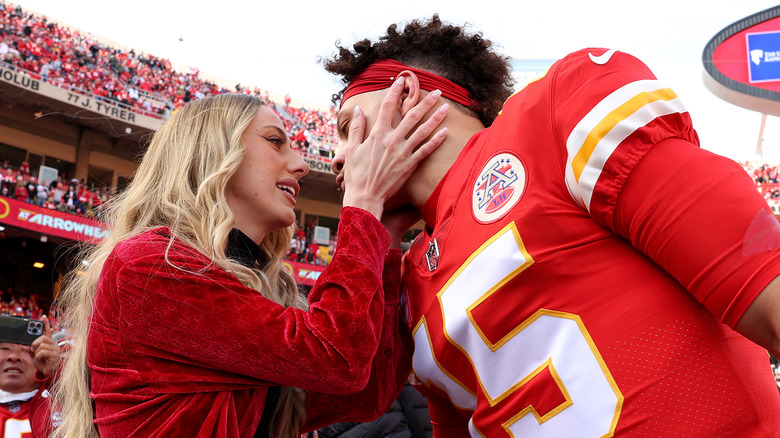 The future Mrs. Mahomes was hit with yet another wave of social media attacks following a private interaction between the couple at a Texas Tech basketball game. As the couple sat courtside watching hoops in Lubbock, Patrick Mahomes leaned in to comment to his fiancee, causing Matthews to become animated and make a funny facial expression. The clip of the couple's private moment went viral and trolls began criticizing Matthews for ... making a funny face?
After Mahomes realized the haters were attacking his fiancee (again), the Chiefs quarterback tweeted: "Man, people are weird. love you, babe @brittanylynne8." Mahomes is not the only one defending Matthews from the constant online criticism. After Matthews received backlash for the champagne video, a Kansas City apparel company created "Team Brittany" T-shirts to raise money for an organization that prevents bullying. Kansas City fans supported the future Mrs. Mahomes and TMZ reported that the apparel company, Charlie Hustle, sold 2,000 "Team Brittany" shirts the first day and had to start a waiting list. The Charlie Hustle rep told TMZ, "The community reaction for the initiative has been overwhelmingly positive. The message that we are trying to convey is to be kind to one another." Go Team Brittany!