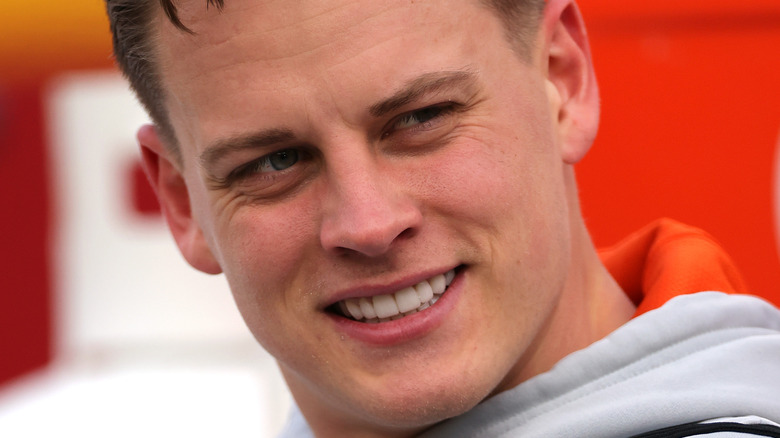 Cincinnati Bengals quarterback Joe Burrow has emerged as an unexpected superstar in the world of football after leading his underdog team to the Super Bowl for the first time since 1988, as The Washington Post reported. After his first NFL season was cut short by serious injuries in 2020, the young player's chances admittedly didn't look great. According to 247 Sports, he had torn his ACL and MCL, as well as partially tearing his PCL and meniscus.
These days, however, he's looking stronger than ever. "I wouldn't call it surreal, I would say it's exciting," Burrow told ESPN after his team's dramatic AFC Championship win against the Kansas City Chiefs in late January 2022. "I think if you would have told me before the season that we'd be going to the Super Bowl, I probably would have called you crazy. Then, you know, we play the whole season and nothing surprises me now."
One fan has stayed by Joe Burrow's side throughout this rollercoaster: His girlfriend, Olivia Holzmacher. Keep reading to find out more about this NFL WAG and her life beyond her famous boyfriend.
Joe Burrow and Olivia Holzmacher met in college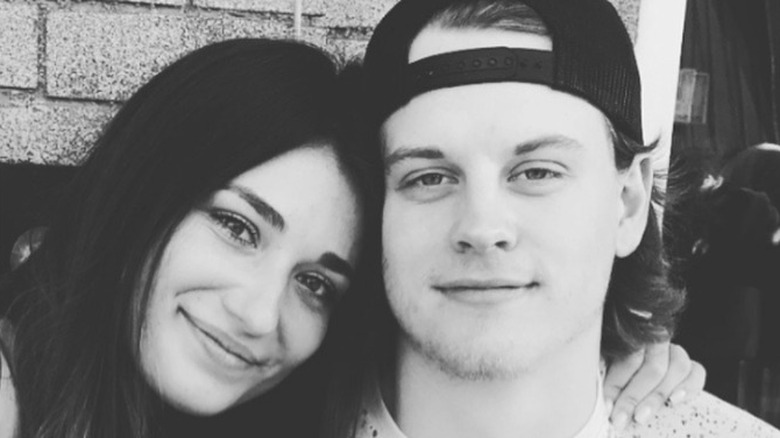 Anyone who's been following Joe Burrow's career knows that he made his name at Louisiana State. He led the university to victory in 2019 during what Bleacher Report called the "greatest individual season" in the history of college football and was awarded the Heisman Trophy with a nearly record-breaking amount of votes, per USA Today. "This is what kids dream of doing," the future NFL star told the press at the time. "I envisioned myself on that stage and being the quarterback of the No. 1 team in the country playing for the national championship. So this entire season has been a dream come true for me."
But before transferring to LSU and getting his big break, Burrow went to Ohio State, where he met Olivia Holzmacher. The couple first posted a photo together on Holzmacher's Instagram in August 2017, which showed them at the Ohio State stadium. "10/10 ... 1 being the best," she jokingly wrote in the caption. A year later, she posted a sweet black-and-white anniversary picture, noting that they had spent "three hundred sixty five days" together, adding "xoxo" at the end of the caption.
Holzmacher was a proud member of the sorority Alpha Phi at the time, according to her social media posts, and Heavy reported that she also belonged to the Big Data and Analytics Association.
She majored in data analytics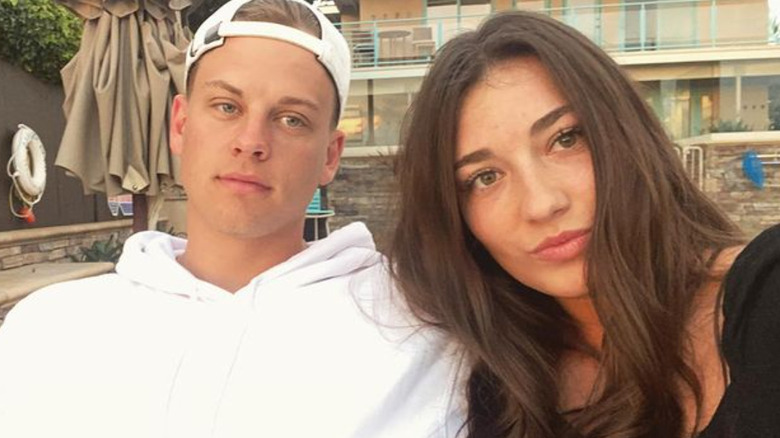 Olivia Holzmacher's time at Ohio State didn't just result in her meeting boyfriend Joe Burrow: According to her LinkedIn, she was also a dedicated student who managed to land a position on the Newark Honors Program. Holzmacher majored in data analytics and social sciences, which led her to pursue a career as an analyst.
"My love of statistics and analysis is the reason I chose my Data Analytics major; but I am much more than just numbers," she explained on her LinkedIn bio, per Heavy, describing why she was drawn to the field. Holzmacher also called herself "a critical thinker, continual learner, problem solver, detail-oriented, self-motivated, organized, flexible, energetic, focused, and confident."
Burrow, on the other hand, left Ohio State with a family and consumer financial services bachelor's degree, per Fox Sports. He also has an ambition to work on Wall Street someday, as SI reported in 2019, having previously had a summer internship working at Goldman Sachs in New York City.
Olivia Holzmacher supported her boyfriend before the NFL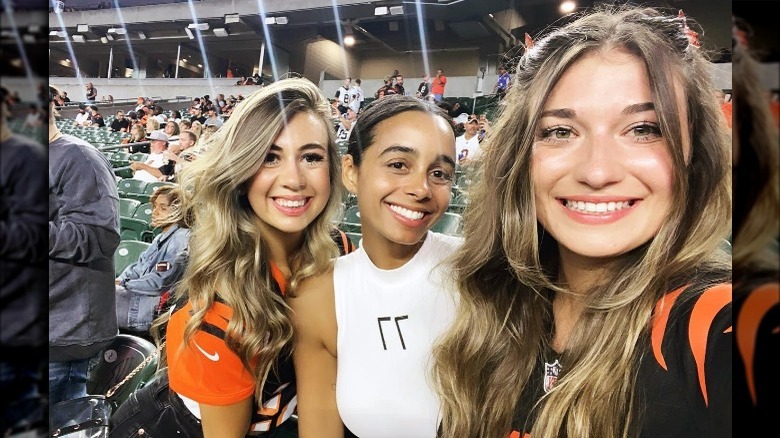 Although many football fans have jumped onto the Joe Burrow bandwagon, Olivia Holzmacher has been there since the start of his career. And she's not afraid to brag about the quarterback's achievements on Instagram: "When you fangirl your own boyfriend," she wrote in the caption of one photo shared in 2019, which showed her smiling and applauding at a Louisiana State University game.
Holzmacher also celebrated on social media after Burrow was the first selection in the 2020 NFL draft, per ESPN. "Tonight a new chapter starts for you!" she wrote on Instagram when he was picked out by the Cincinnati Bengals. "Thankful to be by your side joe and to be a part of the past three seasons. I've had the best experiences and met the best people along the way." She went on to gush that she was "so excited for what the future holds" and proud of his "once in a lifetime night."
At the time, Burrow was offered a four-year, $36.2 million deal, according to CBS Sports. However, he planned not to splurge on any of that contractual dough, explaining (via the Bengals' website), "I'm just going to live off the marketing money and let that accrue in my bank account."
Joe Burrow's girlfriend works for Kroger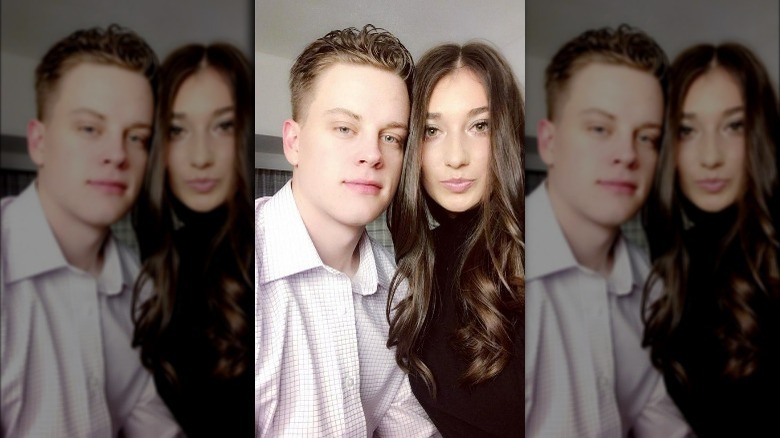 Although many sports pundits have predicted that her boyfriend, Joe Burrow, has a remarkable career in football ahead of him, Olivia Holzmacher seemingly wants to be more than just an NFL WAG. According to her LinkedIn, she started working at a gym while she was still a high school student, leading a team of 12 at Lifetime Fitness in her hometown of Deerfield, Ohio.
The aspiring career woman graduated from Ohio State in 2019, as previously mentioned, and went on to work for the massive supermarket company Kroger as a "Senior Process Specialist and Analyst" that same year, as HITC reported. Holzmacher described her own role on LinkedIn by explaining that she "builds dashboards and visualizations for Kroger's Ecommerce Pickup & Delivery services," adding that she uses her data expertise to "provid[e] insight to operational metrics and customer experiences."
Even though her job is based in Cincinnati, Holzmacher has proved that she's willing to travel around the country and watch Burrow play in stadiums from Las Vegas to Alabama.
She showed up as a cutout during the pandemic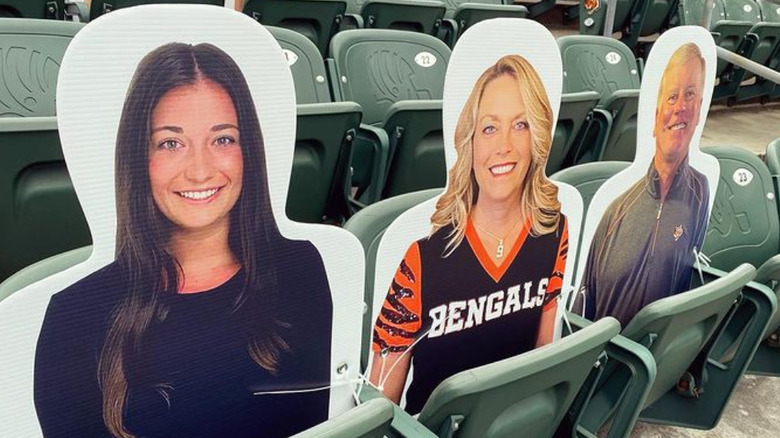 Even when fans weren't allowed to watch NFL games in person, Olivia Holzmacher showed up to cheer on the Cincinnati Bengals in cardboard form. The team announced in August 2020 that they couldn't have a crowd at any of their upcoming games due to COVID-19 restrictions introduced in Ohio, according to Cincinnati.com. Cases had risen, and the Paul Brown Stadium was considered a potential breeding ground for coronavirus infections, although the team promised it would "monitor the situation moving forward and continue exploring whether fans may attend games as the season goes along."
They had a solution, however: asking fans to pay between $50 and $75 for a cardboard cutout of their face, which could sit in the stadium for them. The earnings would be donated to charities like The Boys & Girls Club and Freestore Foodbank. "If a fan cheers in a crowd and no one is around to hear it, does it make a sound?" Holzmacher quipped on Instagram alongside a picture of her own cutout (as well as those of Burrow's proud parents), before answering her own question with an emphatic "YES."
Eventually, the Bengals relaxed their restrictions enough to allow 12,000 fans to support the team from inside the stadium for their few final games of that season, per CNN, even if they had to follow social distancing guidelines.
Olivia Holzmacher is a dog lover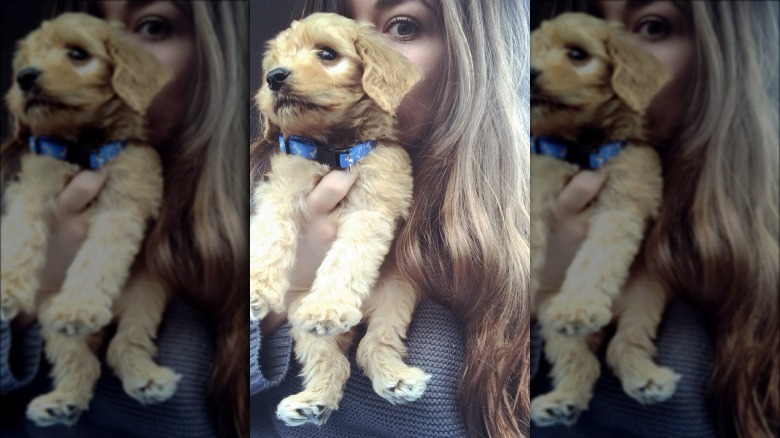 Olivia Holzmacher joined the ranks of NFL pet lovers by gushing over her own puppy on Instagram in December 2017. "Beau's first day home!" she wrote at the time, introducing the new dog to her family and friends. Holzmacher described Beau as an "8 week old mini Goldendoodle who is way too calm and sweet," and later posted an adorable snap of the dog sitting on her laptop. "If I fits I sits," she quipped in the caption.
It also seems like Joe Burrow has embraced Beau as a part of the family. As the New York Post reported in 2020, Holzmacher posted an adorable video of the pair reuniting on her Instagram Story. "BIG day for Beau," she wrote, as the dog ran around in circles and wagged its tail furiously. "Excitement laps," Holzmacher added. "He hasn't seen Joe in months." (Cue a chorus of awws.)
So, it's entirely possible that these two will get ready for Burrow's big Super Bowl debut by watching the accompanying Puppy Bowl. According to CNET, the 2022 parade of pooches will be hosted by Martha Stewart and Snoop Dogg.