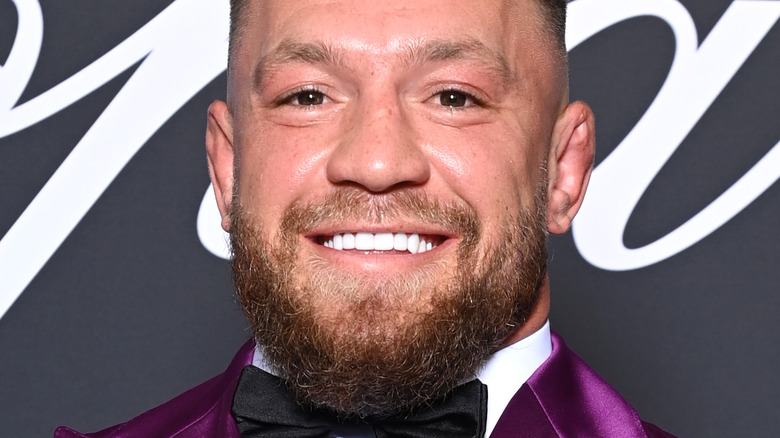 "I am no celebrity," the most famous fighter in the world, Conor McGregor, told ESPN's Stephen A. Smith in 2021. "People mistake me for a celebrity. I break people's faces for money, and bounce."
Days later, McGregor would face bitter rival Dustin Poirier for the conclusion of their trilogy at UFC 264 in Las Vegas. McGregor had won the first battle but then been knocked out in their second clash and was looking for payback. In the third meet, though, the tides started to turn against the fighting pride of Ireland near the end of round one. McGregor's stamina was fading. As Poirier pressed forward, McGregor countered with a hard low kick. There was a wince, and when McGregor stepped back to put weight on his rear leg, it folded like a sock. His shin had snapped in two and he crumpled to the canvas in agony.
This freak accident followed a string of losses and shady mishaps for the former two-division UFC world champion once dubbed "Mystic Mac" for his ability to predict his own victories down to the round. McGregor's unique charisma vaulted him to the top of combat sports, but the fury of his fists was always there to back it up. As his fortunes inside the Octagon have fallen, however, what remains is, in fact, his celebrity. Some say he's washed up as an elite fighter, but his wit is still withering, and Mac's mouth definitely continues to rub some of his fellow famous people wrong.
Khabib Nurmagomedov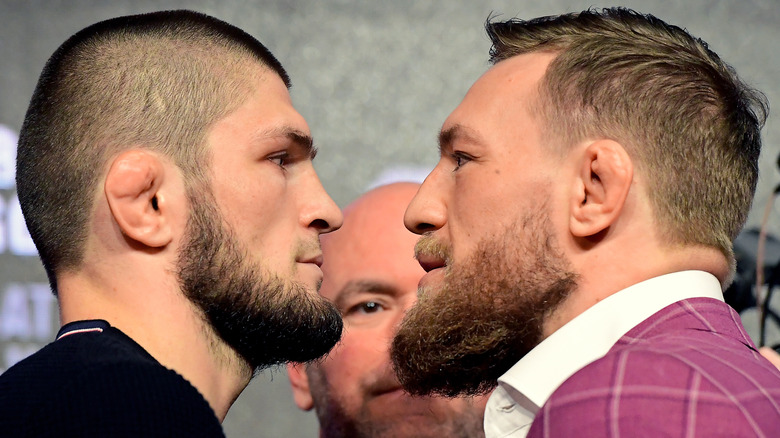 Inside the cage, the now-retired Khabib Nurmagomedov was an animal who mauled his opponents. Some say he's the greatest MMA fighter of all time. Outside the cage, however, he's always been one of the more thoughtful fighters, his abiding Muslim faith governing his teetotaling lifestyle and famously incisive pearls of wisdom. The one person who has been able to get under the otherwise serene fighter's skin though, is none other than "The Notorious" Conor McGregor.
This feud certainly started as a simple competitive rivalry. After the clash, Nurmagomedov summed up the insanity in the laconic yet insightful way he says just about everything (per MMA Life). "When athletes, they have [the] same goal, they don't like each other. You wanna be champion, I wanna be champion."
Leading up to their ballyhooed bout, McGregor took the promotional antics too far, though. McGregor was genuinely heated about Nurmagomedov and his team surrounding his good friend and training partner, Artem Lobov, during an MMA event. McGregor and crew then showed up at Barclay's Center in Brooklyn for some payback. McGregor's posse made their way backstage and the pugilist proceeded to pick up a steel hand truck and throw it nearly through the window of a large bus carrying numerous fighters, including Nurmagomedov. Two athletes were injured and unable to compete. Nurmagomedov, meanwhile, stayed calm, preferring to get his payback during their official fight. "The Eagle" ended up choking out McGregor in round four, and retained his world title and undefeated record.
Roman Reigns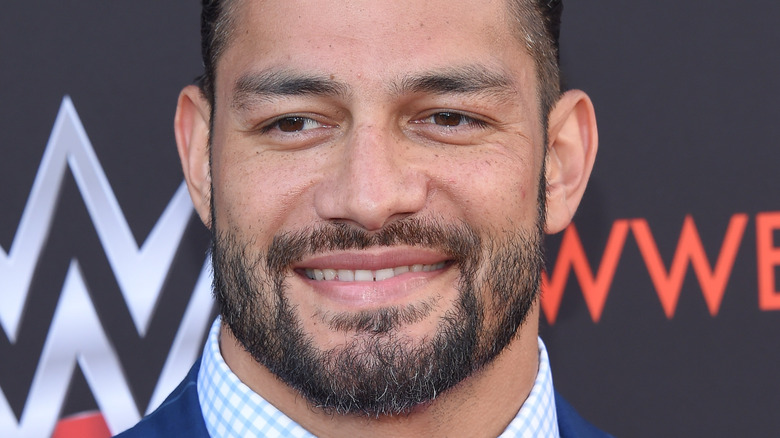 Conor McGregor loves to tell his rivals he's going to slap them. For his most important enemies, he's willing to close his fist, but for those he deigns beneath a fully dignified beatdown, The Notorious one suddenly turns into an 18th-century gentleman and comes at his critics palms first. These duels mostly live on Twitter, though.
Back in 2016, McGregor was often being asked if he'd ever consider pro wrestling. His charisma and gift for gab make him a natural fit and fighters like Ronda Rousey have made the transition. McGregor was, at the time, the UFC's lightweight world champion, weighing in for that title fight at 155 pounds. He didn't seem interested in WWE theatrics as he took to Twitter with this pronouncement: "I didn't mean no disrespect to the @wwe fans. What I meant to say was that I'd slap the head off your entire roster. And twice on Sunday's [sic]."
WWE star Roman Reigns didn't take kindly to this dismissal of his sport and tweeted succinctly to the smaller man: "Your [sic] the size of my leg. Shut up." Reigns' official WWE bio doesn't list his size, other than declaring the WWE Champion a "juggernaut," which sounds pretty big. Most sites list him as around 6 foot, 3 inches and weighing at least 100 pounds more than McGregor's 2016 competition weight. If these stats are even close to accurate, a real fight between them could likely not be officially sanctioned.
Floyd Mayweather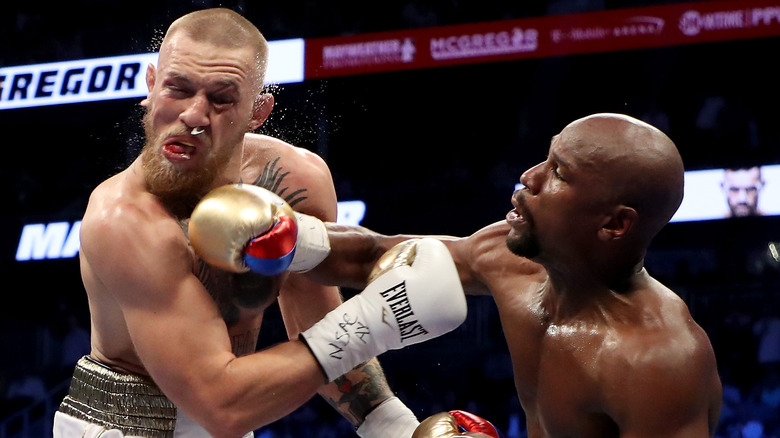 It's possible Floyd Mayweather low-key likes Conor McGregor. The best boxer of his generation nabbed a staggering $275 million payday for his 2017 clash with the Irish bad boy. And overall, it was pretty easy work. Mayweather admitted he "didn't really train" and on the night of the fight bided his time until the bigger and less experienced McGregor was exhausted. Mayweather calmly moved in and knocked McGregor out in round 10. He may even have inflicted some brain damage, according to one former ringside physician, per Vice.
Maybe from Mayweather's perspective, all's well that ends well, but the globe-trotting promotional tour leading up to the bout, while often entertaining, didn't go as well for Mayweather as the fight. Irish flag-waving fans in New York were wildly pro-McGregor, while Mayweather's antics — like chanting "hard work" — were largely greeted with boos. Mayweather was the A-side promotionally, but despite his status in the sport, he was seemingly branded the heel.
McGregor relentlessly mocked Mayweather's age as well, considering he was 40 years old heading into the bout. McGregor even got an entire arena in London to scream, "F*** Floyd Mayweather." McGregor got the same cooperation from a massive crowd in Toronto, too. The Notorious lampooned Mayweather's fashion and even claimed the fighter was illiterate. The insults were cutting and quick and it had to be tough for a legend to watch so many swoon over this brash young trash talker who had exactly zero pro boxing experience.
Mike Tyson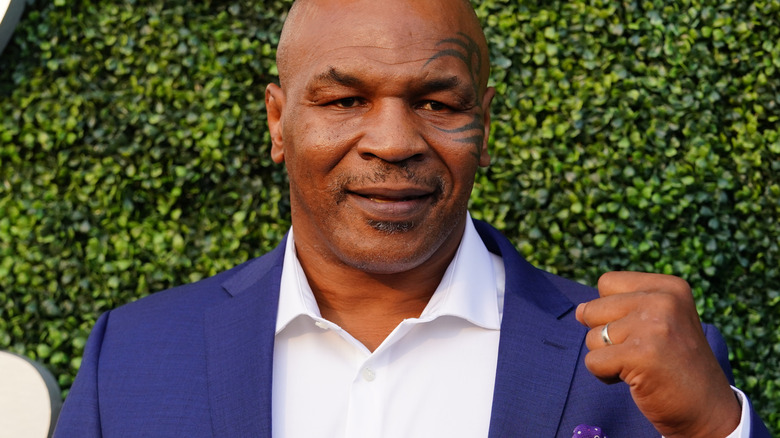 Conor McGregor is arguably the biggest fighting star since Mike Tyson. Both pugilists intimidated opponents with their power inside the ring, and both have outsized and very unique personalities outside it. That said, if the two were contemporaries, Iron Mike doesn't think the Irishman would stand a chance. Tyson was prompted to react to a photoshop of himself fighting McGregor made by Jimmy Fallon's team, and Tyson declared in 2020, "I'm gonna kick his ass anyway."
Previously, Tyson picked against McGregor in the MMA fighter's boxing bout against Floyd Mayweather. Speaking to the boys of "Pardon My Take" (via Bleacher Report) Tyson assumed it would be a wipeout. "Can the boxer beat the MMA guy? McConor put his dumbass in a position where he's gonna get knocked out because this guy's been doing this all his life since he was a baby. McConor can't kick and grab and stuff so he won't stand much of a chance."
After the fight though, Tyson had a change of heart. Speaking with "ESPN MMA," he called McGregor the most marketable fighter to cross over into boxing and praised his effort against Mayweather. "Listen. He never really had a boxing match in his life, right? ... He went ten rounds with the greatest fighter in the last hundred years of boxing."
50 Cent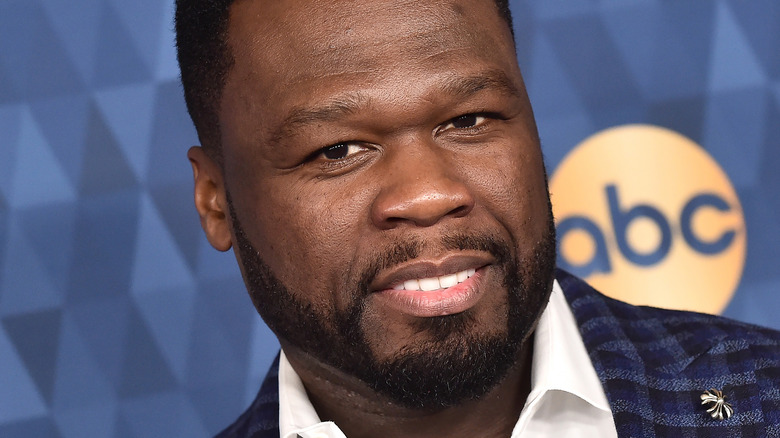 Conor McGregor and 50 Cent threw out two of the worst first pitches you will ever see. In 2014, 50 tossed this pitch at a Mets game. It's almost unbelievably bad as the muscle-bound hip hop star awkwardly chucked the ball a solid 15 feet wide of the catcher. The announcer dryly remarked, "Just a bit outside."
In 2021, the Cubs invited McGregor to do the same routine. The lefty's toss went so far right it bounced off the brick wall behind the batter's box. McGregor remained confident though. He took to Instagram with photos of both throws, calling his toss "The most powerful and fastest first pitch of any of these other athletes/artists." He went on to boast, "Small bucks 50 Cent. One has power. One is the director of media relations for some show called power. You know what it is."
The Instagram roasting got ugly when 50 Cent responded with a since-deleted and racially charged rant (via MMA Junkie). "Conor McGregor ... he's talented for a white boy. But, you know, n***as have superior genes when it comes to that kind of sh*t ... in order for white people to make a champion, they had to make 'Rocky,' man." McGregor responded on International Women's Day with a shirtless photo of 50 Cent captioned, in part, ​​"Superior genes my big ballsack mate. I am made of granite. You need a bra. You jabbed up fool." Fact check: Steroid use can indeed cause gynecomastia in men.
Stephen A. Smith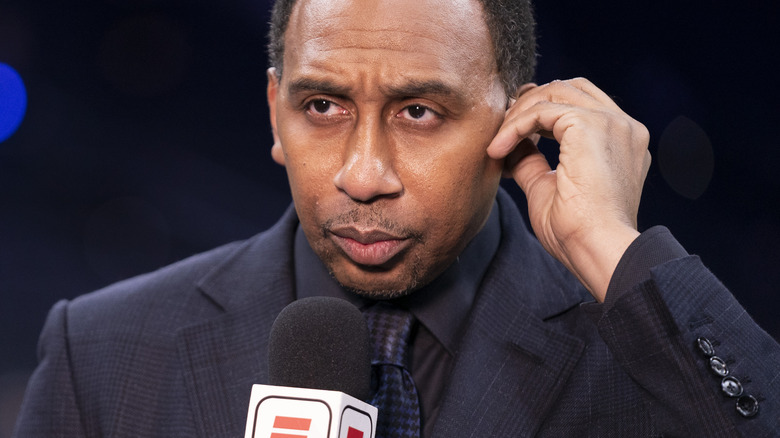 One of Conor McGregor's favorite promotional tools is the psyche-out retirement. He's not alone in this. Athletes like Tom Brady are known to pull this move too, but fighters are especially famous for not wanting to walk away for good.
One of McGregor's more successful UFC comebacks was against legendary lightweight Donald "Cowboy" Cerrone in 2020. Cerrone is one of the best MMA fighters to ever do it, but he's also known for faltering when the lights are the brightest and that's what happened in his clash with McGregor. McGregor mauled the bigger and more experienced fighter in just 40 seconds, according to ESPN. What was weird is he did it with a series of extremely unconventional shoulder strikes — as in, he started the finishing sequence by hitting Cerrone in the face with his shoulder.
The oddity of this ending left some to wonder if Cerrone had simply quit. ESPN analyst Stephen A. Smith certainly thought so and inadvertently undermined McGregor's glorious return when he said exactly that. McGregor demanded an apology but Smith stood his ground, insisting Cerrone didn't give his best. It turns out Smith was correct when Cerrone himself admitted to "ESPN MMA," "I didn't even wanna go out there. So when Conor gave me the door, I took it. That was my inner b**ch." A year later, after McGregor's leg-shattering loss and subsequent ugly antics at UFC 264, Smith further called McGregor "tasteless" and declared his "time in the sun is over."
Draymond Green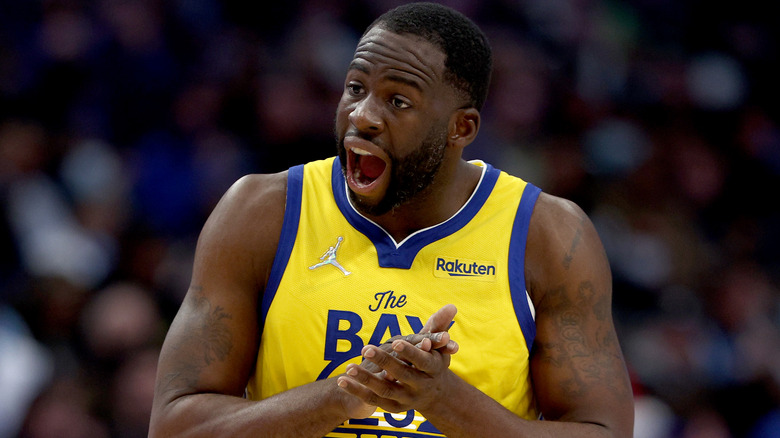 There's little doubt that sometimes Conor McGregor starts a feud and ends up looking like a bully in the process. In the case of his beef with Golden State Warriors All-Star power forward Draymond Green, however, the much bigger man ended up looking kind of small.
It all started in 2017, when Green spied McGregor wearing a Golden State Warriors jersey emblazoned with what the baller assumed was his own number 23, according to SI. This happened in the lead up to McGregor's boxing match with Floyd Mayweather, and Green took to Instagram in a now-deleted post for this misguided roast. "We rocking with Floyd bro, not you... take that off bruh @thenotoriousmma."
ESPN captured a screenshot of McGregor's devastating counter shot. The MMA fighter explained he was actually wearing the jersey of former Warrior C.J. Watson. "I don't know who the f*** you are. No disrespect tho kid keep hustling and stay in school. Now ask yourself why I'm rocking C.j. [sic] when I don't give a f*** about basketball. [I] dribble heads off the floor. Not a ball. This is no game here kid." McGregor may actually have been wearing the jersey to troll Mayweather, because Watson allegedly had a relationship with Josie Harris, the mother of Mayweather's children. Green then responded with a list of his NBA accomplishments, but that only made this a bigger win for the Irishman. As ESPN pointed out, "He basically reduced Draymond Green to saying, 'Google me.'"
Machine Gun Kelly & Megan Fox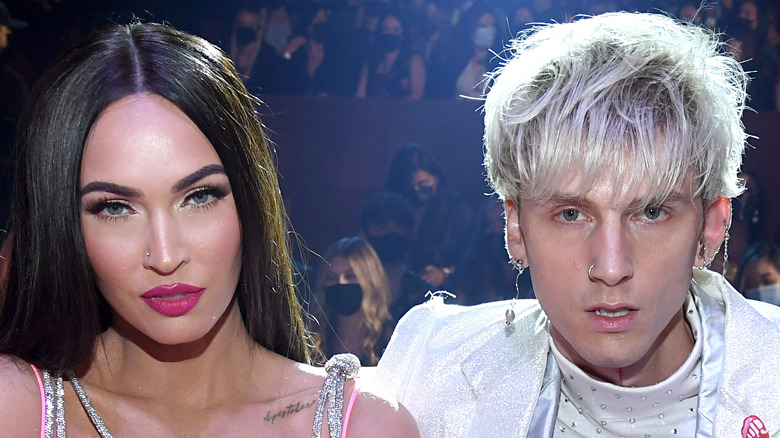 The beef between Conor McGregor and Machine Gun Kelly doesn't make a lot of sense, and exactly what happened really depends on who you ask.
What is known is this. Mystic Mac and MGK got into a small fight, according to ESPN, as the two stars walked the red carpet for the 2021 MTV Video Music Awards at the Barclays Center in Brooklyn. There's a video of McGregor lunging at Kelly, who was being held back by security and his girlfriend, Megan Fox. Another clip shows the Notorious throwing a drink in Kelly's direction. Later, McGregor tried to brush it all off, but added this diss. "I don't even know the guy," he told "Entertainment Tonight." "I certainly don't fight little Vanilla Ice boy rappers. ... I don't know anything about him except that he's with Megan Fox."
McGregor insiders allegedly told TMZ the issue started when the fighter approached Kelly for a photo, which the rapper supposedly declined. McGregor was then pushed away by the rapper's security. However, a spokesperson for McGregor said the photo story was bogus. Regardless, a war of words and some shoving ensued and McGregor was left wondering why he was treated with disdain. However, McGregor soon insisted to "Entertainment Tonight" that the beef was squashed. "It's all good man. Come to the next fight. Come watch me perform any time." Kelly and Fox did attend McGregor's fight prior to the incident, so maybe a reconciliation is possible.
Mark Wahlberg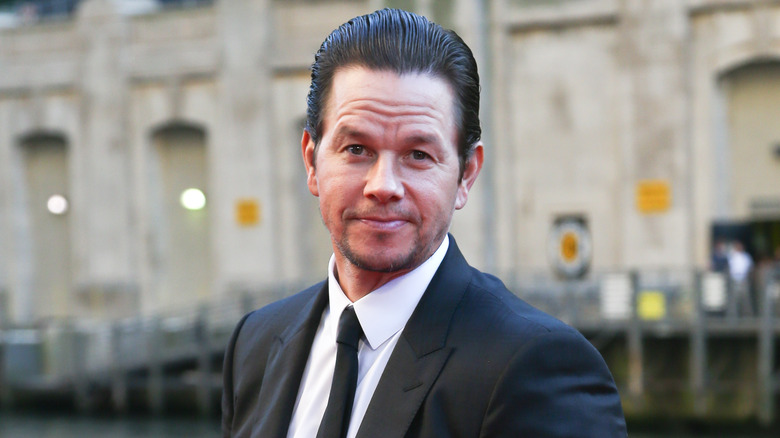 You have to hand it to Mark Wahlberg for not getting sucked into the vortex of Conor McGregor's trash talk. His above-the-bs attitude came in handy when McGregor came out swinging via Twitter in 2019. "I challenge Mark Wahlberg [to a fight]. ... Back when Mark Wahlberg was Marky Mark, I'd still slapped the ears off him and took my UFC shares back." McGregor also childishly called the star an "actress" and proposed a bout where the winner takes a portion of the UFC.
McGregor at the time was wrangling for an ownership stake in the fight promotion and oddly concluded it should come out of Wahlberg's UFC investment. This may have stemmed from misleading coverage of comments Wahlberg himself made in 2016 where the actor seemed to offer McGregor a free piece of the company.
However, if you actually listen to the full context, Wahlberg repeatedly says you have to "cut the check" to become a boss and buy in to UFC ownership. He did say though he wanted McGregor with him in the C-suite, calling the Irishman, "the face of the UFC." Wahlberg also praised the fighter as "a hustler like me." However, in 2018, Wahlberg did tell TMZ that McGregor should receive some punishment for the aforementioned incident in which the fighter attacked a bus in Brooklyn. Maybe this criticism soured the vibes, but Wahlberg leaning into his A-list status and keeping it all business feels like the most devastating comeback to McGregor's provocations yet.
Jake Paul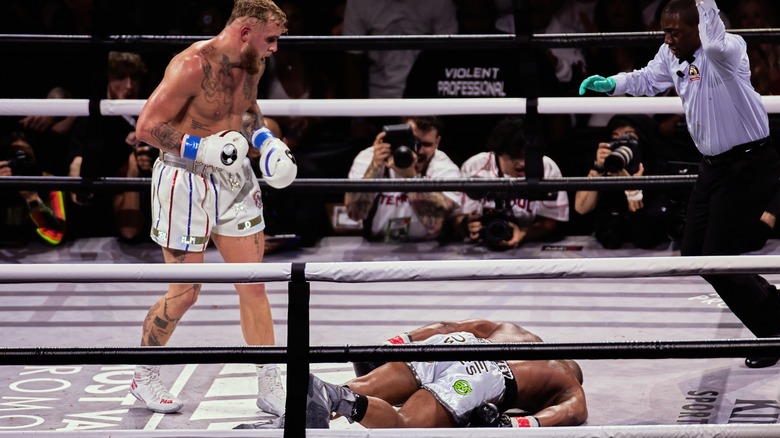 Jake Paul turned out to be no joke as a fighter — he leaves that to big brother Logan Paul — who stays busy losing to undersized gamers. The younger Paul has surprisingly clean technique, which earned a viral one-punch knockout over former NBA star Nate Robinson. He next got even crazier finishes against MMA vet Ben Askren and former UFC champion Tyrone Woodley.
Paul's trash-talking makes him a natural foil for Conor McGregor. The YouTuber has been a vocal critic of the UFC pay structure and of UFC president Dana White as he tries to tempt MMA fighters to face him for bigger checks in the boxing ring. In 2022, he released a diss track calling out McGregor's losing streak and his alleged new teeth. "McGregor I ain't seen you win in five years, you rich little weirdo, ugly ass veneers," he rapped.
Later in 2022, Paul was trying to hype a possible fight between himself and McGregor. The Irishman responded via Twitter, calling Paul "a flop ... a nobody." Paul quickly recorded a scathing video calling McGregor, "more active on Twitter than you are in the Octagon." Paul went on to accuse McGregor of steroid use, cheating on his wife, and being a washed-up alcoholic. He also accused McGregor of "sharing hookers with Dana White" and edited in a clip of a mystery woman taking a selfie video with her tongue out as the Irish fighter appeared to be asleep in a hotel bed.
Tyson Fury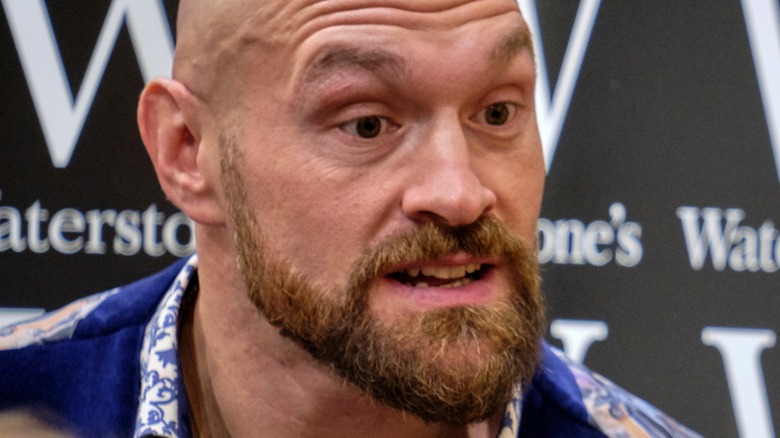 Tyson Fury is literally boxing's biggest star. The lineal heavyweight champion, often known as "The Gypsy King," stands 6 feet, 9 inches and sometimes fights at nearly 280 pounds. The Brit is way too big to officially battle Conor McGregor, but he doesn't approve of the Irishman's brawls outside of the Octagon.
In 2019, video emerged of McGregor striking a gray-haired man of a certain age in a Dublin pub. The man can be seen repeatedly refusing McGregor's offer for a shot of his Proper 12 brand whiskey. McGregor then simply clocks him. He pled guilty to the assault, according to The Journal. "What I did was very wrong and I'd like to apologize again to the injured party and today before the court and assure you that nothing of this nature will happen again," McGregor said.
In 2022, McGregor was less conciliatory with Fury via Twitter. He instigated an almost entirely unintelligible and since-deleted exchange (via MMA Fighting) where he called the often flashy Fury a "Versace Tw*t." Fury responded more lucidly. "Come back when you win a fight. ... I don't get myself in trouble and people actually like me. You're just a bully who hit an old man." Fury later insinuated McGregor's trash talk was related to some football festivities. "Obviously he was trying to reach for a bit of fame on Super Bowl weekend. It's called Super Bowl weekend fever, everybody gets it!" Fury explained on "The MMA Hour."
Paulie Malignaggi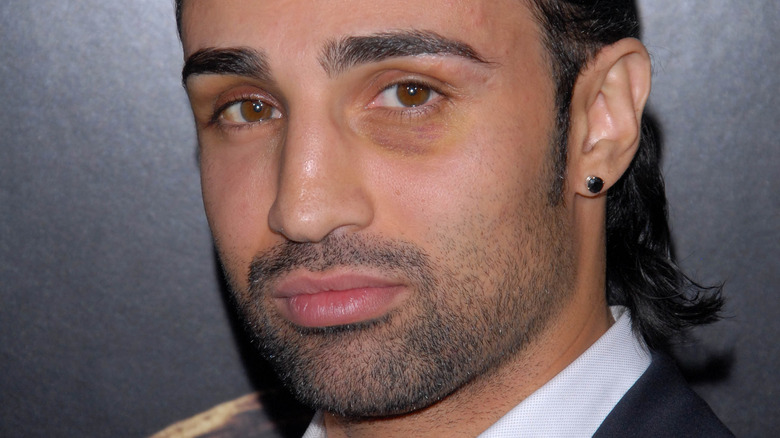 It's hard to trust the legitimacy of a feud between prize fighters. Since Conor McGregor burst onto the scene with his brash brand of face-bashing, just about every MMA fighter, and many boxers, have tried to call him out. The truth is that taking a beatdown from McGregor is worth a lot of money. And as his skills diminish with age, the number of professional pugilists wanting a piece is only proliferating.
The bad blood between McGregor and former boxing champ Paulie Malignaggi definitely seemed real though — especially after the two trained together during the Irish star's preparation for his 2017 boxing match against Floyd Mayweather. Malignaggi was set off when McGregor broke a sacred fighter taboo. UFC promoter Dana White posted a video of McGregor getting the better of Malignaggi during a sparring session. What happens behind closed doors between training partners is supposed to be off the record, but McGregor and his backers seemingly used Malignaggi to help prop up his long odds ahead of the Mayweather bout.
The war of words later escalated via Twitter, with Malignaggi declaring of McGregor, "He ain't s**t." Malignaggi also complained about his treatment while in McGregor's training camp. He told "The MMA Hour" (via SCMP), "They put me in some kind of a crackhouse." Hilariously, in the days leading up to McGregor's bout with Mayweather, the boxing champ claimed Malignaggi was actually acting as his spy in the Irishman's training camp.
Nate Diaz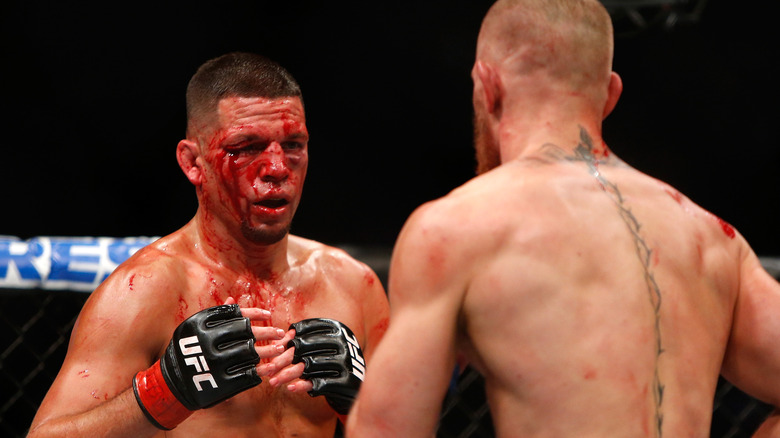 Nate Diaz is one of the few transcendent fighting stars. He and his legendary older brother, Nick Diaz, are fan favorites for both their blood-and-glory fighting style, but also for their iconoclastic interviews outside the ring. Nate never filters his comments, which makes him a natural foil for Conor McGregor. In fact, these two tough guys have so much in common, Nate called out McGregor for stealing his brand. "Conor McGregor, you're taking everything I worked for, motherf***er. I'm gonna fight your f***ing ass," he shouted into the microphone after a victory in 2015.
A fight between these two felt inevitable and was finally made when Nate stepped in as a last-minute replacement in 2016. In an absolute stunner, the less-heralded and less-prepared Nate took McGregor's best shots, tired out the notorious Irish pugilist, and then choked him to a tap-out in round 2.
McGregor, being the bigger star, was always going to get another shot at Nate if things went badly. The rematch was set for later that year at UFC 202. This time, the Irishman gritted out a narrow victory on the scorecards, despite some very harrowing moments. After winning this second fight though, McGregor did not agree to break the tie and turn this rivalry into a trilogy. Nate isn't happy with this delay, or the implied disrespect. "I been trying to fight everybody and no go what's the hold-up," he wrote on Twitter. "I'm not fighting Conor he sucks."
Jorge Masvidal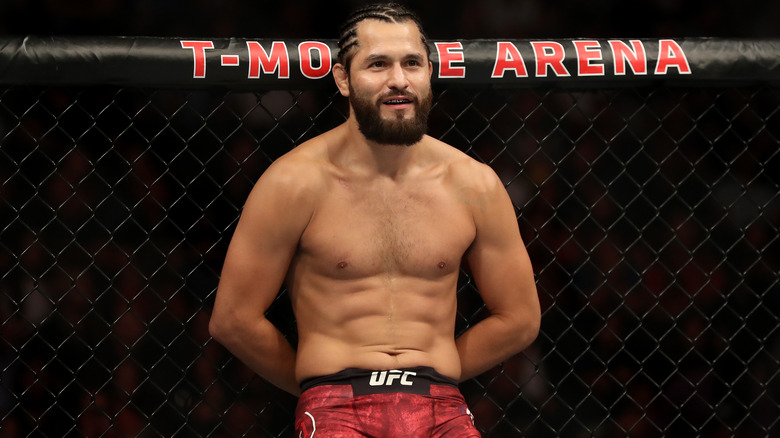 If Conor McGregor has a mirror image in the UFC, it's actually Jorge Masvidal. The veteran welterweight contender is also a vicious puncher with a knack for cleverly trash-talking his way into big-money bouts. A fight between the two would be massive, but so far, McGregor has demurred. Masvidal has taken to questioning the Irish fighter's focus and sobriety, and, given that Masvidal's brand is the authenticity of his swagger, he seems to mean it.
"Before this guy overdoses on cocaine and then the fight never happens and I don't get to make all that easy money, I just want to break Conor's face," Masvidal said to Blockasset. Masvidal was trafficking in purely speculative rumors about McGregor, fueled by the fighter's increasingly erratic behavior. UFC commentator and famed podcaster Joe Rogan has also speculated about McGregor's drug use.
When Masvidal didn't get a response, he further claimed McGregor was ducking him. "Conor doesn't want the fight," Masvidal told MMA Fighting. "If he did he'd post something, he'd say something. He'd probably just insult my mom or some relative of mine or my nation where I come from. ... I think the only thing that makes him want to get out of bed is cocaine. That's OK, every man has free will. You do whatever you want." McGregor couldn't help himself and then proved Masvidal exactly right with this predictable clap-back: "Insult your mom? What a loser you are mate. Me and your mom get along."