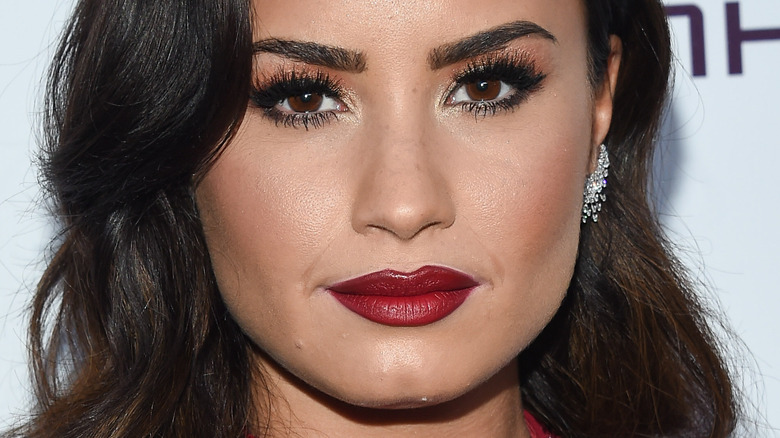 Demi Lovato (who recently revealed she was using she/her pronouns again) has been open about all of the struggles and tragedy she's faced in her young life. The former Disney star has been candid about overcoming an eating disorder, being diagnosed with bipolar disorder, struggling with body acceptance, and her years-long battle with sobriety and getting clean. In addition to all of these hardships, the talented actor and singer has also had to deal with painful loss in the relationship department. She's been linked to a slew of high-profile folks, from Joe Jonas to a "Bachelorette" alum, and while some unions were fun and drama-free, others really took a toll on her mental health.
For example, when things ended with Wilmer Valderrama in 2016 (her longest relationship to date), Lovato confessed in her 2017 documentary, "Simply Complicated," that she had doubts about the split. "We connected on a level that I've never connected with anybody before," she shared. "He was just my rock." However, she later told Harper's Bazaar in 2020 that through the hardship came a valuable lesson. Saying that she and Valderrama hadn't talked in years, she shared, "I think I needed that because I needed to learn to be okay on my own." Like with everything else, Lovato has been completely honest about her love life and, well, her exes have also had plenty to say about her, both during and after their unions. Here's what all of Demi Lovato's past partners have said about their relationships.
Cody Linley wished he could redo a disastrous date with Demi Lovato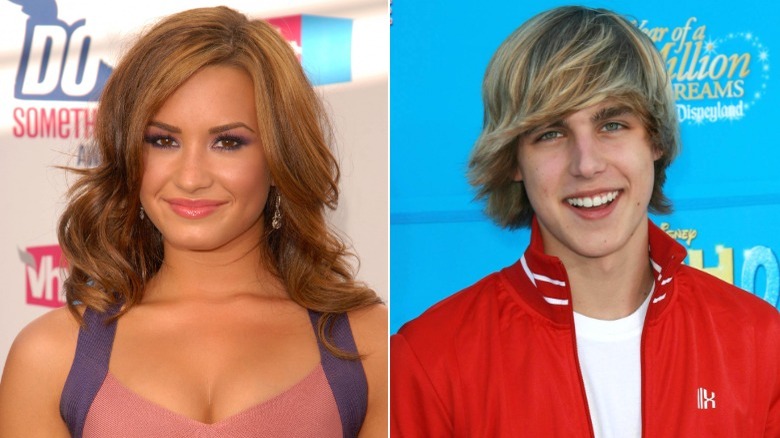 Demi Lovato was just a teen when they had their first high-profile boyfriend: "Hannah Montana" star Cody Linley. The pair dated between 2007 and 2008, per Cosmopolitan, although their young love was a bit bumpy. As Linley told Seventeen in 2008, he and Lovato once had such a disastrous date, he wished he could redo it. As the actor recalled, his car broke down and he was two hours late to pick them up. He eventually arrived at Lovato's home at 9 p.m., apologized profusely, and they set off for a steak restaurant. However, the drama wasn't over. "It was really the most up and down night of my life," he shared. As they were driving, their ride began making worrisome noises. "I had to stop the car and get out. Demi was really sweet. She held the light for me and put in her car repair advice," he told the mag. Eventually, they had their date and it was a good time, but to top things off, Linley got lost on his way home, then he had to take his car to the mechanic the next day. "It was the most disastrous but fun date," he laughed.
Despite the unlucky outing, Linley still cares for his ex. After Lovato's overdose, he took to Twitter to share his support, writing, "I'm thinking of #DemiLovato and her family today [...] we love you @ddlovato and are here for you."
Alex DeLeon chose to keep their relationship (and breakup) private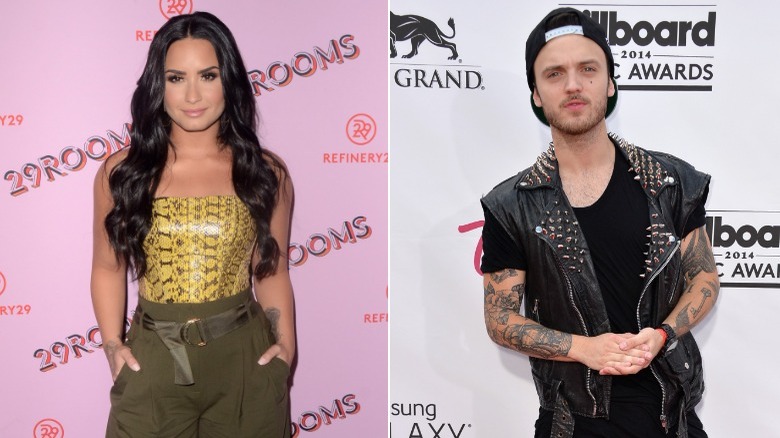 After splitting from fellow teen star Cody Linley, Demi Lovato was linked to The Cab's lead singer, Alexander DeLeon. According to Cosmopolitan, they reportedly dated for about a year, starting sometime in 2008. While they mostly kept mum about their union, Lovato reportedly wrote "Catch Me" about him, crooning, "You're so hypnotizing / You've got me laughing while I sing / You've got me smiling in my sleep." In return, DeLeon is believed to have responded with his own song, "Crown," on which he sings, "Won't you let me save you like you saved me? I can still feel you when no one's around."
While neither Lovato nor DeLeon spoke openly about their relationship, he did reminisce about their time together a few years later. When a fan asked him on formspring in 2010 if he'd share any details about his time with Lovato, he responded (via Surfme) that it wouldn't be fair to her because "those things are sacred and those memories are something that I keep close and won't let anyone take away from me." He did, however, make sure to gush openly about his ex, writing, "She is incredible, talented, and a heart the size of the moon." The Surfme blog also captured a screenshot of DeLeon sharing a similar sentiment on Twitter, telling a fan that he has absolutely no hard feelings toward Lovato. "She's a doll. I miss her dearly," he tweeted.
Trace Cyrus had no hard feelings about their split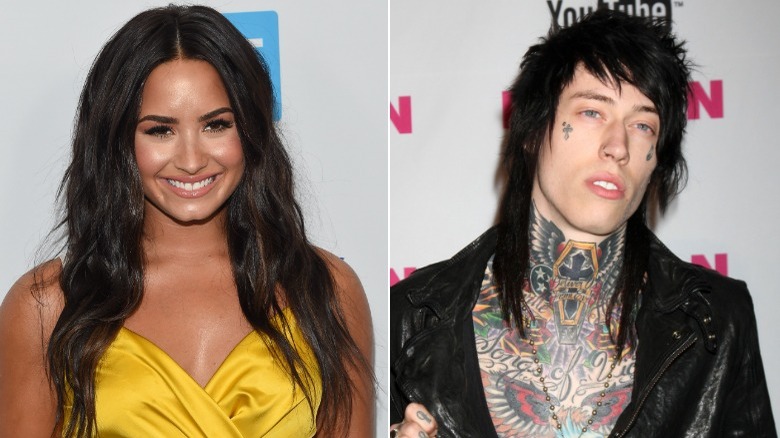 Following her time with The Cab's Alexander DeLeon, Demi Lovato went out with another musician: Trace Cyrus. According to Glamour, Lovato and Miley Cyrus' older brother got together in 2009 and, per Elle, only dated for a few months before they split in July 2009. Despite such a short run, it was a good relationship, according to Cyrus, and he had no regrets.
Speaking to People about his time with Lovato, Cyrus blamed busy schedules and the fact that they were both touring for their split. "Demi is one of my good friends and I definitely became very, very close with her in the past few months, and it's something I really wanted to make work," he shared. Especially because they had such a strong rapport. "Every time I hung out with that girl or talked on the phone with her, it was amazing," he mused. Unfortunately, their careers came first and, despite giving it their best shot, their relationship had to come to an end. Cyrus also blamed their difference in age (she was 16; he was 20), saying they were looking for different things. However, he was optimistic that "maybe when she's older and we've both matured, we'll be looking for the same thing and it can work out."
Joe Jonas thinks of Demi Lovato as a sister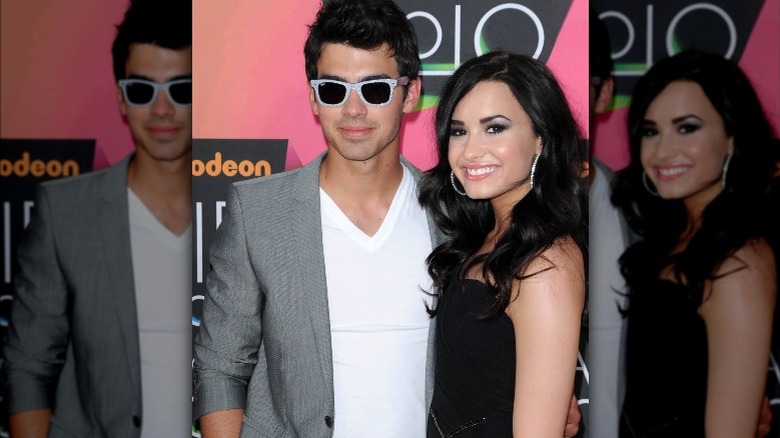 Demi Lovato first became close to the Jonas Brothers when they starred in 2008's "Camp Rock" — and then toured — together. Their friendship deepened on the set of 2010's "Camp Rock 2" and only became stronger in the following years. Lovato became especially close with Nick Jonas and the pair later hit the road together on Nick's "Future Now" tour in 2016. However, along the way, Lovato and Joe Jonas also gave romance a try.
In March 2010, Lovato confirmed they were dating and gushed, per People, "He is my best friend and he is incredible." However, by June 2010, they had broken up. Speaking with Teen Vogue right after the split, Joe was adamant he didn't want their bond to be affected. "I really care about her," he said. "When I met Demi, I knew right away that our friendship was really strong. I don't want to lose that ever." And he didn't. In 2016, Joe told Billboard that Lovato had become like a sister to him and his brothers. "It doesn't matter what comes our way, we're going to be able to make it through," he mused. Joe also praised Lovato for bravely battling their demons and being honest about their addiction. "She's the best version of herself I've ever known," he revealed. When Lovato overdosed, Joe thought of nothing but her wellbeing. "She needs our prayers and support," he tweeted. "We all know how strong you are Demi."
Wilmer Valderrama praised Demi Lovato after their breakup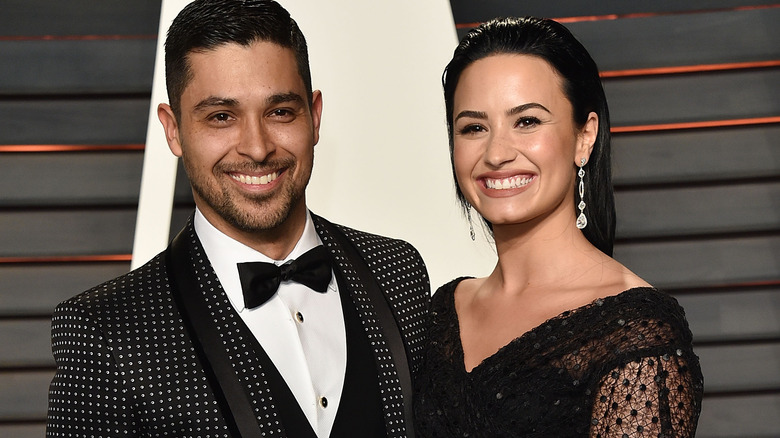 Demi Lovato and Wilmer Valderrama were first linked in 2010 and an on-again, off-again romance followed. They were together for nearly six years, which the actor called "loving and wonderful years," and he was there for Lovato through some of their toughest, darkest moments. As the singer told HuffPost Live in 2015, Valderrama supported them through their battles with drug addiction, bulimia, and more. "He'll never take credit for a lot of my sobriety and my recovery, but I guarantee it, I wouldn't be alive without him today," they proclaimed. However, in June 2016, they called it quits for good. In a joint statement posted to Instagram, they explained, "This was an incredibly difficult decision for both of us, but we have realized more than anything that we are better as best friends." They vowed to continue to support one another and in 2018, Valderrama visited Lovato in the hospital on multiple occasions, per E! News, after they overdosed.
Jump to 2022 and something changed. That August, an unreleased track by Lovato called "29" began making rounds online and folks believed the singer was shading their ex. The pair have a 12-year age difference and Lovato was 17 when they dated a 29-year-old Valderrama — something they now appear to not love. As HuffPost reported, fans were convinced they were slamming the actor with the lyrics "What the f*** is consent? / Numbers told you not to / But that didn't stop you."
Luke Rockhold had nothing but fun with Demi Lovato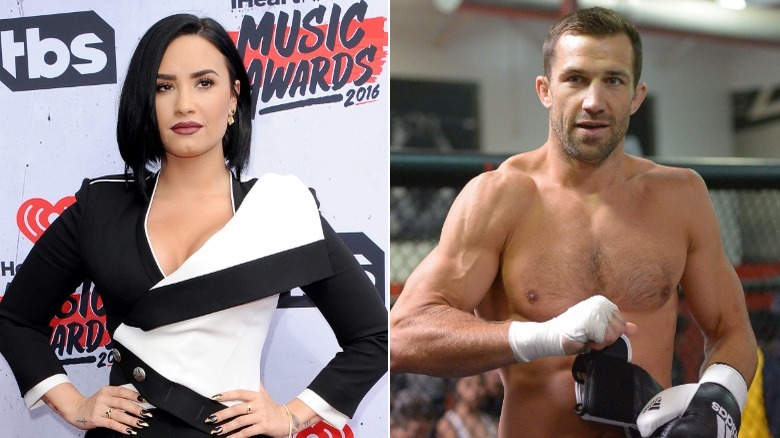 Demi Lovato and UFC fighter Luke Rockhold are believed to have dated from August to December 2016, per Cosmopolitan, and while it wasn't a long relationship, it was a fun one — at least according to Rockhold. The pair met at an MMA gym in Los Angeles, California and had a brief fling before Lovato began going out with Brazilian MMA fighter Guilherme "Bomba" Vasconcelos, per TMZ. While they didn't speak about their rumored union at the time, Rockhold later told Generation Iron in 2018 that he was attracted to the singer when he watched her train because "she's passionate; she's talented; I took to that and we hung out a bit."
As for what went wrong, the professional athlete said he chose to focus on his career rather than romance, but was adamant that there were no hard feelings about the split. "At the time, it was fun for me and she's still a nice girl," he said. Indeed, a source had told Us Weekly in September 2016 that Lovato and Rockhold were hooking up with no strings attached. "They're both having fun with it and enjoying it for what it is," the insider explained.
Henri Levy wasn't shy about professing his love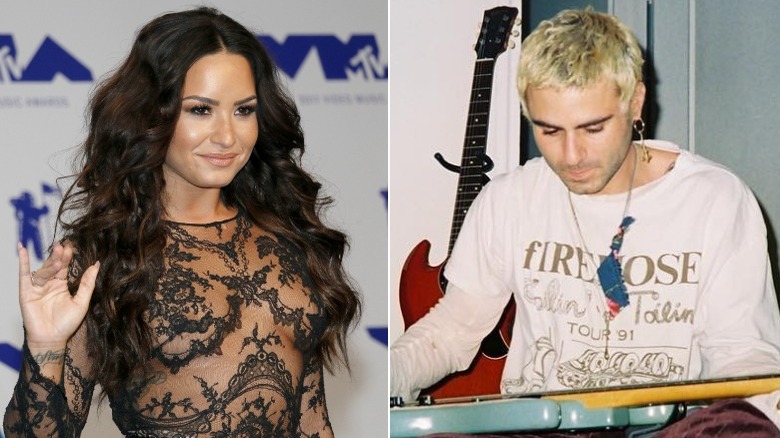 Demi Lovato spent the 2018 holidays with a new beau. Rumors that she was dating fashion designer Henri Levy began circulating in November 2018, but a source initially told E! News that he was actually her "sober companion." The singer had just completed 90 days in rehab and the insider claimed theirs was a platonic relationship and that "Demi wants to be around people who are like-minded and [Henri] is good energy for her." However, shortly after that statement, the two were spotted kissing in Malibu, California, and were snapped holding hands during a nighttime stroll in Beverly Hills. Jump to December 29 and they went Instagram official (sort of), sharing a smooch in a Story posted to Levy's private account, per E! News. According to a source who spoke with Us Weekly, Lovato was drawn to Levy because she didn't feel judged. "The fact that the two of them are both sober and have had their ups and downs in that regard is a huge deal to her."
They were still going strong on Valentine's Day 2019, when Levy professed his love. Sharing a selfie of them on his private Instagram, per Us Weekly, he wrote, "I love you to the moon and back." However, the pair split soon after, per E! News, as Lovato entered treatment for mental health issues. A source explained, "Demi felt distracted and overwhelmed, and wanted to take a breather and truly get healthy."
Mike Johnson loved Demi Lovato's kissing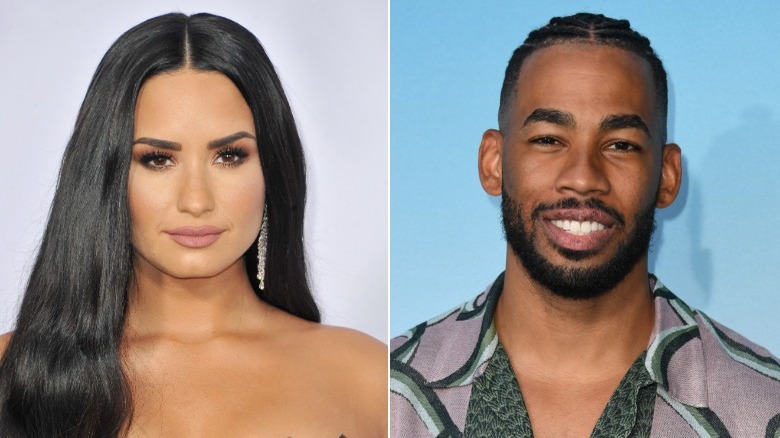 Demi Lovato made no secret of their crush on "The Bachelorette" contestant Mike Johnson. During his time on the show in 2019, Lovato repeatedly gushed over him online, even proclaiming in an Instagram Story (via Entertainment Tonight), "Mike, I accept your rose." Jump to that September, and the reality show alum confirmed to Entertainment Tonight that he and the singer had indeed gone on a first date. It took place in Los Angeles, California, but he wouldn't share much more, other than teasing, "The woman is quite astounding and amazing, and that's all I'll say on that." He spoke about their fling again later that month, telling the "Bachelor Happy Hour with Rachel & Ali" podcast (via Elite Daily) that they weren't serious, but they sure were getting along. "When Demi and I are together, it's laughter and we talk about real s***, like, she's a down-to-earth woman and I respect it so much," he shared. "She's just a really humble, really cool, really fun, down-to-earth person."
For someone so adamant about keeping their romance private, Johnson actually talked about Lovato again on iHeart Radio's "Almost Famous" podcast just a few weeks later, saying they had gone on multiple dates, that he was attracted to their tattoos, and that "uh, she kisses really well." By the end of October 2019, however, US Weekly reported they had broken up. As a source explained, "the timing just wasn't right because they're both so busy."
Max Ehrich accused Demi Lovato of sabotage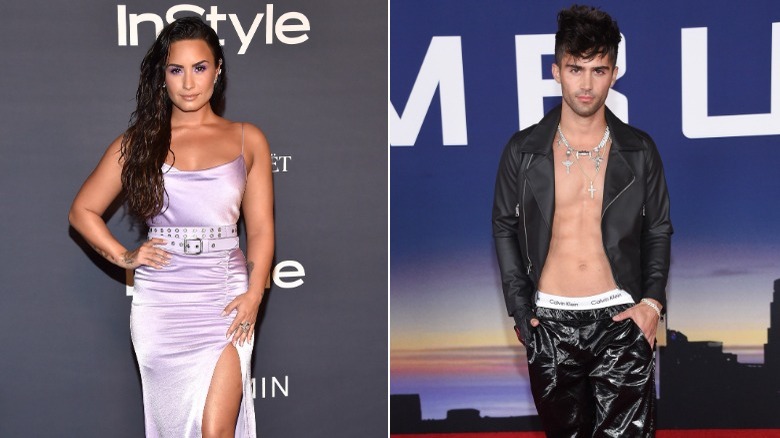 Following her time with Mike Johnson, Demi Lovato dated Austin Wilson for a month, then jumped into a serious relationship in March 2020 with "Young and the Restless" star Max Ehrich, per Us Weekly. They went into quarantine together and got engaged that July, but the whirlwind didn't last. The couple called off their engagement in September 2020 and a source told E! News that Lovato lost trust in Ehrich and wondered if he was with her only to boost his profile. "She didn't know who Max truly was and didn't think he had good intentions," the insider explained.
Ehrich was none too pleased with this characterization and went on the offensive. He claimed in his Instagram Stories (via Page Six) that he learned about the breakup through a tabloid, then argued, per TMZ, that because they hadn't spoken by phone, "we haven't even officially ended anything to each other." He said he wanted a reconciliation, but changed his tune days later when Lovato released "Still Have Me." Many believed the song was about Ehrich and he slammed it, per Paper: "Now I found out that I was used, but I hope the song is No. 1." He also accused Lovato of using him "as a pawn in a PR stunt." And when she joked about their short-lived engagement during the 2020 E! People's Choice Awards in November, he slammed, per E! News, "Exploiting our breakup for clout at PCA is not chill."