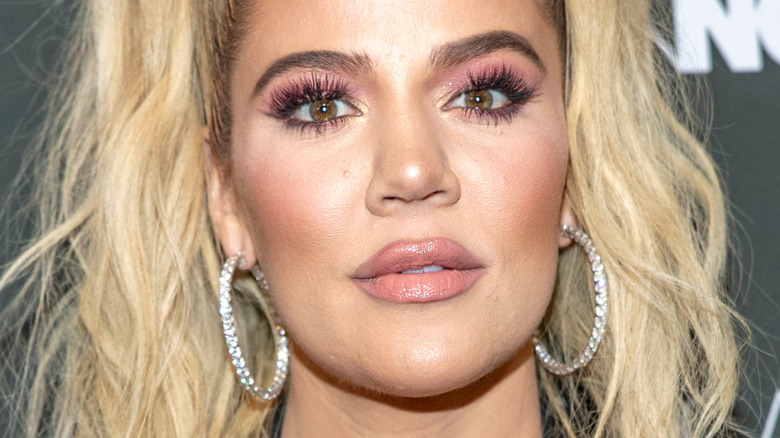 The Kardashians launched a massive reality TV empire that spawned hugely successful cosmetics, clothing, and lifestyle brands for Kris Jenner's daughters — but Kourtney, Kim, Khloé, Kendall, and Kylie make headlines for their love lives just as much as for their businesses. And it's easy to see why! Kourtney's on-and-off relationship with Scott Disick was well documented on "Keeping Up With the Kardashians," but after breaking up with the father of her three children, she got engaged to Blink-182 drummer Travis Barker in October.
While her sister was finding her happily-ever-after, Kim was fresh off her separation from rapper Kanye West, and raising eyebrows for her alleged new romance with resident "Saturday Night Live" funnyman Pete Davidson. As of thus writing, Kylie Jenner's pregnant with her second child by rapper Travis Scott, and Kendall Jenner has been dating NBA star Devin Booker since 2020. But what about Khloé?
The youngest of Kris's daughters with Robert Kardashian Sr., Khloé has arguably had a rough go of things in the romance department. The mother of one split from partner Tristan Thompson earlier in 2021, following multiple cheating allegations. Amid all the drama, it's easy to forget that Tristan isn't Khloé's first cheating ex — he just so happens to be the most recent one! Khloé was previously married to Lamar Odom, and the couple split in late 2013 after he admitted to being unfaithful, per BuzzFeed. Khloé didn't learn of the cheating until later, but what were her first impressions of her future hubby when they met?
Khloé Kardashian 'wasn't down' to date a basketball player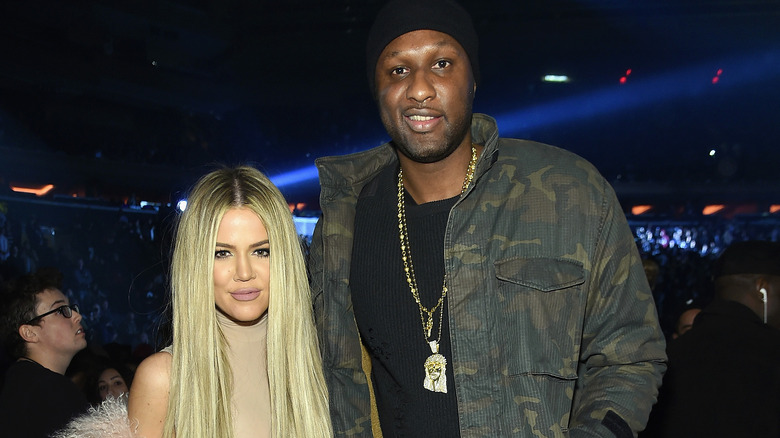 As any loyal KarJenner fan knows, Khloé Kardashian and Lamar Odom had a whirlwind courtship that culminated in a proposal only one month after they began dating, according to Marie Claire UK. The New York Daily News reported that the former couple met at a party in 2009. Lamar was a forward for the LA Lakers at the time, per NBA.com, and Khloé reportedly wasn't thrilled about her husband-to-be's profession. In an interview with iVillage, Khloé shared, "The first time I met Lamar, I wasn't that down for him. It was typical — I was in a nightclub, he was a basketball player ... I wasn't down for that whole ... thing." But, even though it was not love at first sight, she eventually changed her tune once she got to know Lamar's heart, as she told iVillage.
And from there, it seemed the rest of her famous family was on board, too. Shortly after the two first got together, Kim Kardashian threw her support behind the lovebirds. "They're very, very happy," she told People. "They've been together a few weeks, and are literally inseparable. Khloé thinks he's amazing and [he] makes her laugh and smile constantly." In practically no time at all, the couple was engaged and then married. They went on to star in the "Keeping Up With the Kardashians" spinoff series, "Khloé & Lamar," which ran for two seasons. But, by 2013, Khloé had filed for divorce.
What is Khloé Kardashian's relationship with Lamar Odom like today?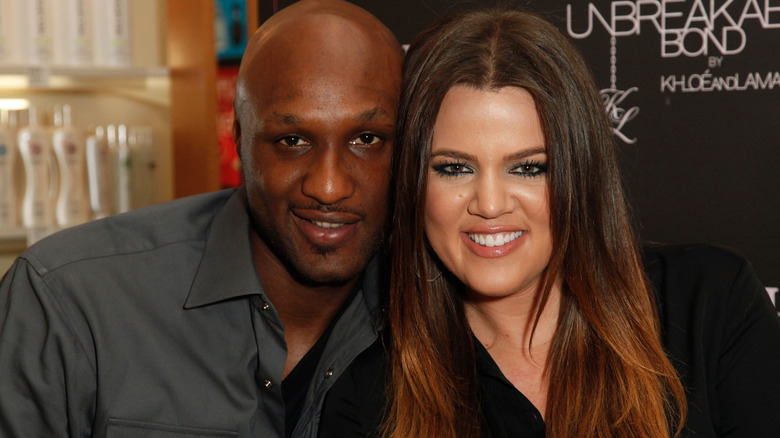 Even after filing for divorce from Lamar Odom, Khloé Kardashian has spoken out about her deep feelings for her ex. As she told E! News in 2015, "I will never ever not love Lamar ... I was so obsessed with him in a healthy way. He was my husband, and I still wish he was, and I don't think there's anything wrong with that." She further expanded on her relationship with Lamar at the time, by telling Women's Health in 2015 that he "is the love of my life. We had a fantastic marriage."
Likewise, Lamar also seems to view his marriage to Khloé as a positive, even though things didn't necessarily work out romantically. In March, he posted an Instagram video that showed him watching reruns of the short-lived reality show, "Khloé & Lamar." In the caption, he thanked his ex-wife and the Kardashian clan for "taking me in and loving me without judgment — y'all gave me family and for that I am forever grateful." The former basketball player even hinted that he was interested in winning Khloé back, after he called her a "hottie" on Instagram in July, per E! News. Even so, a source told the outlet that she is not interested. "Khloé will always have a sweet spot for Lamar in her heart," the insider added, "but has no interest in rekindling a romantic relationship."