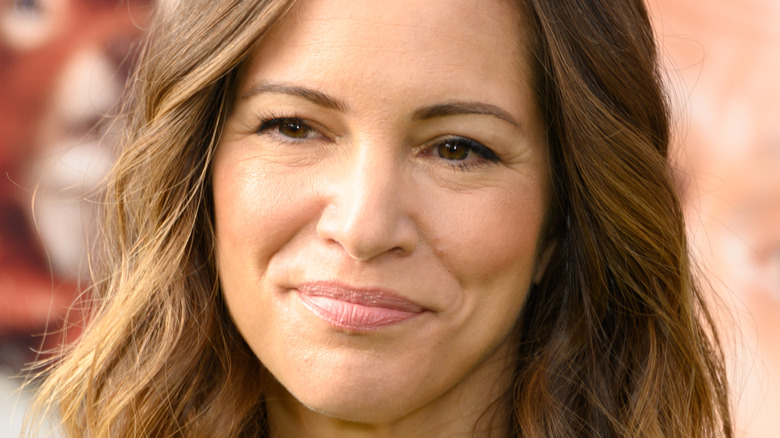 The following article includes mentions of addiction.
Robert Downey Jr. is easily one of the most popular and handsomely paid actors of our time. Following a decades-long struggle with addiction and an impressive comeback story, the skilled actor has become better known for taking on versatile roles in films like "The Judge" and the "Sherlock Holmes" trilogy — and is, of course, most recognized as Tony Stark, aka Iron Man, in the Marvel Cinematic Universe.
While his past issues and celebrated onscreen work have been about as publicized as possible throughout the entirety of his long career, Robert's personal life these days with his wife, Susan Downey, and their kids is often kept under wraps. Many of RDJ's most prominent fans most likely know that he is wed to his longtime love, but past that, we're often left wondering: Who exactly is the Mrs. to this A-lister's creative genius?
For her part, Susan is a highly talented and driven woman, often seen as balancing out her eccentric husband and credited for being Robert's rock and saving grace. But the following lesser-known truths about her show that, while RDJ is the public star in this relationship, his wife — who's made a name for herself in the industry in her own right — might just be the mechanical mind behind this dynamic duo. What's that saying again, that behind every great man is a Susan Downey? This is the untold truth of Robert Downey Jr.'s wife.
Robert Downey Jr.'s wife is one educated lady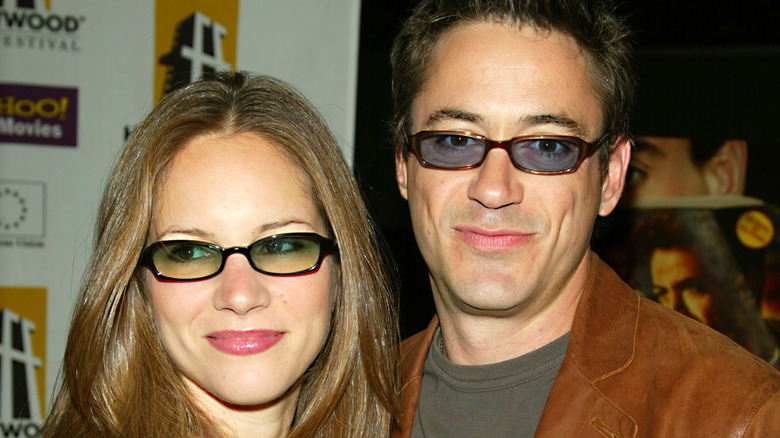 Susan Downey (née Levin) had her own endgame in sight pretty much from very early on in life. Ever since she was around 12 years old and growing up near Chicago, she had the career goal of working behind the scenes in the film industry in some capacity. Per Harper's Bazaar, a young Susan took her dream and applied some serious drive and dedication to it. Noting that she's "very structured, with firm boundaries," Susan graduated at the top of her class, rising to become Schaumburg High School's valedictorian in 1991. She then moved on to attend the USC School of Cinematic Arts, where she received her Bachelor of Arts in Production in 1995, graduated summa cum laude, and to which she has continued to contribute by serving on the School's Alumni Development Council.
When the future producer entered this esteemed film school, however, the deck was stacked against her, simply because she's a woman. Susan recalled in a 2020 interview with Dandelion Women that there were 50 students involved at the time, and she was only one of four women. Times have thankfully changed, and the program is 50-50 these days — something of which Susan and Dean Elizabeth Daley should be rightly proud.
From there, Robert Downey Jr.'s future wife took her talents and attitude of can-do women empowerment straight into the lion's den — aka the entertainment business realm.
A young Susan Downey and her Tom Cruise poster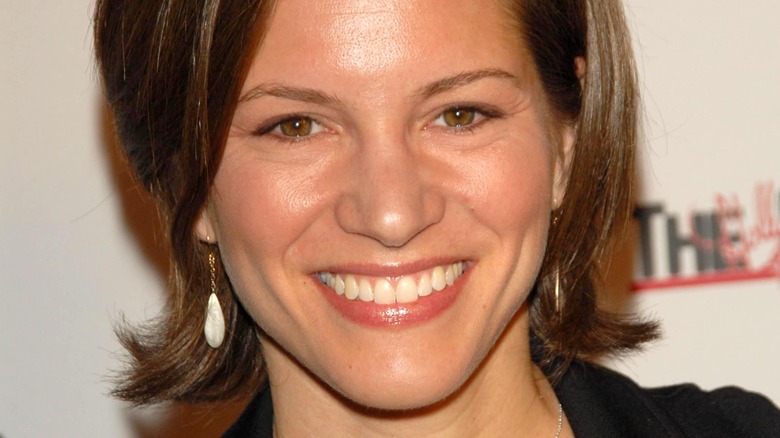 Susan Downey came of age during the era of Tiger Beat and Seventeen magazines. These were all the rage back in the day, partly for their juicy articles and fun and fresh quizzes, but also because of their tear-out posters featuring celebrities. Susan adorned her own dwelling with images of famous faces, much like the other kids her age, but while her pals were ripped out magazine pages of hunky singers and swoony actors, the future producer was collecting posters for different reasons. In an interview with BuzzFeed, she revealed that one of her teenage-prized possessions was a promotional poster of actor Tom Cruise from his acclaimed role in "Rain Man." "I had a poster in my room of all the Academy-Award-winning movies [for best picture]," she explained. "Whenever there would be a new one, I'd make my mom go get it for me. I loved entertaining, big Hollywood movies."
Susan might have been years from adulthood and career building, but she knew that film would have a space in her world, and it seemed her parents had an inkling, as well. While the Levins could have encouraged their child to do just about anything with that big brain of hers, they gladly supported her love of filmmaking, even if that support came in the form of snagging a movie theater poster for their ambitious daughter.
She built up an impressive career sans her famous husband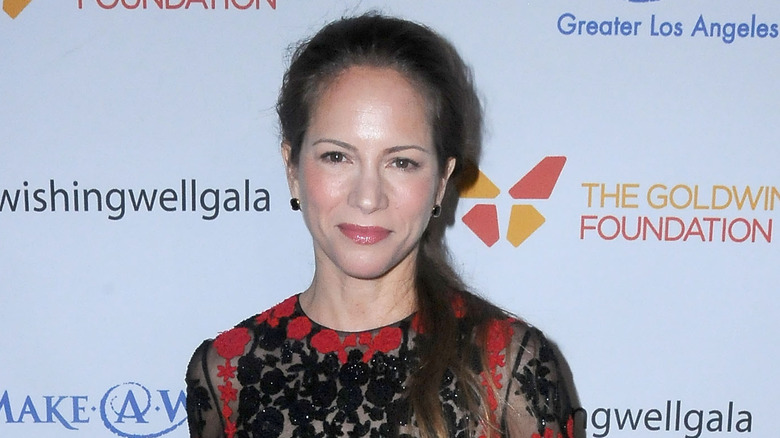 Today, Susan Downey proudly sits behind the camera, making cinematic magic — but years ago, a young Susan Levin dabbled in front of the cameras. "[I] did a lot of print work and all that in front of the camera, just as a hobby as a kid, but I was so much more interested in what people around me were doing then," she revealed in an interview with Dandelion Women. "I never wanted to be in front of the camera. It was just, like, a way to not be in school and stuff." Always attuned to what was happening behind the scenes, then, Susan knew her path would lead her to a place off-camera, not on.
Following her education, Susan wasted no time making a name for herself in the entertainment industry. Four years post-graduation, she took a job at Threshold Entertainment before moving onto the role of Silver Pictures' vice president of production, working under Joel Silver. Today, she heavily focuses her talents and efforts on Team Downey, the production company she cultivated alongside husband Robert Downey Jr. — but more on that venture below.
Over the years, Susan has worked on some of pretty notable films, including "The Reaping," "The Invasion," "Orphan," and "The Book of Eli," to name a few. If you took the movies she's had a hand in and pulled their gross earnings together, the totaled sum would fall in the ballpark of $2.7 billion internationally.
Robert Downey Jr.'s wife could brag about her net worth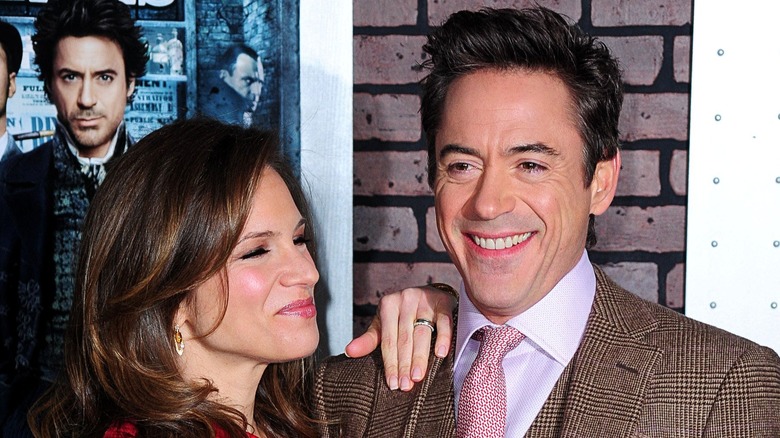 Most know that Robert Downey Jr. is a very wealthy guy. He has an estimated $300 million fortune, per Celebrity Net Worth, and has long been one of Hollywood's best-paid actors. This very much includes, of course, his tenure with the MCU — by the time of his final appearance as Tony Stark/Iron Man in 2019's "Avengers: Endgame," the actor was raking in an astounding $75 million per project. For her part, Susan Downey is no mere movie star's wife leaning on her partner's earnings to keep her afloat. In fact, the producer does pretty darn well, financially speaking, sans her A-list husband, with an impressive $20 million to her name.
She's most certainly living the high life and enjoying the finer things that the world has to offer, thanks to the couple's hefty earnings. The Downeys have not one but two dream properties they call home. They own a summer dwelling known as the Edward DeRose Windmill Cottage in East Hampton, New York. The well-recognized property that was built back in the late 1800s came with charm, whimsy, tons of space, and four acres — and an $11.9 million price tag. The family also resides on the West Coast — Malibu, to be precise — where they kick back and unwind in a futuristic feast for the eyes, complete with sustainable guest quarters that took seven years to build, style, and perfect.
Basically? Susan Downey and her family are prime examples of people who work hard, play hard, and reap the benefits of both.
Marriage never really appealed to this producer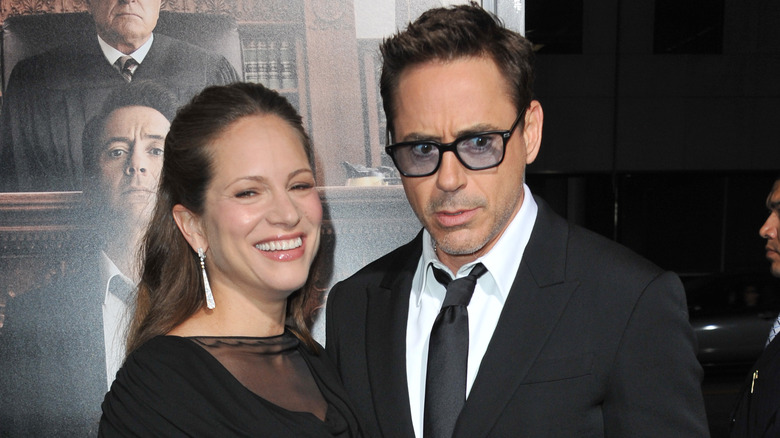 Before wedding one of the most infamous characters in Hollywood, Susan Downey never had that itch to be a Mrs., and while parenthood wasn't off the table, she wasn't sure kids would fit into her carefully planned trajectory. "I was never a girl who thought about getting married. Being in a relationship wasn't my priority," she told Harper's Bazaar.
Yet life has a way of happening in ways we don't expect, and Susan explained to The Hollywood Reporter how she transitioned from a career-only focus to a woman who could have and do it all. Prior to meeting Robert Downey Jr., she said, "I was very focused, driven, rigid, work-oriented. I didn't care about having a family or making a home. ... It's not that I didn't want those things, I just didn't think about them." Susan added of Robert, "And then I had someone who came in as a tornado, this creative, beautiful ball of insane energy and passion. And it completely opened me up."
RDJ echoed those same sentiments regarding the institution of marriage, telling Harper's Bazaar, "When I used to hear, like, 'It's my parents' 175th wedding anniversary,' I used to think, 'No. I can't. I just can't.' I used to have a bit of disdain for partnership, and I thought that I had carved my path in the other direction, but... ." But enter Susan. This celeb pair proves that when the right person waltzes into your orbit, spaces of the heart you never knew existed seem to unlock.
The romance initially wasn't there for the Downeys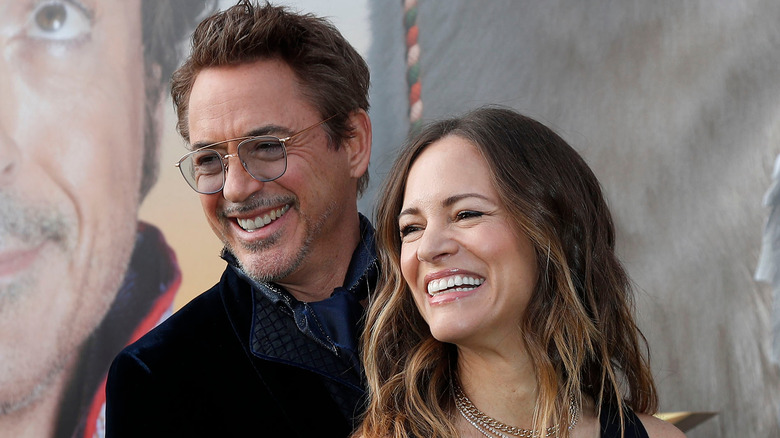 Film is a major part of Susan Downey's life, so it only makes sense that it served as a catalyst of sorts for her epic love story with Robert Downey Jr. She met her future husband while they were both working on the 2003 Halle Berry led film "Gothika." The movie was Susan's first go-round as a full-on producer and also marked a possible comeback for Robert's climb up the entertainment ladder following his highly publicized struggle with addiction, subsequent arrests, and eventual untimely release from "Ally McBeal."
For both Susan and Robert, there was a lot riding on the success of the flick, which not only solidified Susan's stay as a production powerhouse, but also reminded the showbiz community to not count RDJ out. It also laid the groundwork for their love, but not at first sight. Initially, Susan wasn't attracted to her future husband. "I thought he was a brilliant actor, but it didn't go beyond that. I saw him more like a professor or someone's older brother," she told Harper's Bazaar.
However, it wasn't long before Susan changed her tune and started looking at Robert through a different lens. She knew her talented coworker might be something a little more special than she had originally thought when the two decided to catch a quick bite after a post-shooting workout, noting, "He walked down the stairs toward me, I remember looking up at him and suddenly thinking, 'He's really cute.'" As they say in the film industry — that's a wrap!
Susan Downey helped save the man and his career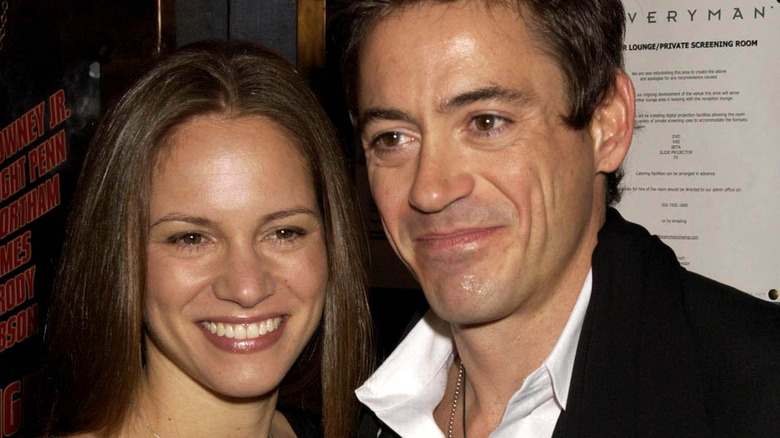 When Susan Downey met Robert Downey Jr. back in the early 2000s, he wasn't exactly living up to his highly publicized bad boy reputation. "He was clean and sober — completely professional when he was working, and then, in the off hours, he was just a fun guy," she told Harper's Bazaar. However, Susan eventually saw the so-called "Darth Vader side" of Robert's drug use, and the straightlaced lady wanted nothing to do with it. "'This isn't gonna work,'" the producer recalled thinking, adding to the outlet, "I made it clear that to stay with me, nothing could happen."
Robert has since credited Susan for helping him maintain his sobriety since July 2003. She explained, "I think he saw what we had. There was something magical there, something we couldn't put our finger on." Meanwhile, their colleagues have even credited Susan for helping to revive RDJ's career. During the throes of his decades-long addiction, the talented actor had seemingly burned countless bridges in Hollywood, but Susan knew Robert wasn't done with showbiz.
The two continued to work together on projects like 2005's "Kiss Kiss Bang Bang," and by the time 2008 rolled around, Susan suggested to Guy Ritchie that Robert — fresh off the success of "Iron Man" — would be an excellent fit in the titular role of "Sherlock Holmes." Ritchie, of course, leaned on Susan's wisdom, and Robert nabbed yet another career-defining role. "If Susan hadn't been in the room, Robert probably wouldn't have become Sherlock Holmes," Ritchie noted to The Hollywood Reporter. "She facilitated it, definitely."
If you or anyone you know is struggling with addiction issues, help is available. Visit the Substance Abuse and Mental Health Services Administration website or contact SAMHSA's National Helpline at 1-800-662-HELP (4357).
The Downeys formed a production team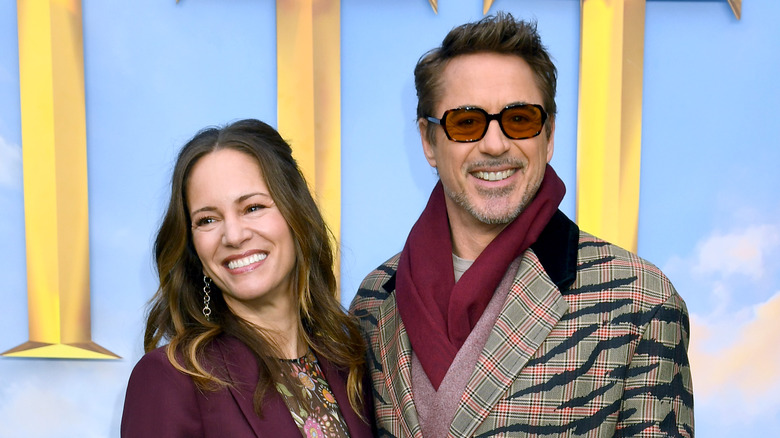 In 2010, Susan Downey and Robert Downey Jr. launched their production company Team Downey, which has since been responsible for onscreen works like 2014's "The Judge," 2020's "Dolittle," and the HBO series "Perry Mason."
The Downeys are passionate about the work and maintaining the type of "mom-and-pop" culture their company embodies. "That doesn't mean that the scope of what we do is small," Susan explained at Fast Company's Innovation Festival in 2020 (via Inc.). "It just means the way in which we do it is very hands-on." Ultimately, they believe quality work stems from this intimate approach and a love for what they do, with Susan going on to note, "You ultimately realize if you're going to take the time to do something, you have to love it. You have to be willing to know where those hours are going to go because they're not going to go to something else."
To have a couple work, live, and play together may seem dicey, especially considering Hollywood's crash-and-burn rate in the romance department. However, the Downeys make it work, with director and pal Guy Ritchie once describing the balance the pair strike personally and professionally to The Hollywood Reporter. "Maybe it's because they started their relationship working on a movie together, so it's natural to them, but the reason I call them perfectly symbiotic, it's that they each represent the other side of each other's coin," he said. "There's no clashing over the same space, although they're always looking in the same direction. It's a very rare thing they have."
Her greatest accomplishment has nothing to do with film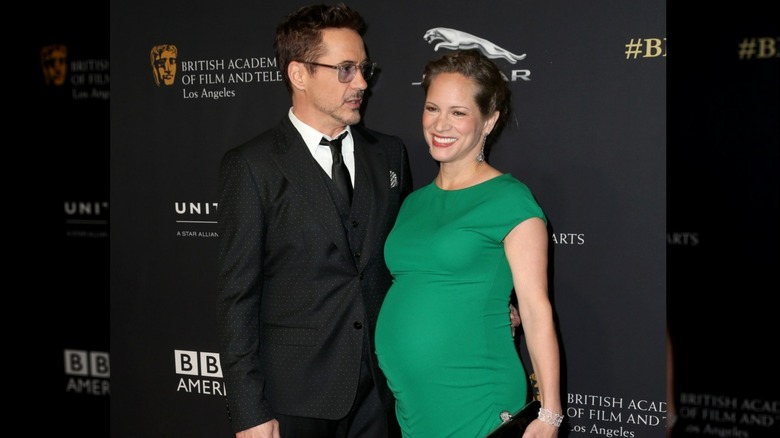 The Downeys often team up to make movie magic, and their partnership in the workspace has often been noted as an effortless mesh of love, respect, and balance — even by the duo themselves. "[Robert] always says that we became this third thing when we got together — something that neither of us could have become by ourselves," Susan Downey commented to Harper's Bazaar. "And I think that's true."
But while they've long been one of Hollywood's busiest couples, the best projects Susan and husband Robert Downey Jr. have ever created have nothing to do with film. These two, who married in 2005, are the proud parents of a blended family. In addition to giving birth to the couple's son, Exton Elias, in 2012 and daughter Avri Roel two years later, per Closer Weekly, Susan is also the stepmom of Robert's eldest son, Indio. But the musician, whom RDJ welcomed during his first marriage to actor-singer Deborah Falconer in 1993, didn't immediately bond with his future stepmother.
"With stepkids, it's hard at first," Susan elaborated on her stepparenting journey to Harper's Bazaar. "But, like anything, my approach was to just be honest about it and not try and force anything — not act like we were a big family right away." Because of this, she added, "What's come from that is a really great relationship with Indio, because I didn't try to make it into something it wasn't ... until one day, it was."
Robert Downey Jr.'s wife runs the parenting ship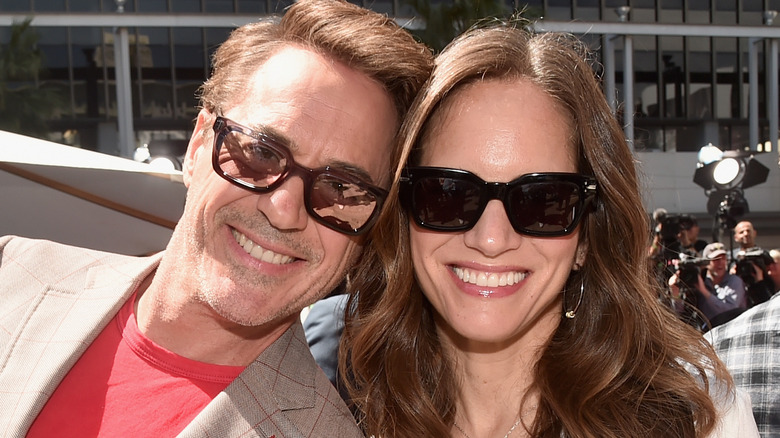 In their marriage and in business, Susan Downey and husband Robert Downey Jr. are equals in every sense of the word. But when it comes to raising their younger kiddos, Exton and Avri, the actor himself has admitted that perhaps one half of Team Downey is more adept at taking the reins.
"I defer to her," Robert told Parade in 2020 of Susan taking the leading role in the parenting sector. "I just wasn't raised right, so chances are, I'm gonna have some caca take on things." Whereas Susan was raised by a businessman and stay-at-home mom, both highly involved and supportive in all of their daughter's endeavors, Robert infamously grew up in a more unconventional situation. Born to avant-garde filmmaker Robert Downey Sr. and actor-writer Elsie Ford Downey, both of whom struggled with addiction and divorced when he was 13, the younger Robert often moved around during his childhood and was introduced to drugs by his father before he reached double digits. "To me, we were an artistic family trying to find normalcy," RDJ once explained to Vanity Fair.
This isn't to say that Robert is a hands-off father by any means, however, as their blended family unit couldn't be tighter. During their downtime, Susan, Robert, and their children like to play games, take walks, and attend live theater, per Parade. "It's nice to really be able to show up," Robert told Extra of fatherhood. "Because life now is ... I'm either working or I'm with [my kids]."