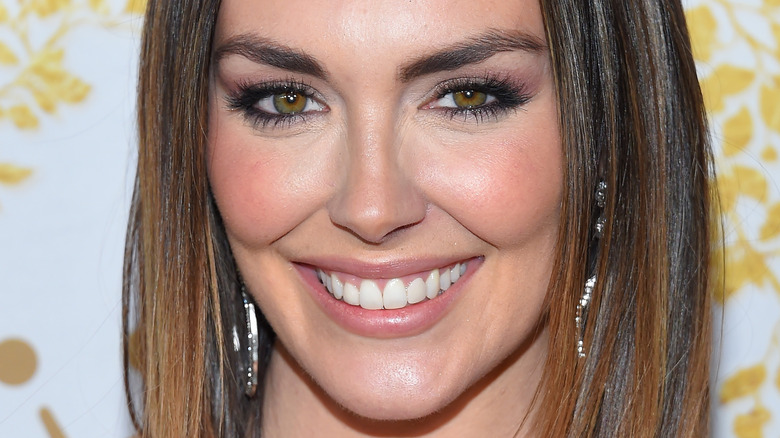 Hallmark movies may be light-hearted and fun, but they're big business. In the fourth quarter of 2020, Hallmark Channel was the most-watched entertainment cable network by women 18 and older (for the seventh year in a row!), according to a press release, and looking at 2020 overall, it was the second most-watched. As Vulture proclaimed that year, it simply "keeps winning the war for Christmas" — and 2021 has been no different. In November of '21, Forbes reported how more people tuned into the Hallmark Channel than CNN on election night in Virginia, New Jersey, and New York City.
When it comes to individual movie ratings, those numbers are just as impressive and they keep getting stronger. On November 17, 2021, "My Christmas Family Tree" broke Hallmark's "same-day, live viewing" record, per Showbuzz Daily (via Heavy), with a whopping 3.27 million viewers. That might explain why, even though Hallmark has been faced with some big scandals, including star Lori Loughlin's prison sentence, a whole slew of once popular stars continue to embrace the network. Stars like Candace Cameron Bure and the Queen of Christmas movies, Lacey Chabert. Another attraction? The channel doesn't just embrace love on the small screen, there's also plenty of it going around behind the scenes. Here are all of the Hallmark Channel stars who are married in real life.
Carlos and Alexa PenaVega share the same values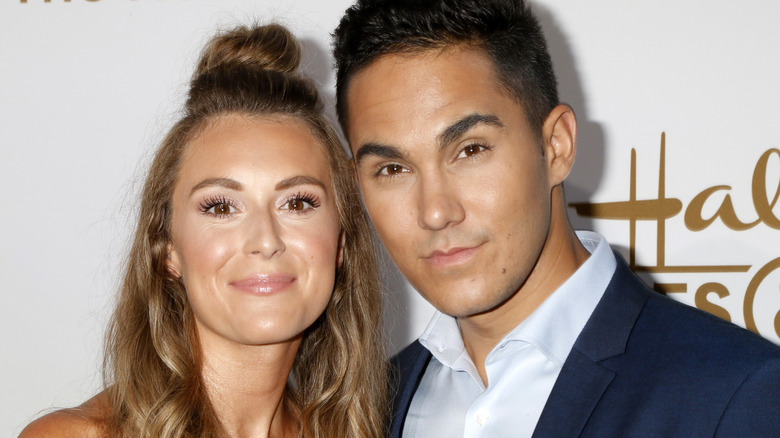 Alexa Vega and Carlos Pena, Jr. joined their lives — and names — when they tied the knot in Mexico in January 2014, per Us Weekly, and became Carlos and Alexa PenaVega. As Alexa told Southern Living, the two first connected at a Bible study but were "just friends," partly because, as Alexa admitted to People, Carlos "was everything I wasn't looking for." She'd sworn to never date an actor, but she soon learned he was "incredible" and "everything I needed." As she said in Us Weekly, their union works because "we both have the same foundation so we are reaching for the same goals in our family." A family that grew with the arrival of son Ocean in 2016, son Kingston in 2019, and daughter Rio in 2021, per Us Weekly.
They also share their love of acting and like mixing business with pleasure. "We always said, if we can, we're going to work together on every project," the "Spy Kids" alum told Southern Living, so their family "is never separated." Enter Hallmark, which has been "so accommodating" because "anytime there's an opportunity for us to work together, they bring it up." That would explain why they've co-starred in five Hallmark films: "Enchanted Christmas," "Love at Sea" (which even has a cameo from Ocean!), and three Picture Perfect Mysteries: "Newlywed and Dead," "Dead Over Diamonds," and "Exit, Stage Death." As Alexa told E! News, working for the network has been "a blessing, for sure."
Eric Winter and Roselyn Sanchez prove opposites attract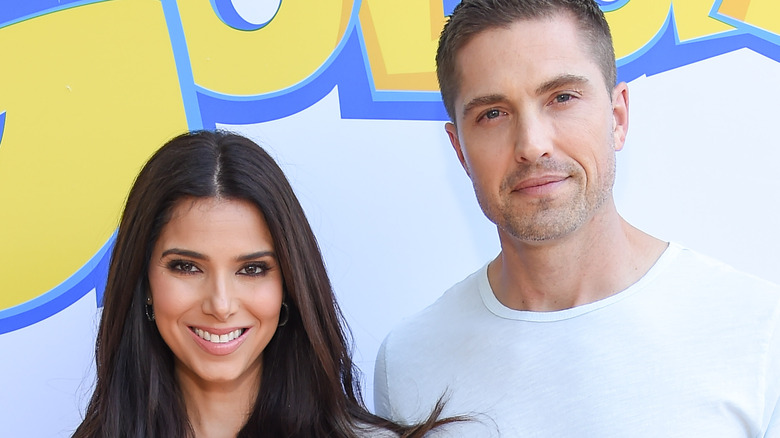 If you need proof that opposites attract, look no further than Eric Winter and Roselyn Sanchez. The pair crossed paths at a party in Los Angeles in 2005, per InStyle, and went on a date three months later. They hit it off and tied the knot in November 2008 in a four-day wedding in Puerto Rico. In 2012, they had daughter Sebella Rose Winter followed by son Dylan Gabriel Winter in 2017 and in 2019, they took their collaboration to the next level, co-starring in Hallmark's "A Taste of Summer."
Speaking with MediaVillage, Eric revealed that they "talked about if and when we were going to act together" and decided it had to be "something fun and cute that was a family affair." They also wanted to be able to bring their kids on set and with Hallmark it "all just felt like the right fit." Sanchez agreed, adding they liked it was "something to sit down and watch as a family without freaking out that the material wouldn't be suitable.'" As for the allure of collaborating, she told Us Weekly's "Watch With Us" podcast, "If we work together, it means that we're going to be located at the same place and that the family stays together." In the end, Winter called it "a blast," even if they approach acting differently, as he likes to "goof around on set" while she's "so serious." As he concluded, "We are complete opposites on almost everything, which is really ironic."
Patti Murin and Colin Donnell fell in love on stage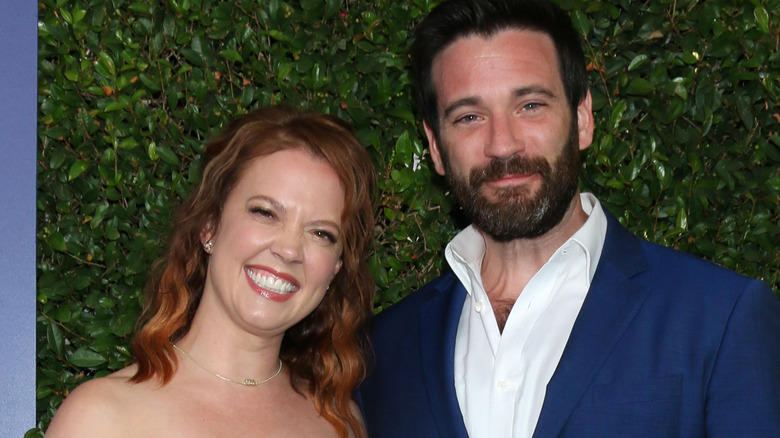 Before making their Hallmark debut in 2020's "Love on Iceland," Patti Murin and Colin Donnell were successful stage actors who met in a 2013 musical adaptation of William Shakespeare's "Love's Labour's Lost," per Broadway.com. While The New York Times called the Central Park production a "spirited but slapdash show" and criticized it for having "identity-challenged characters," it resulted in something great for the two performers: love. They got married in 2015 and had daughter Cecily Philips in 2020, telling People they were "absolutely head over heels in love," adding that "parenthood is already the most insane and beautiful thing in existence."
Following a brief hiatus, they returned to the small screen, this time as co-stars in Hallmark's "To Catch a Spy." Whereas Murin was pregnant on their first Hallmark set, this time around, they had Cecily along with them. However, despite all of their collaborations, they've never actually played a couple on-screen and that suits them just fine. As Murin shared with People, "It's sort of nice to both work at the same place, but we're not spending 24/7 together constantly, giving each other a chance to be sick of each other." Not having to share all of their scenes was also a perk as new parents "because then it's either he's working or I'm working." Donnell agreed, adding that the lack of a love story in the "To Catch a Spy" mystery "is really cool and refreshing."
Victor Webster and Shantel VanSanten's love blossomed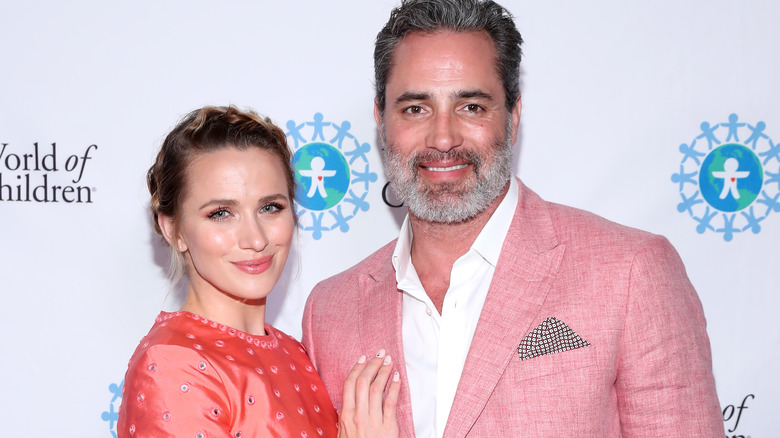 Whereas the other couples on our list knew each other before co-starring in Hallmark flicks, Victor Webster and Shantel VanSanten have Hallmark to thank for their love story. The pair met on the set of 2017's "Love Blossoms," slowly fell in love, and got engaged in February 2021. Calling their engagement "the most perfect, wonderful day of my entire life," VanSanten told People that she and her future husband "balance each other out" because while he has "this childlike wonder when it comes to adventuring and exploring," she's "more of a homebody" and he pushes her out of her comfort zone. Jump to November 2021 and they tied the knot in three ceremonies, per Brides.
Evidently, it took a little while for their love to blossom. "While working, we were just friends," VanSanten said in Brides. In fact, she initially "helped him with his dating life" before realizing they were a good match. The actor told People she and Webster had to "fight for [the relationship]" and "work at it." Noting that "he's the head and I'm the heart," VanSanten admitted that it hasn't always been easy — "When it comes to making decisions, we can be fire and fire" — but explained that they "put in the work and now [we] feel settled." Seeing the upside in their differences, she added, "The way that we both come to the table with different things has allowed me to grow and to see a different perspective in life."
Daniel Stine directed Rachel Hendrix before they dated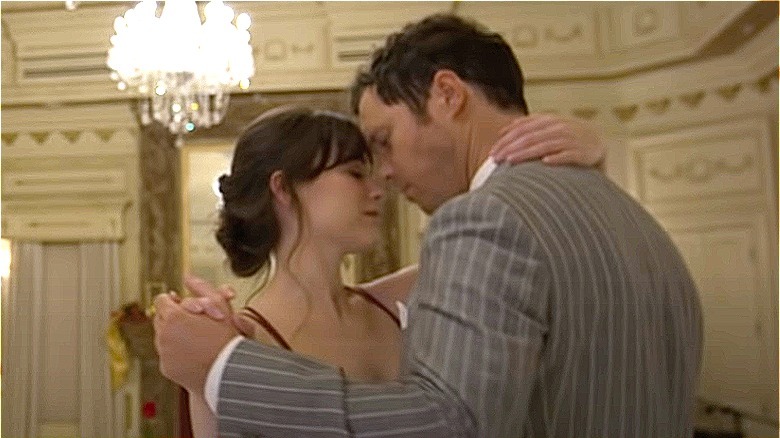 Hallmark fans may recognize Daniel Stine and Rachel Hendrix as the couple from 2019's "Midway to Love" in which they played high school sweethearts reconnecting and falling in love after years apart, but the pair actually first worked together years earlier in a non-Hallmark project. It was 2016 and Daniel Stine was casting for "Virginia Minnesota," his feature-length directorial debut, which he also happened to write. Speaking about the process, Stine told The Consulting Detectives blog how he had "thousands of submissions for [leads] Addison and Lyle," but when Hendrix came in and read for Lyle, "we all immediately knew she was perfect for the role." He continued, "We had some amazing auditions, but she just seemed to fully understand the character and her nuances."
Needless to say, she won the part — and later, her director's heart. Speaking of his aspirations for the film, Stine told the blog that he hoped audiences would "feel like they went on a touching, funny and unusual journey with these characters." Unfortunately, not everyone had that experience with The Hollywood Reporter writing that the "narrative core remains unclear, lost amid the surfeit of disconnected moving parts." Despite the unflattering review, that didn't stop the couple from working together again, but not before they tied the knot in May 2019, per Us Weekly.
Taylor Cole and Cameron Larson couldn't wait to wed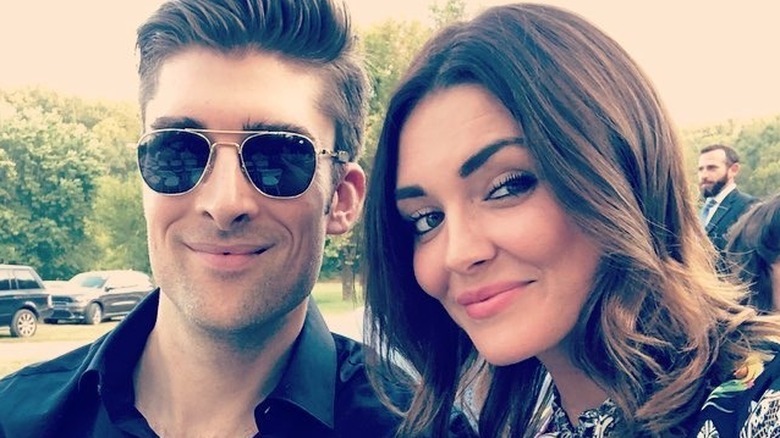 Hallmark movies don't just spark romances between actors. Star Taylor Cole and producer Cameron Larson met on the set of 2016's "My Summer Prince" when she was the lead opposite Jack Turner and he was the production manager and art imitated life. Speaking with People, Cole shared how their love story mimicked another one of her Hallmark films, "Matching Hearts," as they "were friends for several years before dating and I even tried playing matchmaker with Cam, attempting to set him up with a few friends of mine." However, luckily for them, "none of the matches worked and we both realized we were perfect for each other," just like in the film.
Fast forward to June 2020 and they tied the knot on the shore of Lake Tahoe, despite the pandemic throwing multiple wrenches in their plans. One of those wrenches was, as People noted, a venue that "was hit with construction delays," which meant they couldn't have their wedding there. However, they secured a new venue when a family in town opened up their home — well, their backyard, that is. Cole called it their "own Hallmark version of love in the time of Covid." As for why they didn't postpone, she told People, "We were too excited to profess our love and commit to each other." Admitting "it sounds a little cheesy," she concluded, "When you know you know, and we wanted our forever to start as soon as possible."