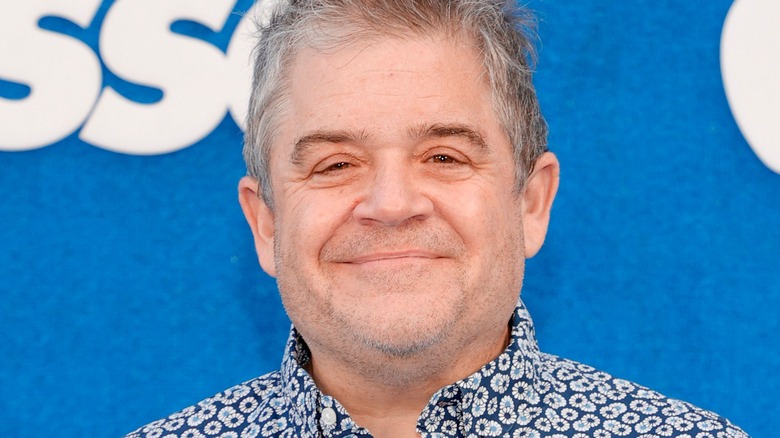 The following article references suicide.
When people decide to get remarried after a partner dies, they're often met with a lot of unsolicited opinions; some might say the widow or widower shouldn't even be thinking about a new relationship until several years down the line, at least. Sadly, especially during the social media era, some feel compelled tell a person just how they should proceed after their spouse dies, although they've probably never even come close to experiencing the same kind of grief. Hey, that's social media for you. It tends to make experts out of everyone, doesn't it?
But imagine if you're a famous person who's just lost a significant other. Those outside opinions will probably come in by the thousands, if not more. Take Duane "Dog" Chapman from A&E's "Dog the Bounty Hunter," for example. A little over two years after Beth Chapman died of cancer, Dog married a Colorado rancher named Francie Frane. Afterward, some critics blasted Duane for moving on, but as People noted, his daughter Bonnie Jo Chapman was quick to stick up for him on Instagram. "Everyone who's judging my father should sure pray that they never have to lose their loved one and get judged for trying to fill the void," she wrote. "My mother would've wanted him to be happy."
Let's get into some of the other stars who tied the knot and tried to find happiness soon after their spouse died.
Henry Fonda got married again within months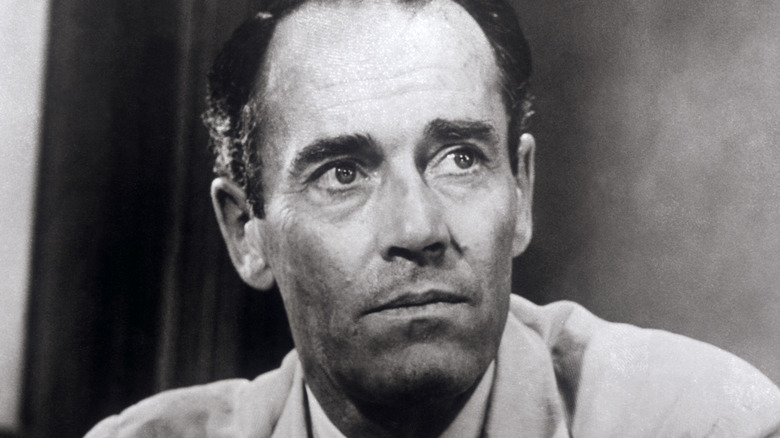 The late film and stage star Henry Fonda married five times, which by Hollywood standards certainly isn't the strangest thing in the world. But what could be considered controversial is that he tied the knot quickly after becoming a widower. Henry's second wife, Frances Ford Seymour, died by suicide at age 42. The couple had two children together during their marriage, Jane Fonda and Peter Fonda, who of course became famous actors in their own right.
Just months after Seymour's death, Henry married theater producer Susan Blanchard, a woman 21 years his junior, who he was having an affair with, per the Daily Mail. He reportedly asked Seymour for a divorce in 1949 so he could marry Blanchard, but that marriage didn't last beyond five years. Peter talked about the split between his father and his much younger ex while speaking to Express in 2014. "I was 15 and she was 27 when she left," Peter recalled. "We were living in Rome and she came down to breakfast and told us [about wanting to leave]. I was devastated and cried and she said, 'I'm young, I want to dance and tell jokes. I need to cut loose'. And I knew exactly what she meant." Henry and Blanchard also adopted a daughter named Amy before they split.

If you or anyone you know is having suicidal thoughts, please call the National Suicide Prevention Lifeline​ at​ 1-800-273-TALK (8255)​.
Elizabeth Taylor was involved in a love triangle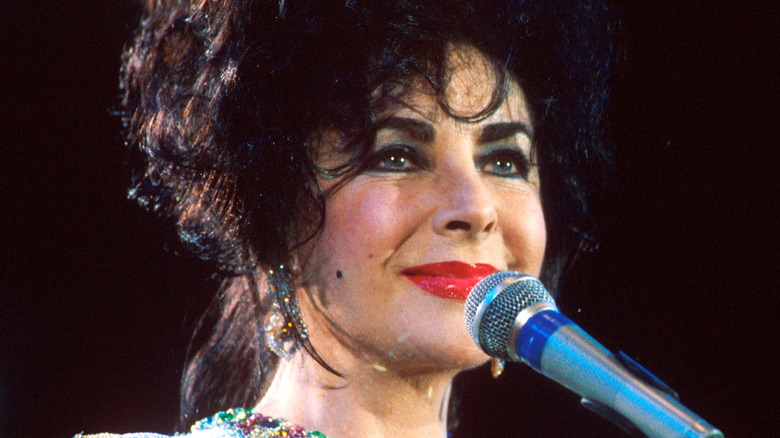 Elizabeth Taylor's third husband, stage and film producer Mike Todd, died when his plane "The Lucky Liz" crashed in Grants, New Mexico, in March of 1958. Fourteen months later, Taylor married singer Eddie Fisher, which set off a Hollywood scandal that would go down in history. Before Taylor, Fisher was married to fellow movie star Debbie Reynolds, and they were one of the most popular couples of their day. But here's the thing: As Reynolds told People, she and Taylor were longtime friends. They were young actors in high school, and what's more, Fisher was reportedly best friends with Todd. Plus, As noted by Biography, Reynolds was the matron of honor when Taylor and Todd got married and Fisher was Todd's best man. Still following?
Reynolds spoke about the love triangle with People in 1983 (via Biography) and gave a theory as to why Taylor and Fisher married. "You know, when Mike Todd died, I sent Eddie to help Elizabeth," Reynolds said. "I don't think she ever really loved Eddie. He was an interim interest during her mourning period." But the two old pals made up years later on a cruise ship, with Reynolds telling HuffPost, "I sent a note to her and she sent a note to me in passing, and then we had dinner together ... We just said, 'Let's call it a day' and we got smashed. We had a great evening, and stayed friends since then."
Jean Harlow's complicated second marriage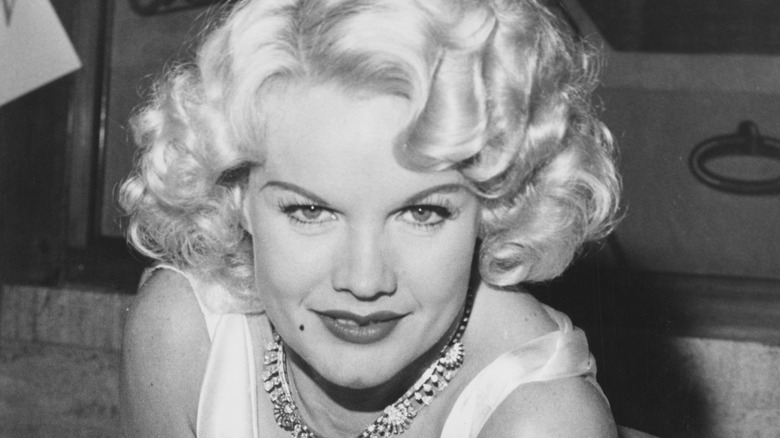 In 1933, Jean Harlow, often called America's first blonde bombshell, married her third husband, Harold Rosson. An accomplished cinematographer, Rosson's extensive body of work includes a little motion picture called the "The Wizard of Oz," and he and Harlow were husband and wife until 1935, per The New York Times.
As recounted in SFGate, the year before she tied the knot with Rosson, Harlow walked down the aisle with filmmaker Paul Bern in 1932. Two months after their wedding day, Bern died. His death was ruled a suicide. At the time of his passing — and while he was married to Harlow — Bern was also married to a woman named Dorothy Millette. Bern reportedly stayed in contact with Millette and helped her out financially. Days after Bern died, Millette committed suicide.
As for Harlow's marriage to Rosson, The Nashua Telegraph reported they married in an "airplane elopement" while flying to Yuma, Arizona. "Hal had stood staunchly beside me through my sorrow and tragedy," Harlow said in The Pittsburgh Press. "We had played together, worked together, and I believe that I had found the perfect companionship of which every girl dreams." The two would divorce in 1935. Two years later, Jean Harlow tragically died in Los Angeles at age 26 from kidney disease.
If you or anyone you know is having suicidal thoughts, please call the National Suicide Prevention Lifeline​ at​ 1-800-273-TALK (8255)​.
Nigella Lawson lost her biggest motivator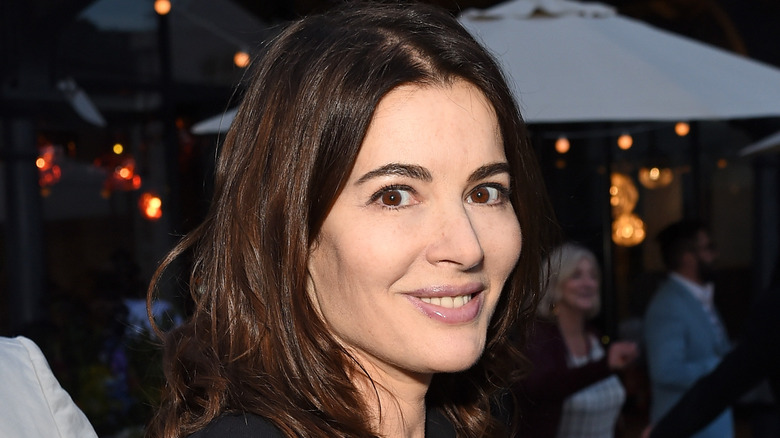 In the late '90s, Nigella Lawson went from freelance journalist to superstar food writer. But less than a decade before she put out her first book, "How to Eat," she wed journalist John Diamond. They got married in 1992 in Venice, Italy, after meeting each other three years earlier at The Telegraph. "I was a journalist — not a food journalist, but I did do quite a bit of cooking. As a consequence I cooked for editors quite a bit," Nigella once told BBC Radio (via FoxTel). "John, my late husband, said to me, 'You always talk about food in this really confident way. You should write about it.' So I did." Sadly, Diamond was diagnosed with throat cancer in 1997 and he died in 2001 at the age of 47. "Writing about food when you're married to someone who can't eat — that was odd," Lawson said in The Guardian in 2020. "But I suppose it was about clutching on to life, really."
Two years after his death, Lawson married art dealer Charles Saatchi. They split in 2013, but not before their relationship made headlines, like when Saatchi was seen choking his ex while they dined at a restaurant in London.
In 2018, Lawson shared a touching thought about Diamond, tweeting, "This time 20 years ago, I was at the launch party for my first book, 'How To Eat.' Looking at this photo makes me happy, but also very sad. I wish I could be in John's arms now."
Faith Evans remarried after a tragic shooting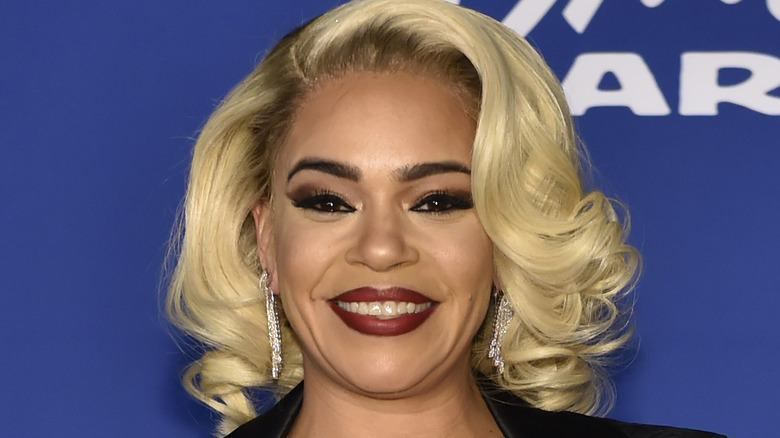 For those of a certain age, March 9, 1997 will probably be forever etched into their memories. That was the day Christopher Wallace, aka The Notorious B.I.G., was shot and killed in Los Angeles in a drive-by shooting. At the time, he was separated from his wife, R&B singer Faith Evans, but their divorce wasn't official, according to HotNewHipHop. One year before B.I.G.'s death, he and Evans had a son together, Christopher Wallace Jr.
Evans then married artist manager and music producer Todd Russaw in 1998. Per Biography, she was introduced to him by legendary rapper and producer Missy Elliott. The former couple had two kids before ultimately splitting up in 2011 due to "irreconcilable differences," according to TMZ. From there, the "Soon As I Get Home" singer exchanged vows with reality star and music producer Stevie J in 2018. The two have a long history: Like Evans and Biggie Smalls, Stevie J became a fixture of Sean "Diddy" Combs' Bad Boy Records roster. What's more, as TMZ noted at the time of their nuptials, Stevie is Christopher Wallace Jr.'s godfather.
"As years progressed, we just began to hang out more, talk more," Stevie J said of his relationship with Evans on "The Breakfast Club" in 2016. "It's new to us." However, their relationship has not been without its ups and downs. On November 8, 2021, TMZ reported that Stevie J filed for divorce.
Roy Rogers eventually found his life-long love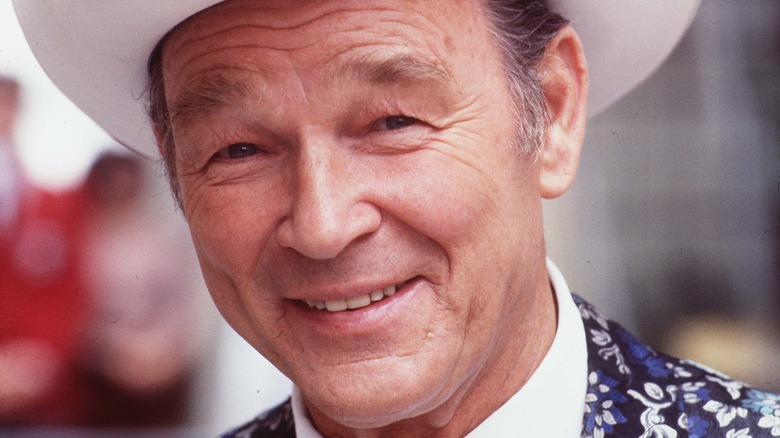 Famed singer and actor Roy Rogers married his first wife Grace Arline Wilkins in 1936. Per The New York Times, Wilkins died in 1946 from complications related to childbirth. "When my wife died during the birth of our third child, I was faced with a demanding career and the responsibilities of raising three fine children," he shared in Guideposts.
Rogers went on to reconnect with fellow singer Dale Evans in Atlantic City. They'd first gotten to know each other while working together in the 1944 film "Cowboy and the Senorita," and they eventually started working together again. As he said in Guideposts, after he obtained "the unanimous approval" of his three kids, Rogers and Evans tied the knot on December 31, 1947. They stayed together until Roger's death in 1998. Evans died in 2001 of congestive heart failure.
"Before I married Roy I suddenly got frightened about what I was going to do," Evans admitted in an interview featured in "Happy Trails Theatre." "And I wasn't really sure that I can bring it off with three children and I went into a closet and I prayed and I promised God that if he would help me in this marriage there would never, never be a divorce under any circumstances, because I wanted to be a mother to these children." Rogers and Evans would add five more children to their family.
Stanley Tucci tied the knot while still grieving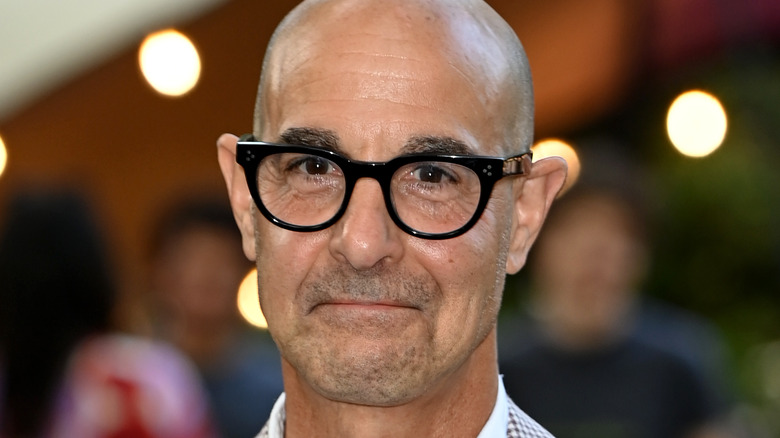 In 1995, one could say that actor Stanley Tucci had it all. He was already an established actor, landing parts in big deal films like "The Pelican Brief." Things on the personal life side seemed to be going well, too: That year, he married social worker Kathryn Spath-Tucci. They went on to welcome three children into the world.
In 2006, Spath-Tucci was diagnosed with breast cancer, and three years later, she died at the age of 47. "You never stop grieving and it's still hard after 11 years," he said on "CBS Sunday Morning" in 2021. Noting that the loss "will always be" difficult, he said she wouldn't want either him or their children to "wallow" in that pain. Two years after his wife's death, Tucci got engaged to literary agent Felicity Blunt, who's the sister of actor Emily Blunt. As he shared in The Times, he "panicked instantly" after he popped the question. "You always feel guilty."
Tucci and Felicity were married in 2012 and have two children together. They were introduced by Emily on the set of "The Devil Wears Prada," as Hello! points out, which Emily co-starred in with Tucci. Get this: In February 2021, while on the "WTF With Marc Maron Podcast," Tucci revealed that his late wife actually met Felicity at "The Devil Wears Prada" premiere in 2006.
Patton Oswalt chose to ignore the 'grub worms'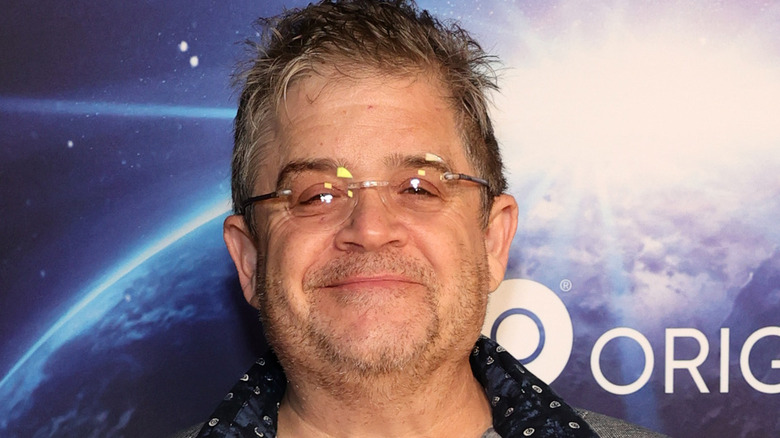 Patton Oswalt's world was abruptly shattered when his first wife, writer Michelle McNamara, died in her sleep on April 21, 2016. In a statement given to the AP, Oswalt said, "We learned today the combination of drugs in Michelle's system, along with a condition we were unaware of, proved lethal." In a moving essay he posted about his late wife on Facebook (via The Hollywood Reporter) a year after her death, he shared, "We think of her every day — she's still so tied into our worlds, in a way that's encouraging, and energizing."
A year and a few months later, actor Meredith Salenger announced she was engaged to Oswalt and expressed her affection for his daughter. "It's official," she tweeted. "I'm the luckiest happiest girl in the universe!!!!💖 I love you @pattonoswalt. I love you Alice Oswalt!"
Some online said they were happy for "The King of Queens" star, but others weren't as positive. As the Toronto Star noted, his engagement "ignites debate over when the widowed should date." Oswalt shot back at his critics while responding to a post that was written by blogger Erica Roman, whose husband died just three days before McNamara. "WOW. Thank you for this, Erica. I'd chosen to ignore the grub worms but your writing is just SO good here," Oswalt tweeted on July 8, 2017. He and Salenger got married on November 4, 2017, in Los Angeles.