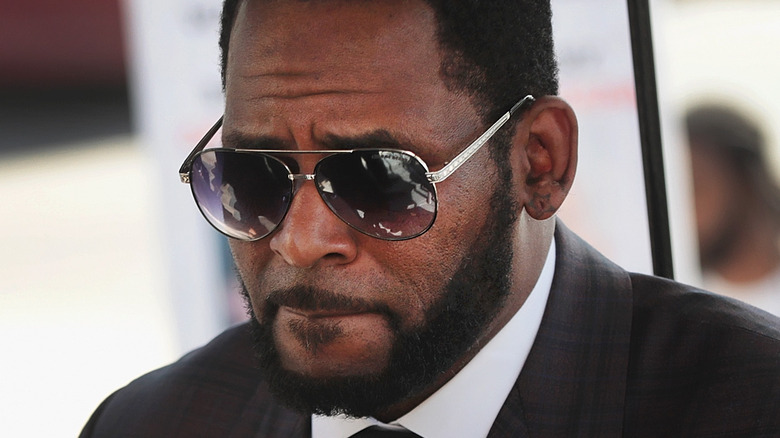 Nearly three years since R&B singer R. Kelly was arrested for multiple counts of sexual abuse against four different women — three of whom were minors at the time the events took place, per Esquire — the first day of his long-awaited sex trafficking trial in Brooklyn Federal Court began on August 18. Kelly, who was arrested a second time in July 2019 over an additional 13 counts including kidnapping, child sexual exploitation, and more in relation to an alleged sex trafficking operation that went across state lines, has spent the majority of the intervening years in federal prison.
On the first day of the trial, Kelly sat with his defense team as the prosecution gave their opening statements, many of which brought home the enormity of the crimes Kelly allegedly committed for years, empowered and enabled by his celebrity. And as the Daily News reported, the prosecution pulled no punches when it came to the full-on empire of harm, manipulation, and abuse Kelly purportedly constructed — one meant to serve his desires, and one that would inevitably come crashing down. And now, the fallout is on full display. Read below to find out more.
The prosecution called R. Kelly a 'predator'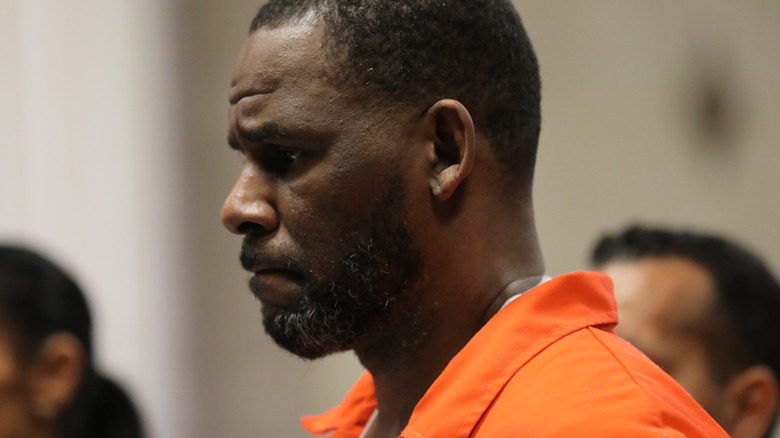 In her opening statement at R. Kelly's trial, Assistant U.S. Attorney Maria Cruz Melendez cut straight to the point in identifying R. Kelly — not as a once-lauded performer, but as a "predator." Per the Daily News, Melendez bluntly described Kelly as "a man who for decades used his fame and popularity ... to target and groom boys, girls and young women for his own sexual gratification."
Melendez then proceeded to state the names of each of the six victims who are part of the case, four of whom were minors at the time the respective crimes against them with committed, along with summaries of the abuses they survived at the hands of Kelly. As the Daily News noted, the six names were previously anonymized for court appearances, "known until now as Jane Does 1-6", but now, five of the survivors are set to testify.
Events Melendez included in her opening statement included forcing one woman, Faith, to undress under threat of harm while he questioned her at length before sexually assaulting her, per the Daily News, and imprisoning another woman, Sonya, for three days after she had traveled to Chicago to interview him for her internship at a radio station. In court, Melendez also touched upon another subject related to the case, and woman No. 6: the late singer Aaliyah.
Prosecutors brought up Aaliyah in their opening statement at R. Kelly's trial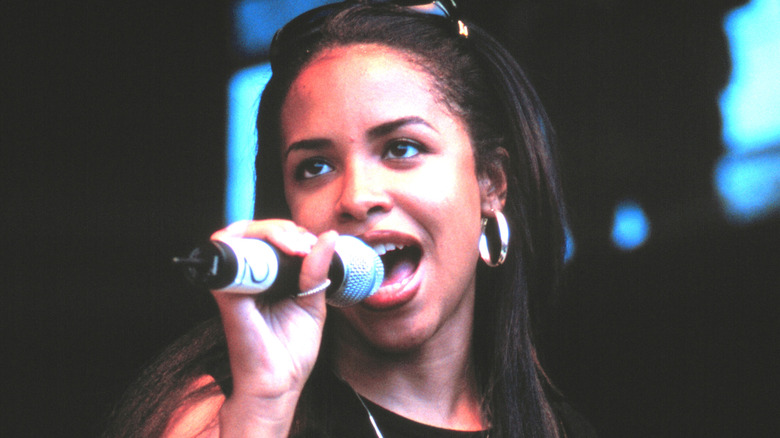 By all appearances, prosecutor Maria Cruz Melendez introduced the topic of R&B star Aaliyah in court, who was married to R. Kelly before her death, in order to present a pattern of predation. Aaliyah, who died in a plane crash near the Bahamas in 2001 at the age of 21, met Kelly, who was then already an established performer, at the age of 12. (Kelly himself was already well into his 20s). R. Kelly and Aaliyah married three years later; at the time, he was 27 and she was still a minor. Per The New York Times, it has been alleged that Kelly procured a fake ID listing her age at 18 to produce to make their marriage appear legally binding (though inherently fraudulent).
Unlike past narratives featured in movies like Lifetime's "Aaliyah: The Princess of R&B," which disturbingly romanticized the relationship and marriage between Kelly and the young singer — a marriage which was ultimately annulled — Melendez pointed out an unsettling motive to officially wed on the part of Kelly. "If she's his wife, she can't testify against him," Melendez said in court. The unspeakable harm to these women aside, it's clear that R. Kelly's legacy has been tarnished forever.
If you or anyone you know has been a victim of sexual assault, help is available. Visit the Rape, Abuse & Incest National Network website or contact RAINN's National Helpline at 1-800-656-HOPE (4673).