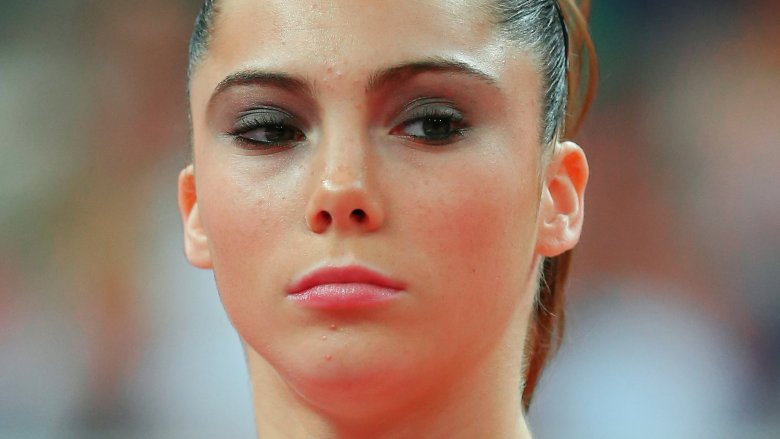 The Olympic medalist is ready to head to court.
NBC News reports that McKayla Maroney has sued USA Gymnastics, claiming that the organization attempted to silence her after she was sexually abused by the team's doctor. In the lawsuit, which was filed on Wednesday, Dec. 20, 2017, Maroney alleged that USA Gymnastics forced her to sign a nondisclosure agreement in conjunction with a financial settlement regarding psychological treatment.
Maroney's lawyer, John Manly, called the NDA "hypocritical, immoral and in this case illegal."
Maroney's lawsuit stated that USA Gymnastics used the confidentiality agreement as a way to "conceal and shield from public scrutiny, outside investigation, and law enforcement" the criminal behavior of team doctor Larry Nassar, who has been accused of sexual assault by at least 140 women, including Maroney.
Manly argues that it is illegal in the state of California for a child victim of sexual abuse to sign an NDA as part of a settlement. He's seeking for Maroney to be released from the conditions of the confidentiality agreement.
As noted by E! News, Maroney has also named Nassar, the United States Olympic Committee, and Michigan State University, where Nassar's sports medicine practice was located, in her lawsuit. Maroney claimed that she's been traumatized by Nassar's actions and worries that Nassar possesses photographs of her sexual assault that he may have shared with pedophiles.
The lawsuit also alleged that the institutions did not act when presented with complaints, allowing Nassar to continue sexually assaulting young athletes.
The United States Olympic Committee has denied that they were involved with the NDA, stating that they were only first made aware of complaints against Nassar in 2015. Michigan State University has not commented on the matter.
USA Gymnastics argues that the "concept of confidentiality was initiated by McKayla's attorney [Gloria Allred], not USA Gymnastics."
As Nicki Swift previously reported, Maroney publicly accused Nassar of sexual assault in a lengthy text image on social media. She claimed that he had repeatedly molested her under the pretense that his actions were considered intra-vaginal "treatment."
Fellow Olympic gymnasts Aly Raisman and Gabby Douglas have also accused Nassar of sexual abuse.
In early December, Nassar was sentenced to 60 years in prison on child pornography charges (via NBC News). He's expected to be sentenced in January 2018 on state sex abuse charges.
While we wait to learn more about Maroney's lawsuit, read up on everything you didn't know about the U.S. Women's Gymnastics team.